Supreme Court, Weighing In on Trump Plan to End Relief to Undocumented Immigrants, Agrees to Hear DACA Case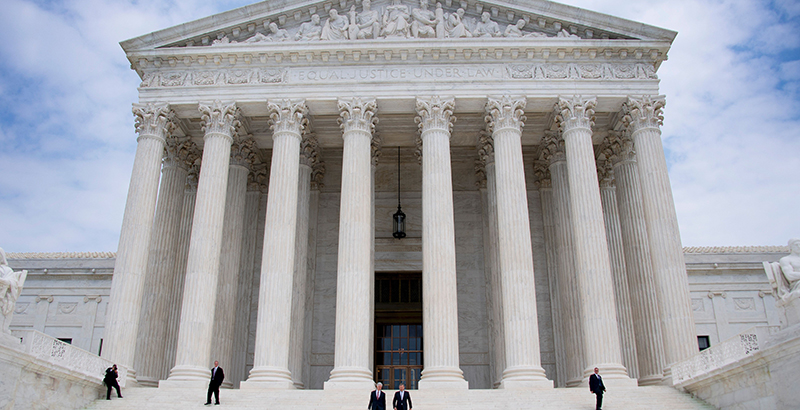 The Supreme Court announced on Friday it will consider the fate of young undocumented immigrants protected by the Deferred Action for Childhood Arrivals program, or DACA. The program has been in limbo since 2017, when the Trump administration announced an end to the Obama-era initiative, which grants work permits and deportation relief to undocumented immigrants brought to the U.S. as children.
The court will hear arguments in the case in its next term, which begins in October. Several federal judges have ordered the government to maintain protections for DACA recipients as lawsuits against the Trump administration work their way through the courts. Headed to the Supreme Court is a lawsuit filed by the University of California and its president, former homeland security secretary Janet Napolitano, who wrote DACA.
In a recent interview, Napolitano highlighted the need for Congress to pass comprehensive immigration reform and attacked the Trump administration's "anti-immigrant animus." DACA recipients who attend the University of California, she said, are "excellent students."
"Why would we throw the resources of the federal government against them and deport them?" she asked. "It makes absolutely no sense. This is a fixable issue, and Congress ought to fix it."
As we previously covered in The 74 earlier this year.
With the Supreme Court declining on Tuesday to consider the fate of a program that shields about 700,000 undocumented immigrants from deportation, the Obama-era initiative will likely continue for another year despite President Donald Trump's efforts to end it.
The high court's inaction on the Deferred Action for Childhood Arrivals (DACA) program leaves in place lower court rulings that have kept the program alive temporarily and allowed recipients — including thousands of K-12 students and educators — to renew their protections. Amid a partial government shutdown, the longest in U.S. history, President Donald Trump has recently used the program as a bargaining chip to negotiate more than $5 billion in federal funds for a wall along the U.S.-Mexico border.
While immigrant-rights advocates said Tuesday's news buys DACA recipients more time, the issue is far from resolved. Although it's possible that the Supreme Court could still take up the DACA dispute, that's unlikely to occur during the current term, which ends in June. The court's next term begins in October.
"This issue has dragged on for so long, it's just so unacceptable and inhumane to have people live their lives by months at a time or by decision to decision," said Viridiana Carrizales, co-founder and CEO of ImmSchools, a nonprofit that partners with school districts to ensure they adequately support undocumented students and parents. "They definitely deserve something more permanent."
Created by then-President Barack Obama in 2012 through an executive order, DACA provides deportation relief and work permits to undocumented immigrants brought to the country as young children. In fall 2017, the Trump administration announced it would wind down the program, arguing that Obama had leveraged an unconstitutional use of executive power to create it.
Since then, however, several federal courts have derailed Trump's plans to shut DACA down. After the 9th Circuit Court of Appeal weighed whether the Trump administration could end the program, in November it opted to uphold a nationwide injunction on the Trump administration's efforts to end the protections. A lower federal court put that injunction in place until lawsuits against the Trump administration work their way through the courts. Even before the 9th Circuit upheld the injunction, the Trump administration asked the Supreme Court to weigh in.
Judges in New York, Texas and Washington, D.C., have also issued setbacks in Trump's decision to end DACA.
The Supreme Court's silence holds implications for Trump's negotiation efforts to end the partial government shutdown, which sought $5.7 billion in funding for a "steel barrier system" and a three-year reprieve for DACA recipients and hundreds of thousands of other people with Temporary Protected Status. The second program provides relief to people who fled their native countries following wars and natural disasters. As with DACA, Trump administration efforts to end Temporary Protected Status for some with the deportation relief is currently held up in court. Trump's proposal also includes millions of dollars to address the "security and humanitarian crisis at our southern border," including medical support, new temporary housing and additional border agents.
Democratic lawmakers, however, have shot down that proposal — as did several conservative pundits, including Ann Coulter, who blasted the deal as amnesty for undocumented immigrants. "We voted for Trump and got Jeb!" Coulter tweeted on Saturday. "So if we grant citizenship to a BILLION foreigners, maybe we can finally get a full border wall."
Carrizales of ImmSchools also criticized Trump's proposal, noting the huge price tag for the wall while immigrant-rights advocates are "getting the crumbs."
"The wall itself is not enough for what people will get in return," she said.
Also Tuesday, the Senate offered some hope of an end to the shutdown, scheduling procedural votes for Thursday on Trump's proposal and a competing bill to fund the government through Feb. 8.
Randy Capps, the director of research for U.S. programs at the nonpartisan Migration Policy Institute, said it's probable the Supreme Court will ultimately weigh DACA's fate, but that is unlikely to happen until the end of the year or early 2020 — amid heated presidential campaigns. Therefore, he said Trump's proposal to extend DACA for three years in exchange for border-wall funding may be a non-starter since "the courts have already extended it for at least one year."
"You're really only talking about a short-term extension of something the courts have already extended and may extend further," Capps said. He said that will likely complicate Trump's efforts to reopen the government unless another compromise is presented. Meanwhile in Congress, Capps was pessimistic about a compromise between Republicans and Democrats. Republicans appear "dead set against" a permanent extension of DACA, he said, while Democrats are unlikely to settle with pro-enforcement legislation.
And the Supreme Court seems like the next, eventual step, Capps said, but how the justices ultimately rule also remains a big unknown.
Get stories like these delivered straight to your inbox. Sign up for The 74 Newsletter