Report: New Summer Learning Initiative, Launched Last Year as a 5-Week Pilot for Nearly 12,000 Students, Shows Promise For Improving Online Instruction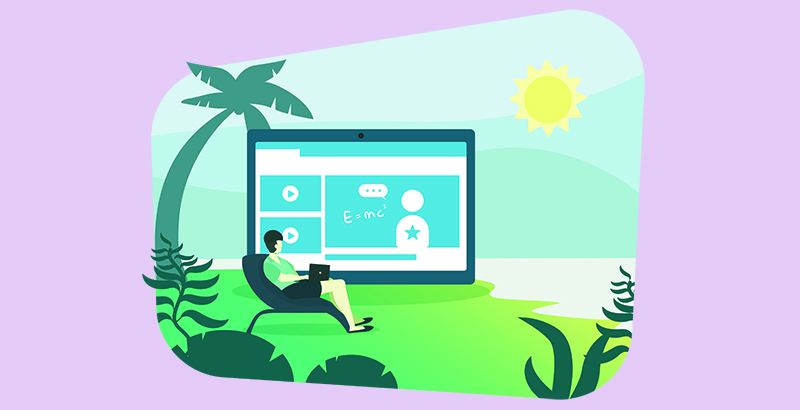 An ambitious pilot aimed at improving virtual learning last summer has earned high marks from participants, according to a new report. The program, which has since been reconstituted as an ongoing nonprofit enterprise, was rated in surveys as both engaging to students and beneficial in improving teacher performance. Evidence of its academic impact is still to be collected.
The findings are being weighed at a moment when policymakers are still considering how educators should handle the summer of 2021. In a CNN town hall Tuesday, President Biden suggested that some schools would remain open throughout the season to catch up on lost learning time from pandemic-related closures.
Released through the University of Virginia's Curry School of Education and Human Development, the report provides the earliest qualitative evidence related to the National Summer School Initiative (NSSI), which was swiftly designed by a coalition of actors from the education reform world as COVID-19 triggered nationwide school closures. The effort was backed by prominent philanthropies like the Walton Family Foundation and earned a spate of summer headlines in both the national and local press.
NSSI was rolled out as a five-week summer offering by 50 schools and school networks, eventually reaching about 11,800 predominantly non-white and low-income students enrolled in grades 3-8. Pupils took part in live, remote math and reading instruction five days per week, mixed with supplemental literacy classes and self-directed mindfulness sessions incorporating activities like dance and yoga.
To carry out the coursework, 513 "partner" instructors were paired with 15 mentor teachers, many selected from high-performing charter networks like KIPP and Uncommon Schools. Working from the same curricula, mentors provided daily instructional videos for participating teachers to emulate, critique, or simply allow students to watch directly. They also worked with partner teachers to guide their adaptation to remote pedagogy, giving advice on what methods and activities worked or fell flat in their own classrooms.
Early assessments, gathered both through NSSI surveys and subsequent interviews with partner teachers and mentors, were resoundingly positive. The vast majority of partner teachers reported that students improved their academic abilities over the course of the program and gained greater interest in school and learning. Eighty-six percent of partner and mentor teachers said that participating in NSSI bolstered their view of online instruction.
Students also rated the experience highly, with 81 percent of survey respondents agreeing that they had grown as readers and 75 percent saying the same for their skills as mathematicians. Three-quarters of parent respondents said that their children had gained confidence in their academic abilities, while nearly two-thirds said that they had discovered a new interest as a direct result of participating in NSSI.
Perhaps the most heartening finding — especially as school districts have struggled to maintain student interest and attendance in online classes — was that NSSI students generally felt engaged by their virtual lessons. By the final week of the program, 88 percent reported attending the voluntary classes either every day or almost every day, while 65 percent said they were happy to be participating in summer school.
In both survey responses and interviews, instructors expressed high levels of satisfaction with the collaborative aspects of the program. Seventy-nine percent of partner teachers agreed with the statement, "I am learning from my mentor teacher," including 53 percent who strongly agreed; fully 87 percent believed they would be better teachers in the 2020-21 school year because of their experience at NSSI. For their own part, mentor teachers unanimously agreed that the initiative increased their enthusiasm for teaching.
Beth Schueler, an assistant professor of education at the University of Virginia and one of the paper's co-authors, said that the program's design held some promise as a means of professional coaching and curriculum development. America's year-long experiment with online learning has largely been seen as a disastrous setback for students, but teachers could stand to benefit from being connected with some of their top-performing fellow practitioners from around the country, she argued.
"The thing that [partner teachers] really appreciated was that they were just handed all these materials without having to do a ton of lesson planning," said Schueler. "They could spend the time instead internalizing those materials, getting student feedback, and connecting with students, which seems particularly important right now."
Partner teachers extolled the quality of the videos they received from mentors, with one noting that they had never before watched a fellow instructor complete a full, 45-minute lesson. Another, who said they worked in an area with a shortage of math teachers, said they appreciated being able to consult video lessons taught by a mentor who fully grasped the intricacies of Common Core-aligned instruction.
The enthusiasm for the program from teachers and families stands in marked contrast to the public's general reception of virtual learning during the pandemic. Polling indicates that large numbers of parents across demographic groups suspect that their children are learning less in online classes and are at risk of falling behind, an impression that is substantiated by early evidence of widening achievement gaps in test scores. Surveys have also shown that teacher morale suffered greatly during the transition away from in-person classes.
After its initial summer launch, NSSI has been rebranded as the nonprofit Cadence Learning, with the aim of extending its reach to new schools. Beginning last fall, the initiative was made available free of charge to districts and networks enrolling fewer than 5,000 students. Districts like Providence and Tulsa, whose enrollments far exceed that number, have been willing to pay up to $50 per student for access to the service, Cadence CEO Steven Wilson told The 74 in an interview. After a substantial round of early philanthropic financing, Wilson added, the organization is "nearly entirely funded from earned revenues."
Schueler noted that it would take further quantitative studies to determine whether participation in the summer school actually led to academic growth. In the meantime, she argued, it offered preliminary indications that virtual classes could be used as more than an emergency stop-gap.
"Obviously, there are a lot of downsides to virtual learning. But I think this is the rare case where you have an organization that was trying to innovate and do something high-quality in the virtual space, and what we're finding here is that the folks who participated felt like this was a really engaging and positive kind of virtual experience. So engaging virtual learning is possible."
Disclosure: The Walton Family Foundation provides financial support to Cadence Learning and The 74.
Get stories like these delivered straight to your inbox. Sign up for The 74 Newsletter