New Poll Finds Parents Want Better Distance Learning Now, Online Options Even After COVID, More Family Engagement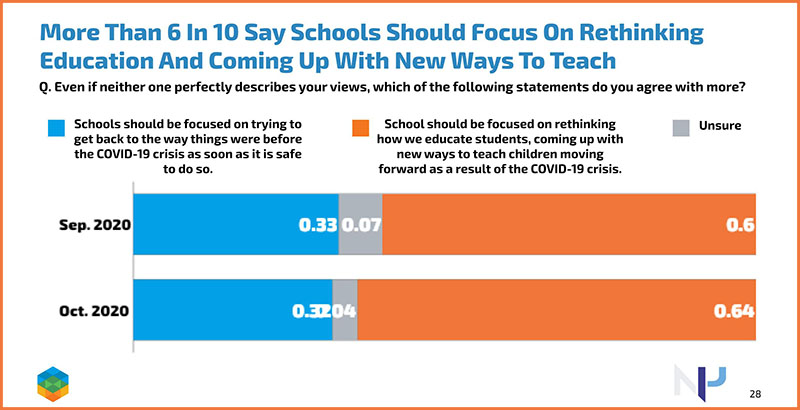 While many school leaders focus on bringing students back into in-person classrooms as they were, a majority of parents want them to develop new and better ways of teaching, prioritize high-quality distance learning now and continue to offer virtual instruction even after COVID-19 recedes, a new poll finds.
The survey, commissioned by the National Parents Union, also finds broad approval among parents for their own schools — but high numbers reporting that their children are receiving less learning than usual. Low-income parents and those whose children have disabilities are particularly likely to say their kids are losing ground.
Echelon Insights canvassed 1,000 parents of school-aged children from Oct. 19 to 27 on behalf of the parent union, which is conducting frequent polls to assess families' experiences with education during the pandemic. The October survey included questions on attitudes about broader policy issues.
Nearly two-thirds of parents surveyed in the most recent poll want schools to focus on new ways to teach children moving forward as a result of COVID-19, while 32 percent say they want schools to try to get back as quickly as possible to how things were pre-pandemic.
Fifty-eight percent want schools to continue to provide online options for students after the pandemic has ended and a vaccine is widely available, while 34 percent of white parents, 37 percent of Black parents, 35 percent of Hispanic parents and 45 percent of Asian parents say their children are learning less than they usually would.
Four in 10 parents earning less than $50,000 a year and 44 percent of those whose children have a disability say their children are learning less.
In the new poll, 59 percent of parents say they would prefer schools to focus on improving online or remote learning, compared with 35 percent who favor a return to in-person schooling. The number who say improving distance learning should be the priority rose 5 percentage points over September.
Like other polls, the survey found families of color far less in favor of returning to full-time, in-person schooling than whites. Just 19 percent of Black families, 22 percent of Latinos and 30 percent of Asians want their children back in classrooms full time, versus 34 percent of whites.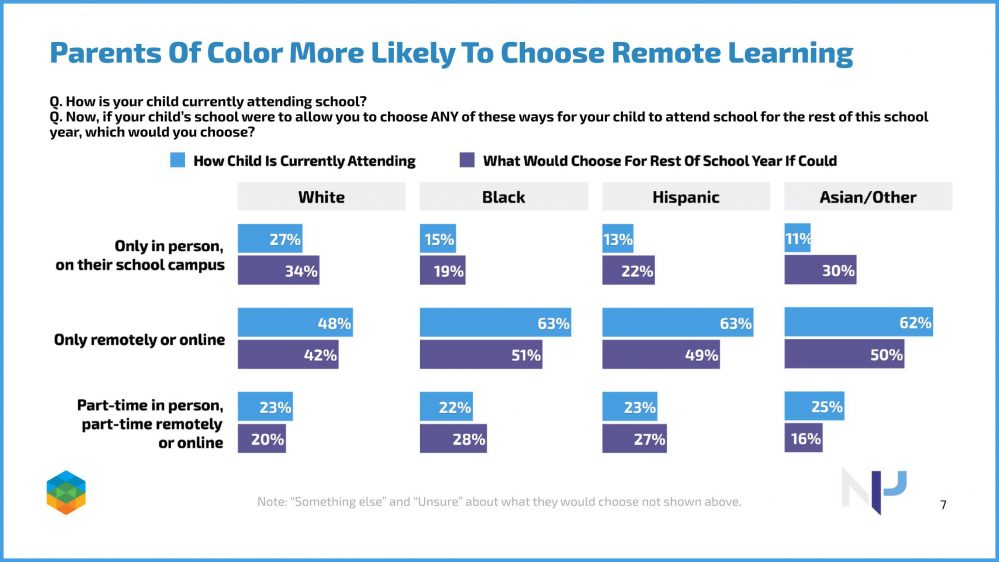 About half of families of color want to remain in distance learning, compared with 42 percent of whites. Three-fourths of parents with children attending school in person favor finishing the school year that way, compared with 71 percent of families enrolled in online learning and 52 percent of those in some form of hybrid school.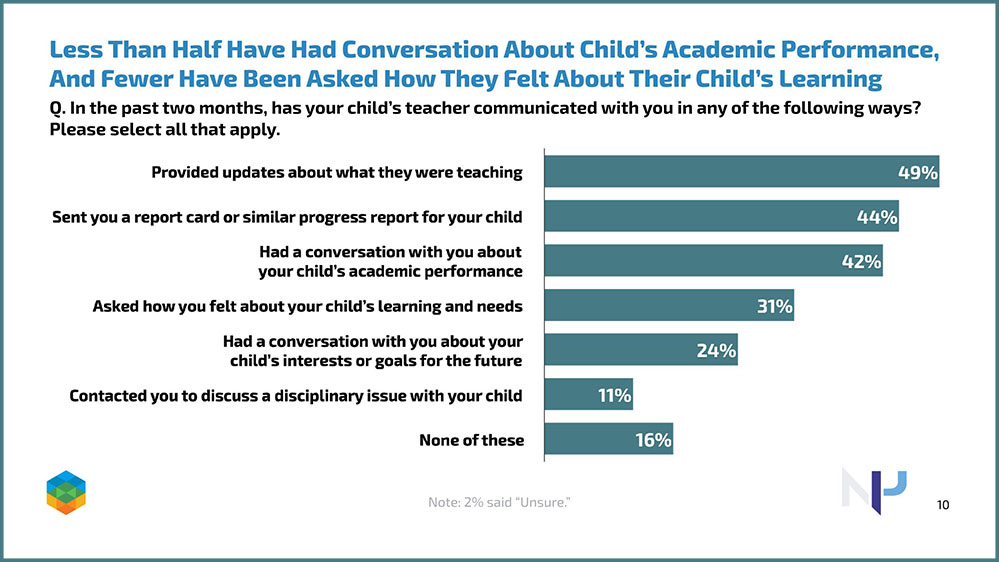 Parents whose children are attending school in person are least likely to feel their school should be doing more to communicate, with 39 percent of those in distance learning and 37 percent of those in hybrid arrangements wanting more engagement.
Black and Latino parents are more likely to say their child's school should be doing more to engage families. Thirty-eight percent of Black parents and 43 percent of Latinos said they wanted schools to do more to include them in making decisions about their children, versus 34 percent of white parents.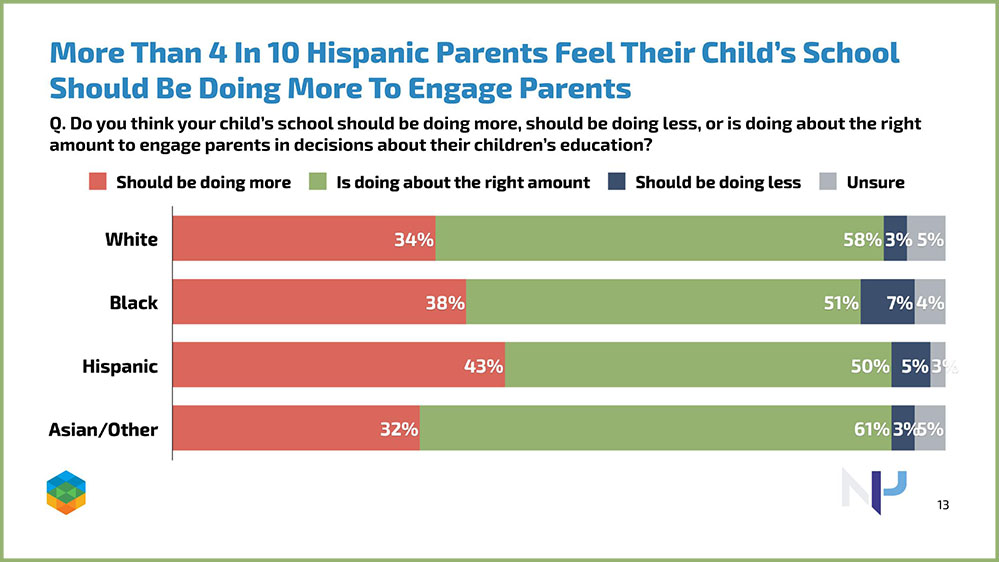 Seventeen percent of respondents say their children are participating in a learning "pod" with other families.
Among specific resources provided by schools, parents are least satisfied with the level of support for students' mental health and emotional well-being.
Despite the concerns highlighted by the poll, more than four-fifths of those surveyed say the education offered by their child's school is good or excellent — a seeming paradox that is nothing new.
Martin West, a professor at Harvard's Graduate School of Education and executive editor of the influential journal EducationNext, which publishes its own annual K-12 opinion poll, cautioned against portraying the new survey as either a rock-solid endorsement of schools' current performance or a mandate for big change.
"It can be hard for parents to admit to themselves that their child's school is not as good as it could be," he said.
The findings, West added, echo other recent surveys. EducationNext's most recent poll, conducted in May, found 71 percent of parents say their children are learning less, while 72 percent describe themselves as satisfied with instruction and activities provided by schools since the shutdowns began.
"We interpret that as generosity of spirit toward the obstacles teachers and schools are facing," he said.
That survey also found rising support for online learning, with 73 percent of parents reporting a willingness for their child to take some high school courses digitally.
Disclosure: The Walton Family Foundation provides financial support to the VELA Foundation, the National Parents Union and The 74. The City Fund and the Bill & Melinda Gates Foundation provide financial support to the National Parents Union and The 74.

Support The 74's year-end campaign. Make a tax-exempt donation now.