Survey: More than Half of Teachers Felt Less Successful After COVID-19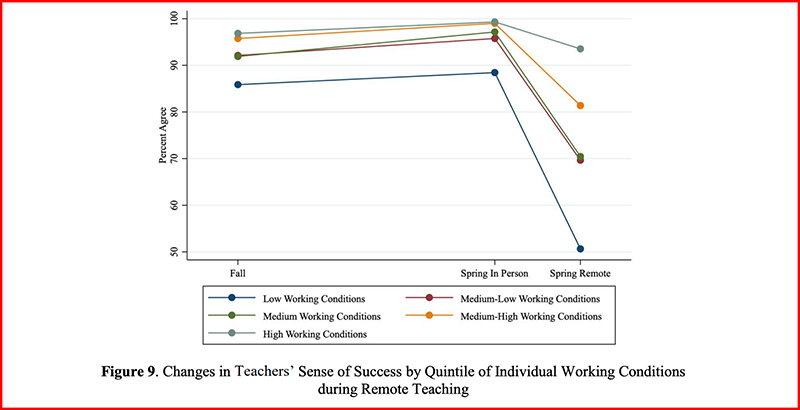 New public opinion research indicates that COVID-19 and the hurried transition to remote learning presented teachers with an array of challenges that seriously damaged their sense of self-efficacy. The quality of school working conditions, including fair expectations and clear communication, was found to be critical in sustaining the educators' perceptions of professional success.
While over half of the teachers surveyed by academics at Brown University and the City University of New York experienced a decline in their sense of success, those who reported better working conditions were somewhat shielded from the effects, said co-author Matthew Kraft, a professor of education and economics at Brown. He added that lessons could be taken from schools that offered strong instructional leadership and opportunities for collaboration.
"For those organizations that had strong working conditions to support rapid change [to online classes], it's not that they knew more about how to do teaching remotely during a pandemic," Kraft said. "It's that they had an infrastructure that allowed them to successfully work together and come up with how to do it, rather than having teachers on their own islands, floundering, without much sense of community."
The study, circulated as a working paper through Brown's Annenberg Institute for School Reform, relied on data collected from surveys conducted in the fall and spring of the 2019-20 school year. A sample of nearly 6,000 teachers across nine states responded to both waves of the survey, which solicited their views toward their work environments.
To gauge how the COVID-19 shock affected the teachers' work, the authors included questions in the spring survey asking how respondents had managed the switch to virtual learning, how engaged their students were in the new online format, and how successful they felt they had been both before and after the coronavirus outbreak.
Responses showed that the respondents experienced a "sudden and steep drop" in their sense of success, the authors wrote. While 92 percent either agreed or strongly agreed that they felt successful in the fall of 2019, just 73 percent said the same in the spring of 2020. In all, 53 percent of the teachers who completed the spring survey reported a decline in their sense of success compared with the period just before the pandemic and closures began.
The setbacks faced by teachers varied according to their levels of experience and the demographics of their schools. For instance, teachers working in high-poverty schools (i.e., those in which at least 75 percent of students are eligible for free or reduced-price lunch) reported that only half of their pupils regularly engaged in remote learning; for those teaching in low-poverty schools, three-quarters of students were engaged.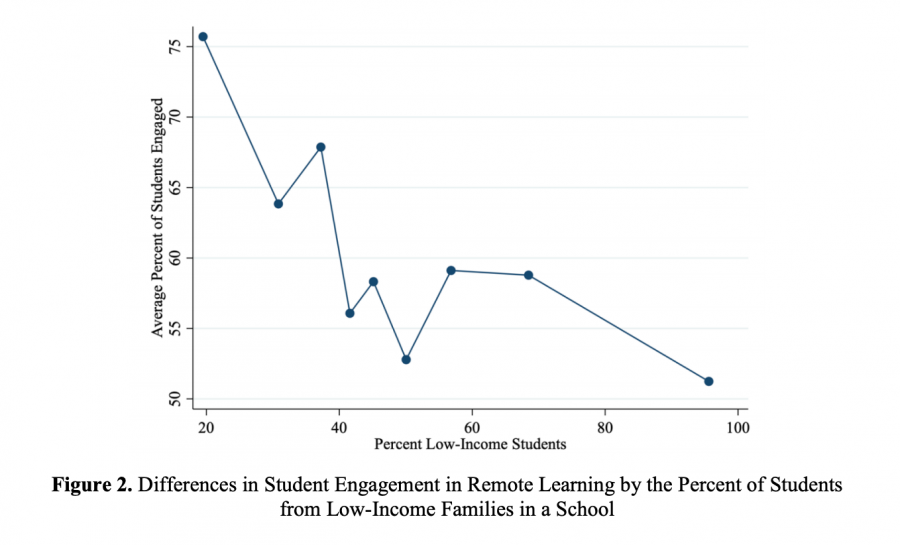 Older teachers were more likely to express uncertainty in adjusting to online learning technology, while their mid-career colleagues (those most likely to have school-age children) reported more difficulties balancing jobs with new caretaking responsibilities. But across the board, most survey respondents said that their sense of efficacy — what Kraft dubbed "the currency of teaching" — had taken a hit.
"I think that teachers are really struggling to find their purpose," he said. "Many of them signed up for the joy of working with kids in person, and all of a sudden, they're asked to teach remotely on a long-term basis. That presents long-term challenges, and for some teachers, and it may limit the kind of benefits they experience from working with kids."
Notably, however, the negative impact of school closures was blunted among teachers who reported positive working conditions. In the spring survey, respondents were asked to rate the quality of their professional environments according to the degree to which they fostered collaboration and effective communication, held teachers to fair expectations, recognized their contributions, and provided targeted professional development.
Teachers who spoke more highly of their schools with respect to those five metrics were substantially less likely to report harm to their sense of success in the aftermath of COVID-19. While respondents at the 25th percentile for working conditions were 10 times more likely to report a decline in their sense of success during remote learning, those at the 75th percentile were only four times more likely.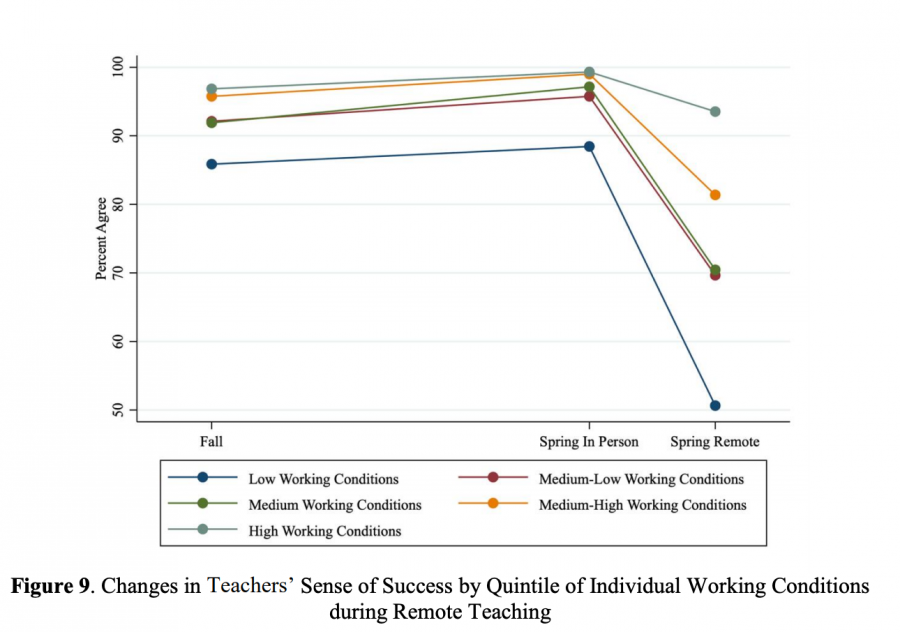 The pandemic has disrupted K-12 education in a way that only a few historic crises (mostly deadly events like Hurricane Katrina and 9/11) have previously, but the survey evidence demonstrates the power of supportive working environments in helping teachers adjust to even catastrophic change. Kraft likened the baseline conditions of "open communication, strong professional development, rapport, and recognition" to the protection offered by earthquake-proof engineering. While rare, he said, the likelihood of new COVID-like threats could not be discounted in the future.
"I think we're increasingly going to need to be creative about how we address students' learning needs as these challenges — whether they be pandemics or wildfires or other catastrophic events — occur. So it speaks to the importance of building systems that are, by design, prepared to adapt."
Support The 74's year-end campaign. Make a tax-exempt donation now.