Rahm Emanuel, Facing Re-election Fight, Credits Tough Policy Changes for Chicago Schools Success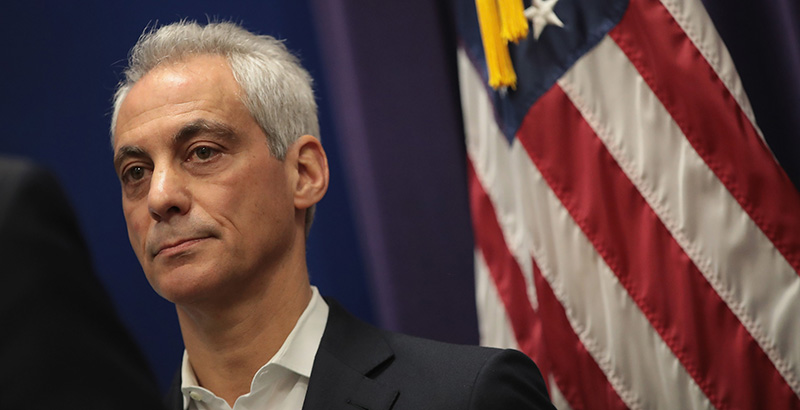 Washington, D.C.
It took real policy changes, from full-day kindergarten to an extended school day, to fuel recent improvements in Chicago schools, Mayor Rahm Emanuel said Wednesday.
"The system was stacked against our kids. The kids didn't just all of a sudden start eating their Wheaties and get brighter," Emanuel said at a conference of Communities in Schools, a national nonprofit that works in schools to help at-risk students.
A much-touted study by Stanford University researchers found that Chicago students learn and grow at a rate faster than 96 percent of students nationwide, including those in wealthy districts.
Though expanded early learning and new high school options, like International Baccalaureate and P-TECH STEM schools, were important factors in the success, it's mostly due to a push to extend the school day and year in Chicago, Emanuel said.
Chicago had the shortest school day and year of anywhere in the country when he came into office, forcing educators to decide between "reading and recess" and "math and music," he said several times.
Emanuel appeared with former U.S. education secretary and Chicago schools chief Arne Duncan, who also played a key role in the Chicago school renaissance. Emanuel chalked up part of his success to his ability to appoint the city's school board, plus the leaders of early childhood education and community college systems.
"The mayor should be accountable for making sure there are metrics that are met, results that are met, investments that are made … Whether you have that authority, mayors are held accountable anyway," he said.
And he will be held accountable soon: Challengers are already lining up against him in his 2019 re-election campaign, likely to be his toughest, Politico reported. He has long been at odds with the city's powerful teachers union, including over his first-term closure of 50 schools in low-income neighborhoods.
The battle for the additional hour and 15 minutes of class time and two weeks of the school year fueled a week-long teachers strike in 2012. Though his long political career had touched plenty of contentious issues, including efforts to pass gun control and health care reform, Emanuel said the fight over longer class time was among the most important of his career.
"I never felt more right about what we're doing," he said.
Emanuel has made big changes in the upper grades, too, most notably the new requirement, beginning in 2019, that students get accepted to college, trade school, or the military, or receive a job offer, before they can receive their diplomas.
They will receive counseling and assistance early in high school to help along that path: "It's not like we're doing a pop quiz January of your senior year," he said.
Emanuel also touted the city's STAR scholarship, which provides free community college tuition to graduates with a B average or higher. Universities in Chicago have also started offering reduced tuition to students who maintain that B average through community college.
Get stories like these delivered straight to your inbox. Sign up for The 74 Newsletter