Post-Maria, Puerto Rico Looks to Charter Schools, Vouchers as Part of New Education Reform Strategy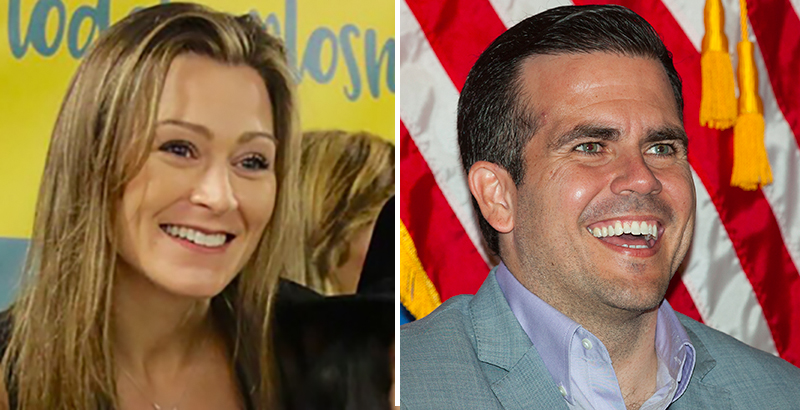 Updated 6:15 p.m. EST
Puerto Rico, still reeling from Hurricane Maria, is looking to reform its public education system with school choice options like charters and vouchers as the island's government works to rebound from the storm and a crippling financial crisis.
Puerto Rico Gov. Ricardo Rosselló announced on Monday afternoon an education reform plan that would include a new system of charter schools — called Escuelas Alianzas — on the island. Puerto Rico currently does not have any charter schools, and its law allowing them has long been expired. In a Spanish-language video announcement, Rosselló said Puerto Rico's education system needs to reduce bureaucracy but that the "big change" would be providing more options for parents and students.
"In Puerto Rico, we have extraordinary talent, intelligence, and capacity in our students and teachers," he said. "What we lack is a system that lets us develop these talents."
Rosselló announced he would present the reform bill to lawmakers Tuesday. If approved, the legislation — which includes plans for a $1,500 raise for teachers, their first in over a decade  — would go into effect for the 2019–20 school year. The bill also includes a plan to strengthen the island's vocational schools.
In an interview, Julia Keleher, Puerto Rico's education secretary, said the government aims to begin with about 14 charter schools — two in each of the island's seven education regions.
"We don't have those kind of options," Keleher told The 74. "We don't have individual schools competing, striving to be the best, to make sure they can maintain their population so they continue to be economically feasible."
When Hurricane Maria hit Puerto Rico in September, it caused an island-wide humanitarian crisis. All of the public schools closed temporarily; many never reopened. About 350,000 students attended Puerto Rico's public schools before the storm, and 27,000 have since left to attend schools on the U.S. mainland.
If the scenario of a hurricane-ravaged, poorly performing school system turning to school choice in a crisis sounds familiar, that is not entirely by accident. New Orleans overhauled its education system with one composed almost entirely of charter schools after Hurricane Katrina struck in 2005. In Puerto Rico, the comparison to New Orleans has been building for months. In Maria's aftermath, Keleher sought input from Paul Pastorek, a former Louisiana superintendent of education who led reform efforts after Katrina. On Twitter, Keleher has even made comparisons to New Orleans as a "point of reference" to illustrate the challenges ahead for Puerto Ricans.
Although Keleher frequently compares storm recovery efforts on the island to those in New Orleans, she said her education reform vision is more modest.
"We're not looking to go crazy," Keleher said. "This is super important: I'm not privatizing education. It's not New Orleans all over again. I have no intention of creating union issues. But what I do think is fair for kids is to give them more options."
Nonetheless, the comparisons have put unionized teachers in Puerto Rico on edge. Aida Díaz, president of the island's 40,000-member teachers union, the Asociación de Maestros de Puerto Rico, told The 74 last year her members were working to rebuild storm-ravaged schools to ensure they wouldn't be replaced by charters.
The news comes just a few weeks after Gov. Rosselló announced a fiscal plan that aims to close 300 of the island's roughly 1,100 schools. Although the hurricane contributed to that plan, it dates to a much older financial crisis that's left the island with $123 billion in debt and pension obligations.
"Instead of the wholesale closing of public schools proposed by this fiscal plan — or privatizing them — schools need to be transformed into centers of their communities to provide stability and support to help students overcome trauma and continue to learn," Díaz said in a joint statement with Randi Weingarten, president of the American Federation of Teachers, after the fiscal plan was released.
As Puerto Rico moves into the charter school space, Keleher said the proposal would allow universities or nonprofits like KIPP to open campuses on the island. At first, however, she plans to look at Puerto Rico's existing public Montessori schools. Although Montessori schools have more autonomy than traditional public schools, she said, they do not operate independently of the education department. Converting the Montessori schools to charters is "really a win-win" for the schools and the education department, Keleher said, "especially given the financial crisis that we have."
But Ana María García Blanco, who leads a nonprofit that promotes the growth of Montessori schools in Puerto Rico, told The Intercept in November she was concerned the storm could lead to education reforms like charters.
"The school department should now be a source of relief … for the community," García Blanco, executive director of Instituto Nueva Escuela, told the news website. "We should not be talking about how we can save money in schools or restructure schools or [use] the money in a better way. The question is, how can we serve our children so they can go back to a normal day?"
Beyond charter schools, the new legislation touches on several other education reform areas, including human resources, school facilities, bureaucratic restructuring, and school climate. Keleher said it also opens up the possibility to offer private school vouchers, a controversial reform technique that allows students to attend private schools with assistance from public money.
"Vouchers will be included, but it's not something we can execute right now for obvious reasons. I've got to get the budget straight," Keleher said, noting that the education reform proposals would be implemented in stages. "The point isn't to do it, it's to do it in a way that benefits the students, and to do it right."
Support The 74's year-end campaign. Make a tax-exempt donation now.