Plaintiff Oliver Brown Would Have Been 100 Years Old This Week: 8 Ways America's Schools Have (and Haven't) Changed Since the Supreme Court's Brown v. Board Verdict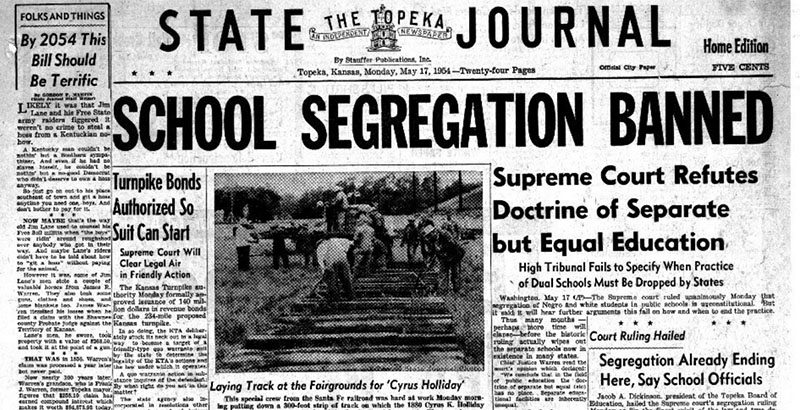 This is the latest article in The 74's ongoing 'Big Picture' series, bringing American education into sharper focus through new numbers, research and reporting. Go Deeper: See our full series.
Rev. Oliver Brown, born Aug. 19, 1918, became a household name in May 1954 when he led a group of plaintiffs in a Supreme Court victory over the Topeka, Kansas, Board of Education.
Filed three years prior, the class action lawsuit called on the school district to reverse its long-standing policy of racial segregation, through which elementary schools in the state were permitted to maintain separate facilities for children of different races.
On May 17, 1954, legal segregation in American schools came to an end, as the Supreme Court ruled unanimously in Oliver Brown, et al. v. Board of Education of Topeka, et al. that state laws mandating separate public schools for black and white students were unconstitutional.
Earlier this year, on the anniversary of that verdict, I took a look back through the research and Census data to get a sense of how America's public education system has (and hasn't) changed in the 64 years since the pronouncement. You can see my full analysis — and all the eye-opening charts — right here.
But for those who'd prefer the CliffsNotes version, eight takeaways every parent should know: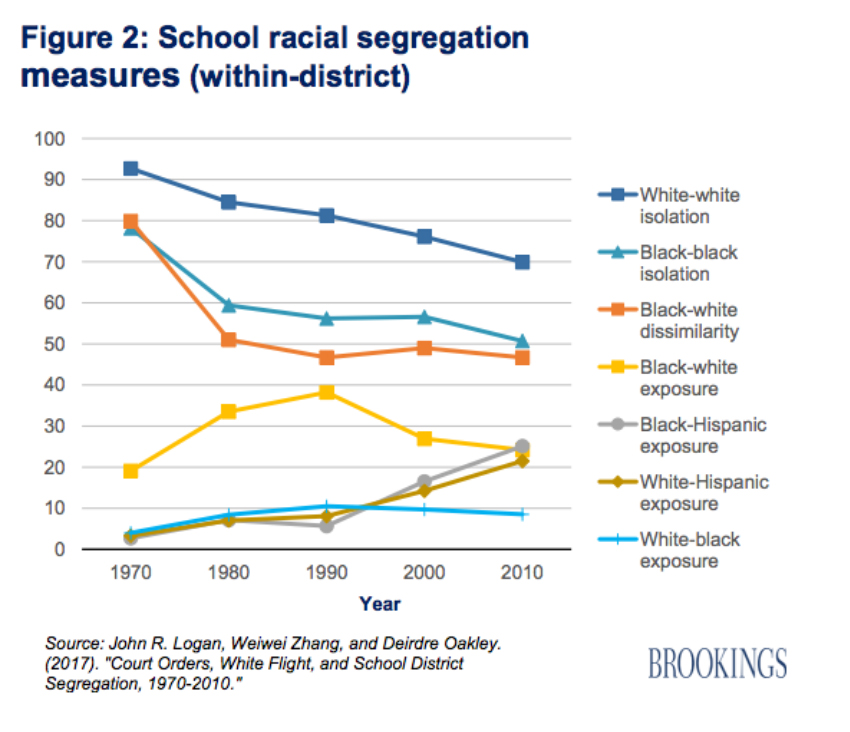 1 Integrated Classrooms: Two big steps forward for white-black exposure — but, after 1990, another big step back:
Most of that progress in white-minority exposure has come from the enormous increase in the number of Hispanic and Asian-American students. Consequently, the percentages of both black and white students attending schools almost exclusively populated by members of their own race have plummeted since 1970. By contrast, black-white exposure (the percentage of black students attending predominantly white schools) peaked around 1990 and has declined significantly over the past three decades. (Read my full analysis)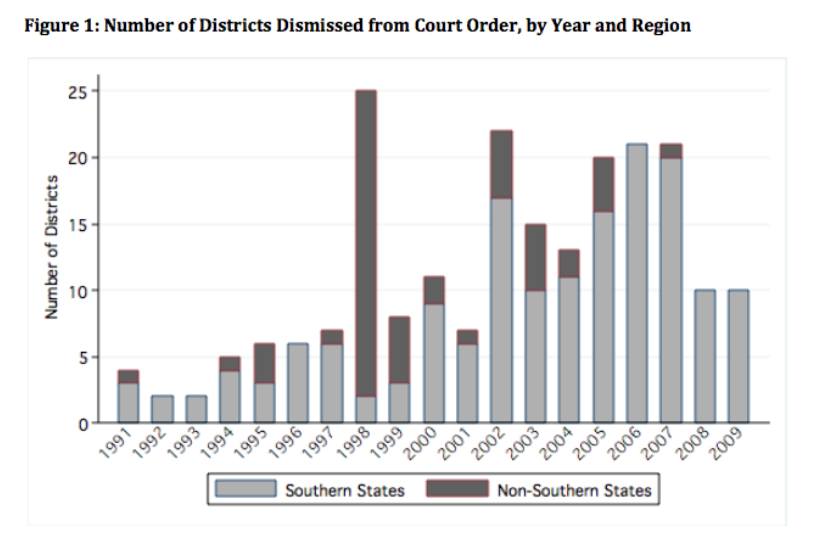 2 Expiring Desegregation Orders: Courts started releasing districts from legal requirements
So why did progress toward racial diversity in public schools hit its high-water mark in the late '80s and early '90s? Some experts point to the Supreme Court's ruling in 1991 that federal desegregation orders were never meant to continue in perpetuity and that some districts could be released from them. Since then, hundreds of those orders have been dismissed, mostly in the South. (Read my full analysis)

3 Academics: The racial achievement gap has widened over the past 30 years
In terms of performance in school, historical trends among black and white achievement closely mirror those of black-white exposure. After steadily closing in the first few decades after Brown, disparities between black students and white students on standardized tests strongly reasserted themselves in the 1990s. The black-white gap in reading scores on the National Assessment of Educational Progress, commonly referred to as the Nation's Report Card, was reduced by more than half between 1971 and 1988. Since then, it has inflated by nearly one-third — though that development is largely a reflection of a sizable, and puzzling, drop in black scores between the years 1988 and 1996. (Read my full analysis)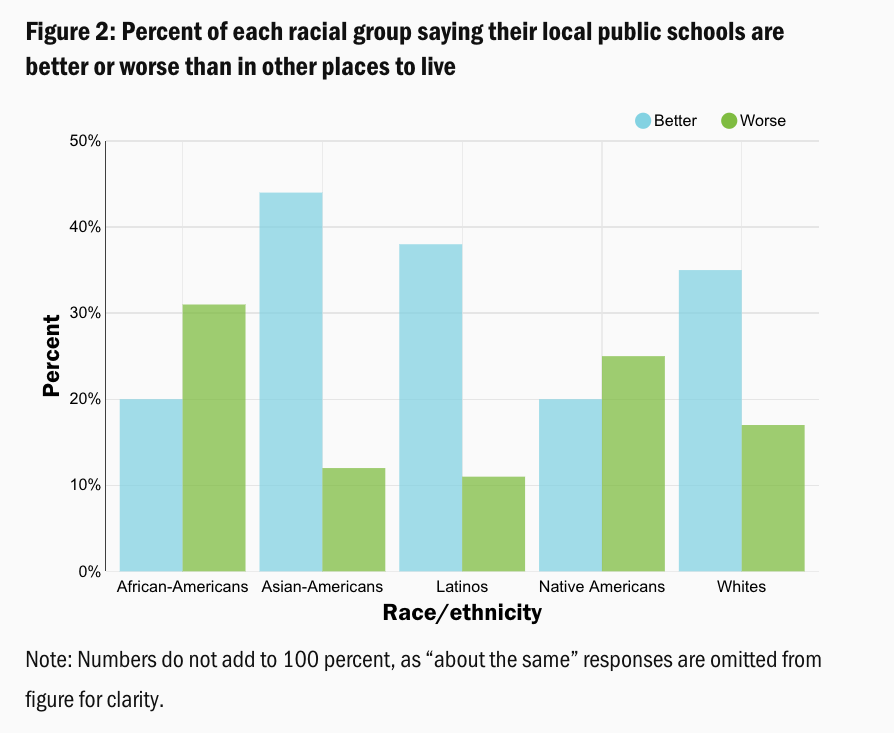 4 Attitude Gap: Many Americans have positive views of their local schools — but not black families
The inequities in education are reflected in public opinion. While Americans are notorious for insisting that their local schools are shining stars in an otherwise failing education system, blacks believe the opposite. A poll from the Robert Wood Johnson Foundation shows that over 30 percent of blacks believe that their local schools are worse than in other places, while about 20 percent think that they are better. (Read my full analysis)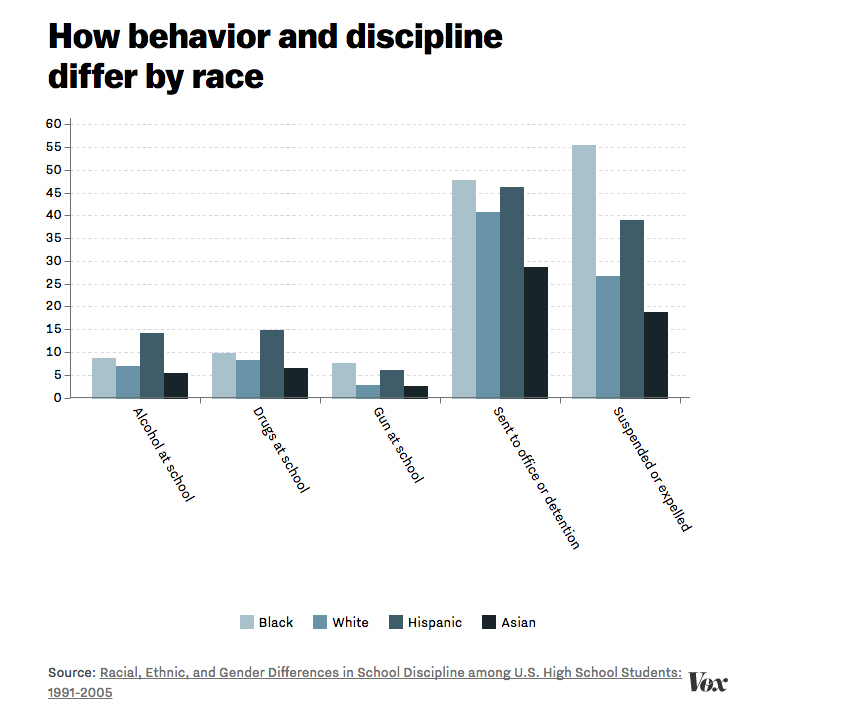 5 Discipline Gap: Not just more discipline, but harsher discipline
Stark as these realities are, it actually gets worse: Study after study has shown that black students are not only much more likely to get into trouble than white students — they are more likely to incur harsher punishments for the exact same infractions. White and Asian students are less likely to be sent to the principal's office, suspended, or expelled for committing the same offenses as black and Hispanic students. (Read my full analysis)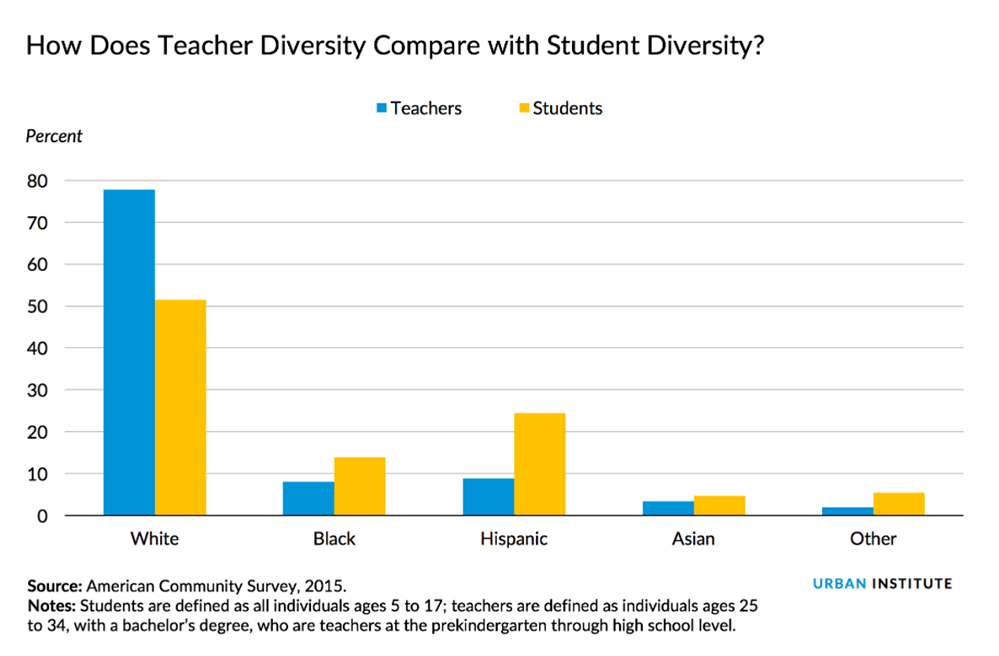 6 Teacher Diversity: Majority-minority school districts, but 80 percent of teachers are white
Discipline is clearly more severe for students of color — which is perhaps a logical consequence of the racial mismatch between teachers and students in the classroom. Although whites make up slightly less than half of all K-12 students, they occupy nearly 80 percent of all teaching jobs. Students of color — and especially Hispanics, whose ranks have exploded in recent years — too seldom see their ethnicity reflected back at them from the professionals leading their classrooms. (Read my full analysis)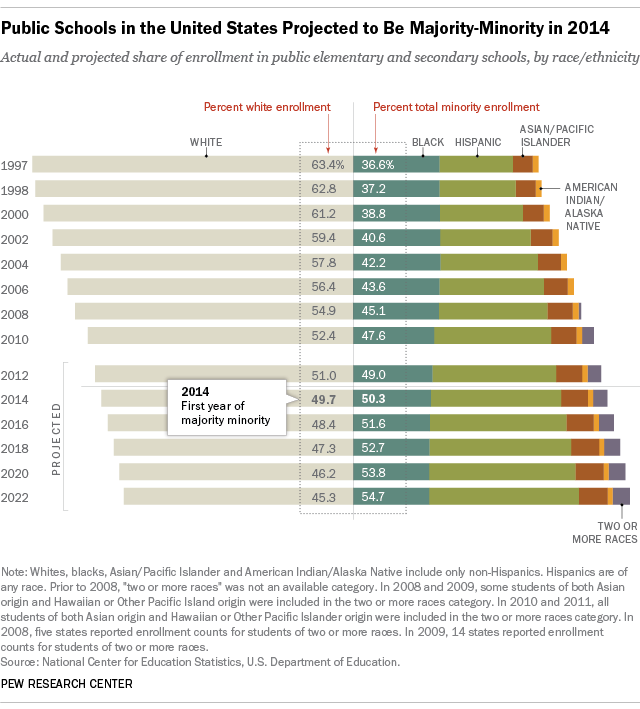 7 The Next Generation of Integration: How schools will change over the next 5 years
According to research from Pew, the percentage of nonwhite students in K-12 schools is already over 50 percent, and it will increase to roughly 55 percent by 2022. But that growth isn't powered by a boost from the number of black students, which is projected to shrink. Instead, growing numbers of Hispanic, Asian, and mixed-race children will fill more and more desks and classrooms as the U.S. continues down the road to becoming a majority-minority nation. (Read my full analysis)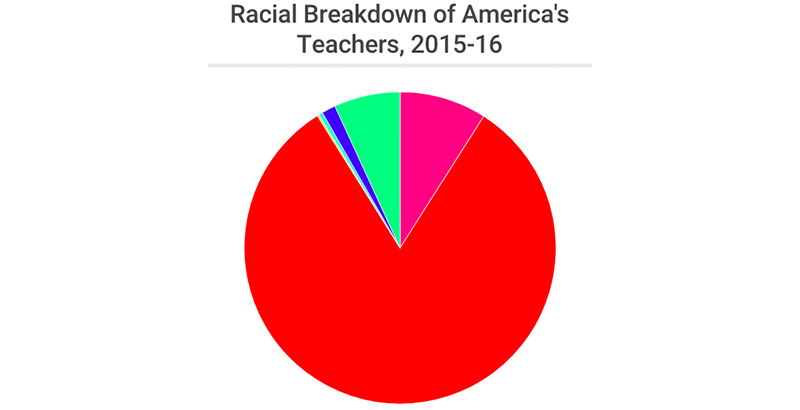 8 In Depth: How the diversity of America's student body compares with the country's teachers
Earlier this month at The 74, Laura Fay published an extensive deep-dive into the current racial makeup of America's public school system. Included in the series: the statistics that reveal our majority-minority student body, the current racial breakdown of our teaching force, a survey of how many more Hispanic students have joined the system over the past decade, and her analysis of experts' reactions to the differing trends between students and their instructors. (Read Laura's full analysis: "The State of America's Student-Teacher Racial Gap: Our Public School System Has Been Majority-Minority for Years, but 80 Percent of Teachers Are Still White")
Go Deeper: This is the latest article in The 74's ongoing 'Big Picture' series, bringing American education into sharper focus through new numbers, research and reporting. See our full series here. Three recent posts in the series:
— New Finding: Most States Don't Test New Teachers on 'Science of Reading' (Read the full story)
— In the Aftermath of Katrina-Inspired School Reforms, Report Shows New Orleans Students Are Now More Likely to Attend — and Graduate From — College (Read the full story)
— Study: As Catholic Options Dwindle, Middle Class Retreats From Private Schools (Read the full story)
Get stories like these delivered straight to your inbox. Sign up for The 74 Newsletter