New Federal Data: Almost All Schools Offered In-Person Learning by Spring, But Attendance Varied Widely By Race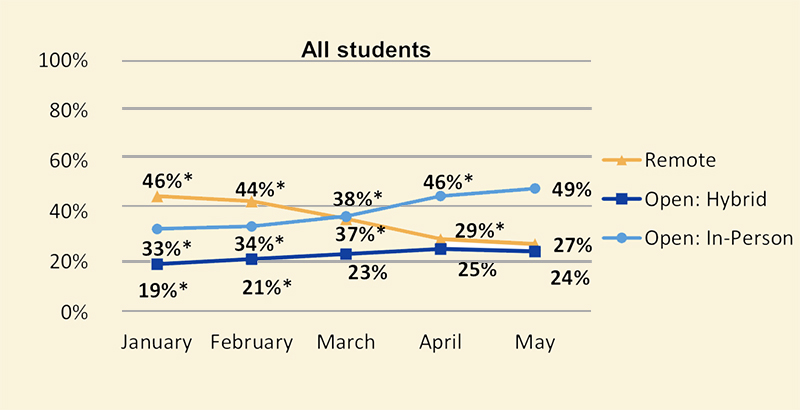 Get essential education news and commentary delivered straight to your inbox. Sign up here for The 74's daily newsletter.
Almost all schools with fourth and eighth grades were offering some in-person learning as the end of the school year approached, but more than half of students at those levels remained in hybrid or fully remote programs, according to the final round of school reopening data from the Institute of Education Sciences.
The latest update of the 2021 School Survey, released Thursday, shows the rate of Black and Hispanic students attending full, in-person learning continuing to inch upward, but still falling at least 20 percentage points below that of white students. Asian students were the least likely to attend in-person learning, with 55 percent remaining in remote-only classes.
"Reopening schools and welcoming back students was the first step, but the hardest work is still to come," Institute for Education Sciences Director Mark Schneider said in a statement. "We must do all we can as a nation to ensure that all students, especially the most high-need students who have already borne the brunt of the coronavirus and its effects, recover from any learning losses."
The Department of Education launched the tracker in March to comply with an executive order President Joe Biden issued on his first full day in office. At the state and national level, the data confirmed that white students were returning to in-person learning at higher rates than Black, Hispanic and Asian students. It also revealed that some students in remote learning were receiving no more than two hours or less of live instruction each day. With many districts continuing to offer remote options this fall, elementary-age students still not eligible for vaccines and rising concerns over whether the Delta variant of COVID-19 could lead to increased transmission rates, a mixture of schooling arrangements will continue this fall.
In California, for example, Gov. Gavin Newsom is requiring districts to offer families with a medically fragile child a remote, independent study option for the 2021-22 school year. And the latest polling from the National Parents Union shows that a third of parents plan to hold their children out until they are vaccinated.
"While the positive overall trends continue, and more Black and Hispanic fourth and eighth graders were being offered and enrolled in in-person instruction, disparities remain," Education Secretary Miguel Cardona said in a statement. "As a nation, we cannot rest until all students — including students of color and other historically and presently underserved students — have an equal opportunity to receive in-person instruction in school buildings that are fully reopened and safe."
While Black and Hispanic students were more likely than Asian students to attend in-person learning in the spring, recent surveys, including one from the RAND Corp., show that preference for online learning is higher among Black and Hispanic parents. A University of Southern California survey shows 15 percent of Black parents plan to keep their children in remote learning, and a survey in Los Angeles shows that bullying, racism and low academic standards, in addition to COVID-19, are among the reasons Black parents kept their children home in the spring.
"It's great that more districts are adding virtual options, but they really need to be of consistently high quality," said Robin Lake, director of the Center on Reinventing Public Education at the University of Washington. "I'm skeptical that will be the case given the struggles we saw last year. It's critical that districts up their game in remote learning by pursuing creative partnerships and by providing intensive teacher training."
The institute will monitor school options and families' choices with a new survey launching in August. Designed to build on existing data and capture the pandemic's ongoing impact on students, the School Pulse Panel will track enrollment in 1,200 elementary, middle and high schools and cover issues such as health and safety, special education and mental health.
Anna Saavedra, a behavioral scientist at the University of Southern California, said spending federal relief funds to make improvements to ventilation systems, air-conditioning and bathrooms are one way to make families feel more positive about the return to school this fall. Communicating COVID-19 prevention strategies could be especially important for Asian families, she added.
"Asian-American families were more cautious in their behaviors about COVID-19 than other racial groups," she said. "Asian-American families also experienced more discrimination. So particularly for this group, and especially with the dominance of the Delta strain, communication about COVID-19 mitigation practices and weekly case rates will be important.
Using the rest of the summer as a way to rebuild connections with parents and students is also important, she said.
"Districts and schools need to learn what local parents want and clearly communicate a whole-child focus and benefits for students and their families," she said. "Parents will need more communication than they've ever received in the past and for districts to act upon their input."
Other findings from the latest release include:
The Midwest saw the highest rate of students attending full-time, in-person learning, with 64 percent of fourth-graders and 59 percent of eighth-graders.
The percentage of students enrolled in full-time, in-person learning increased for white, Black and Hispanic students between April and May, but not for Asian students.
The survey aimed to capture data from 3,500 schools each at fourth and eighth grade, but participation lagged. The latest results reflect results from 2,100 schools with fourth grades and 2,000 schools with eighth grades.
Get stories like these delivered straight to your inbox. Sign up for The 74 Newsletter