The Remote Learning Paradox: Some Educators, Parents Want to Keep Online Classes Option Even Though Instruction Suffered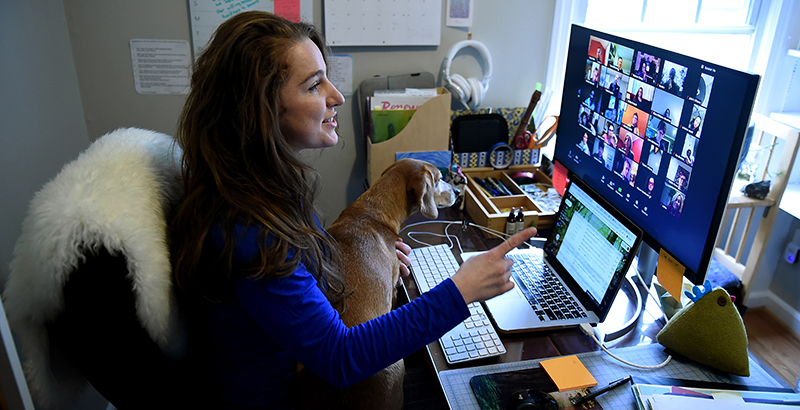 Get essential education news and commentary delivered straight to your inbox. Sign up here for The 74's daily newsletter.
Here's the paradox about remote learning: During the pandemic it has not gone particularly well. And an increasing number of states such as New Jersey and school districts like New York City are prohibiting public schools from offering a remote option next year.
And yet, according to our new surveys, roughly one-third of schools are keeping it as an option going forward for any family that wants it and more teachers prefer remote learning than ever before.
Is remote learning a pandemic blip or a permanent feature of public education moving ahead?
This spring we surveyed a nationally representative set of principals and teachers, and their responses about remote learning were particularly worrisome.
Only 15 percent of teachers who have been fully remote for most of the year reported covering all or most of the curriculum they would cover in a typical year, compared to more than one-third of in-person teachers. Of teachers who delivered mostly remote instruction this year, two in ten reported still having an inadequate internet connection even a year into the pandemic.
School principals reported similar shortfalls. Half of remote schools shortened the school day. Elementary students who spent most of the year in a fully remote school year were receiving 100 fewer minutes of instruction per week in English language arts than their peers who attended school in person, as well as less instructional time in math and science.
This adds up to likely lower quality learning experiences overall, which is especially concerning since remote schooling has been more prevalent in schools with the highest levels of student poverty and more students of color.
Still, a substantial portion of educators seem on board with remote learning. Despite their well-documented struggles, about one in three teachers who'd done remote teaching this year said they would like to continue providing at least some remote instruction or had no preference.
Some educators, students, and families alike have come to appreciate the flexibility that remote classes afford. With less time each day spent in synchronous settings, they have more control over when to post or complete classwork. Remote instruction also could open schools up to more fluid staffing structures, such as allowing tutors or specialists to drop in.
The level of parental demand for remote instruction appears to be diminishing at least somewhat. Several spring 2021 polls reported that 20 to 30 percent of parents desire remote instruction for their children permanently. But our May 2021 survey of more than 2,000 parents found that, overall, just 5 percent aren't going to send children for in-person instruction in the fall. Further, their main reasons for choosing remote schooling are concerns about COVID-19, so that preference may fade somewhat as the pandemic recedes.
Black and Hispanic parents are the most hesitant about in-person schooling in fall 2021. Only 72 and 73 percent, respectively, plan to send their children to school in-person, and about 20 percent of both groups were unsure. In contrast, 90 percent of white parents plan to send their children to school in-person in fall, while another 7 percent are unsure.
To prevent any continued remote schooling from potentially widening racial and income inequities, policymakers, principals and district leaders could do several things to ensure remote instruction translates into remote learning:
1 Boost instructional time and attention to remote students
Our survey results suggest that remote students need many more opportunities to engage with teachers and tutors. That doesn't mean just more time on Zoom. Rather, remote students need to be engaged through small group breakouts, engaging class activities, learning pods, or one-on-one time with tutors. It also means setting minimum time requirements using online programs to practice their skills.
2 Develop remote learning experts
Teachers should not have the burden of teaching in-person and remotely simultaneously. Instead, some instructional staff who prefer remote instruction could be dedicated to running it. These staff should be provided coherent curriculum expressly designed for online instruction and trained in strategies for online engagement.
3 Get high-quality remote learning curricula
Organizations like EdReports identify standards-aligned materials for English language arts, mathematics and science — but few of those include comprehensive online options. Identifying high-quality online curriculum in all subject areas — and building what doesn't yet exist — will require action from not just schools, but also state departments of education and curriculum developers.
4 Expand broadband internet
Principals of schools that were remote for most of the year estimated that about 10 percent of their students had inadequate internet speed. Likewise, about 20 percent of teachers in remote schools reported their internet wasn't fast or reliable enough to deliver instruction. That's not good enough to make permanent remote instruction equitable.
Julia Kaufman is a senior policy researcher and co director of the American Educator Panels at the nonprofit, nonpartisan RAND Corporation. Heather Schwartz is the program director of PK–12 Educational Systems at RAND. Melissa Kay Diliberti is an assistant policy researcher at RAND and a Ph.D. candidate at the Pardee RAND Graduate School.
Support The 74's year-end campaign. Make a tax-exempt donation now.