Is School Choice the Black Choice: Photos, Video and Reactions from Philadelphia Education Town Hall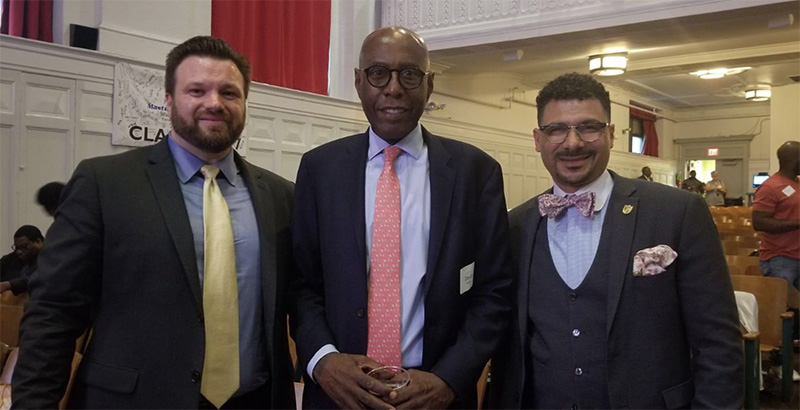 Philadelphia
Journalist Roland S. Martin led a group of African-American education leaders in a wide-ranging conversation about school choice Wednesday at Mastery Charter School–Shoemaker Campus in Philadelphia. The discussion included the politics of school choice, Philadelphia's black-white achievement gap, parent empowerment and more.
At the event titled "Is School Choice the Black Choice?" Martin was joined onstage by Jessica Cunningham Akoto, CEO of KIPP Philadelphia; Bryan Carter, CEO and president of Gesu School; Sharif El-Mekki, a prominent education blogger and principal at Mastery Charter School–Shoemaker Campus; Toya Algarin, a member of the board of trustees for KIPP Philadelphia; David Hardy, executive director of Excellent Schools PA; Lenny McAllister, director of Western Pennsylvania Commonwealth Foundation; and Christina Grant, chief of charter schools and innovation at the School District of Philadelphia.
Lasting more than two hours, the event marked the third education town hall in a national series meant to engage black families on issues of student achievement, parent involvement and classroom equity.
During the second part of the event, Martin interviewed Steve Perry, education advocate and founder of Capital Preparatory Schools in New York City and Bridgeport, Connecticut.
The town hall was part of a national tour being organized in conjunction with The 74's newest online platform, Keeping It 100, which prioritizes stories, profiles and essays about how schools across the country are serving students and families of color. The series kicked off in December with a town hall in Indianapolis and went to Atlanta in February.
The event started with a partner networking fair that included education groups from around the city, including the Commonwealth Foundation, the American Federation for Children, the Pennsylvania Catholic Conference, Great Philly Schools, Gesu School, the Association of Christian Schools International, Charter Choices, the Institute for Justice, EnrichED Schools, It Works, and Go Forward Education Foundation.
Watch the full conversation:
National partners for the tour include the American Federation for Children, EdChoice, ExcelinEd, J. Hood & Associates, the National Alliance for Public Charter Schools, the Progressive Policy Institute, UNCF and the Walton Family Foundation.
The Commonwealth Foundation, Excellent Schools PA, Gesu School, Mastery Schools, the Pennsylvania Coalition of Public Charter Schools and Philly's 7th Ward were local partners for the event.
Disclosure: The Walton Family Foundation provides financial support to The 74.
Get stories like these delivered straight to your inbox. Sign up for The 74 Newsletter