WATCH: Roland Martin Talks School Choice, Classroom Innovation, and Closing the Achievement Gap With Education Experts in Indianapolis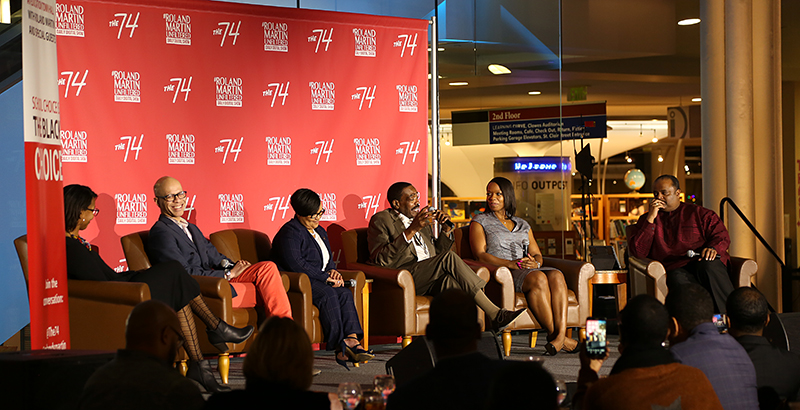 Earlier this month, broadcast journalist Roland Martin and The 74 traveled to Indianapolis to kick off a 10-city "School Choice Is the Black Choice" tour with a town hall and panel discussion organized to engage black families and stakeholders on issues of educational equity, student achievement, and parent involvement.
Nearly 300 people attended the Dec. 2 gathering, at which Martin turned up the heat on local and national education leaders, asking hard questions about the city's sluggish performance in improving black student achievement. You can stream the full video replay on the evening's discussion right here:
The flexibility Indiana offers to families is unprecedented. In the past 10 years, the state has launched and maintained programs like the Tax Credit Scholarship and the Indiana Choice Scholarship, both of which seek to offer low- and middle-income families the opportunity to send their children to non-neighborhood and tuition-based schools. A 2011 report by the Center for Research on Education Outcomes at Stanford University found that the students in Indiana charter schools make dramatically larger learning gains compared with those in traditional public schools.
In Indianapolis Public Schools alone, there are traditional public schools, charter schools, and Innovation Network Schools, which seek to offer curricula more tailored to each school's student body. "Indy has a whole lot of cooks in the education kitchen," Martin said, arguing that as a result, the system is convoluted and not effectively serving the city's black students.
None of the city's schools — whether traditional public, innovation, or charter — are yielding stellar results in black student achievement. On this year's statewide exams, just 24.5 percent of black students in grades 3-8 passed both the English and math tests, compared with 58 percent of their white peers and 50.7 percent of the state's students overall. Black students in Indiana also have the highest likelihood of attending a D or F school. For every one black student who is proficient in math and ELA, there are three who are not.
But Aleesia Johnson, deputy superintendent of academics for Indianapolis Public Schools, said that neither the type of school nor the existence of several different types is the problem. "I don't think it's the fact that they're different structures that they're not working. You can look at a public or private school through the lens of how black children are doing, and I don't think anyone is going to say we're knocking it out of the park in the United States of America," Johnson said. "If we stop only at choice, as black folks, we're missing the boat. It is convoluted, but it's easy to get sucked into this war of, 'What [type of school] are you?' versus the conversation of, 'Is this a quality school?' I think the convolution can be a gift if we can figure out how to shift the conversation to that part."
See more coverage from the Indianapolis town hall:
● On Scene: Roland Martin Kicks Off His Education Tour With Indianapolis Town Hall, and Tough Questions About School Innovation & the Achievement Gap (Read the full report)
● Social Media Reaction: 'I'm Down With Any School That's Successfully Educating Children': Here's How Social Media Reacted to Roland Martin's Indianapolis Town Hall on Education & Equity (See the roundup)
● Background: Roland Martin kicks off national town hall tour (Read the announcement)
● Local Profile: Watch — Inside Indianapolis's Purdue Polytechnic High, an Innovative School Built Around Design Thinking That Offers a Direct Pathway to College (Go inside the school)
● Video: How EdFit Indiana Works Between Families and Schools of Choice to Ensure Students 'Get In Where They Fit In' (Watch the video)
● More 'School Choice Is the Black Choice' Updates: Get the latest reports from the road delivered straight to your inbox (Sign up for The 74 Newsletter)
Get stories like these delivered straight to your inbox. Sign up for The 74 Newsletter