Finalists Named for the 2018 Broad Prize: An Inside Look at Repeat Nominees Uncommon Schools, Achievement First, DSST Public Schools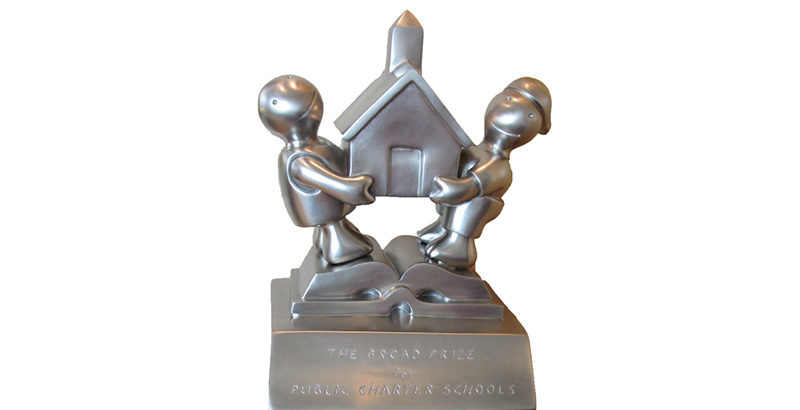 Familiar names top the list of finalists for the annual Broad Prize for Public Charter Schools, a top honor for large charter school networks serving high-needs students.
The trio of contenders for the $250,000 prize are Achievement First, which serves students across five cities in Connecticut, New York, and Rhode Island; Denver-based DSST Public Schools; and Uncommon Schools, which has campuses in Massachusetts, New York, and New Jersey.
Achievement First was a finalist for the prize in 2013, 2014, and 2015. DSST was a finalist last year, and Uncommon Schools won the prize in 2013. The high-performing New York City network Success Academy won the prize last year.
The winner will be announced at the National Alliance for Public Charter Schools' conference in Austin, Texas, on June 18. The prize money is designated to assist with college readiness efforts.
DSST last year celebrated its 10th year of 100 percent college acceptance for its graduating seniors, and it has turned its focus to expanding beyond Denver proper and ensuring its students enroll in the right colleges and complete their degrees.
Achievement First, which borrowed practices from other top performers, and Uncommon Schools, the effort of four entrepreneurs that launched in 2005, are among the charter networks beating the odds for college graduation for low-income students.
Achievement First's projected six-year college graduation rate is 52 percent, and Uncommon Schools' is 50 percent, as compared with about 9 percent for low-income students nationally. (Read more about the networks' college completion data via Richard Whitmire's exclusive analysis: "Data Show Charter School Students Graduating College at Three to Five Times National Average")
The selection of repeat finalists — as well as a previous winner — shows that "great public charter networks can sustain academic achievement over the years," Gregory McGinity, executive director of the Broad Foundation, said in a release.
The announcement, usually made in May of each year, was postponed because of the delayed release of the data used to determine eligible finalists, NAPCS said in a statement. To be eligible for the prize, charter groups must have been serving 2,500 students at five or more schools as of the 2015–16 academic year. At least 40 percent of students must be eligible for free or reduced-price lunch, a measure of poverty, and at least a third must be students of color.
Disclosure: The National Alliance for Public Charter Schools and The 74 both receive funding from The Eli and Edythe Broad Foundation, the Bill & Melinda Gates Foundation, The Doris & Donald Fisher Fund, the William E. Simon Foundation, and the Walton Family Foundation. DSST and The 74 receive funding from the Gates and Walton foundations. Achievement First and The 74 receive funding from the Gates, Broad, and Walton foundations and The Carnegie Corporation of New York.
Get stories like these delivered straight to your inbox. Sign up for The 74 Newsletter