Facing a 'Significant Lack of Trust,' D.C. Council Seeks to Rehabilitate Scandal-Plagued School System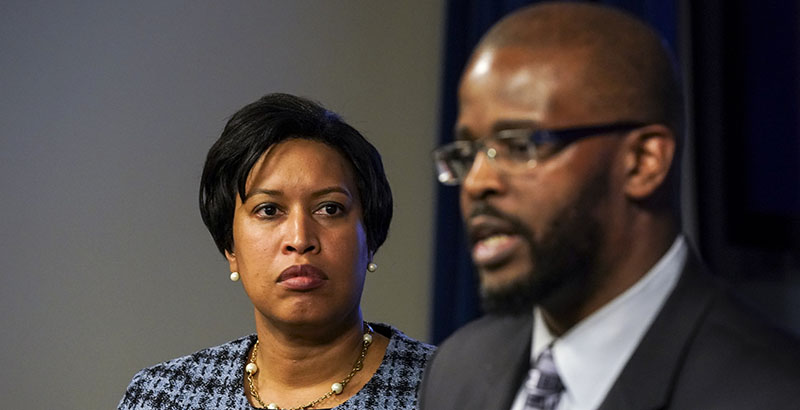 Washington, D.C.
Schools in the nation's capital must work to restore trust — possibly with the aid of an outside agency to examine data — in the wake of back-to-back scandals, members of the D.C. City Council's Education Committee said Monday.
Washington, D.C., once a poster child for education reforms like mayoral control, charter expansion, test-based teacher evaluations, and open enrollment, has seen its star fall after months of scandals.
In July 2017, The Washington Post found that district officials were not reporting all suspensions, making discipline rates look lower than they actually were. Other scandals followed, from an abuse of the city's lottery system that ended with resignations by the chancellor and deputy mayor for education, to a bribery scheme involving special education.
Perhaps the most glaring was the discovery that school officials had improperly allowed scores of students to graduate even though they had been absent from school more days than allowed by city policy. Last year's graduation rate was 73 percent, but only 42 percent of the current senior class is on track to graduate on time with attendance rules enforced.
"We are facing a significant lack of trust from the public" about the true quality of public schools, said David Grosso, an at-large member of the city council and chairman of the Education Committee.
"We owe it to the children of this city to be bold and swift about what changes must be made now," he added at the first of several planned listening sessions and town hall discussions on the future of education reform in the city.
Though D.C. has mayoral control of schools, and Mayor Muriel Bowser is up for re-election this year, so far no viable challenger has emerged. Nominating petitions for the city's Democratic primary, essentially the whole election in such a liberal city, are due Wednesday.
"We're not getting a new mayor. If that is the only mechanism to hold a school system accountable, that means we need to look at other levers in our system," said Eboni-Rose Thompson, chair of the Ward 7 Education Council.
This series of hearings is aimed at creating "a next level of accountability" beyond the mayor without throwing out what has been successful so far, Grosso said.
In her "State of the District" speech last week, Bowser acknowledged some "pretty significant bumps" in educational oversight and said trust in the schools needed to be rebuilt but offered no specific new policies, The Washington Post reported.
Robert C. White, an at-large member of the council, suggested the city set up an independent body to report on school data and evaluate schools.
"The reality is, with all of the false and misleading data that has come from our education agencies … it is not possible to move forward without re-establishing trust," he said.
Education agencies "toe a thin line" between reporting accurate data and scoring public relations points, he said. It would be better to have an agency that doesn't "have an interest, either monetary or political," in the outcomes of the data, White added.
Council Member Mary Cheh, who represents the affluent Ward 3 neighborhoods in Upper Northwest D.C., suggested a number of changes, including a partnership with a local research university to study various city schools reforms.
The council should also move quickly, members said.
"The council cannot wait for the selection of a new chancellor to pursue new reforms to get the education system back on track," Cheh said.
Support The 74's year-end campaign. Make a tax-exempt donation now.