D.C. Chancellor Antwan Wilson to Resign After Bypassing Lottery to Allow Daughter to Attend Popular High School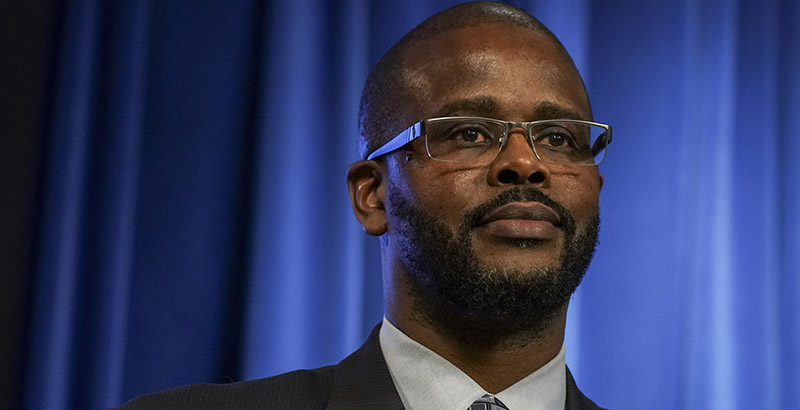 After just one year on the job, the schools chancellor in Washington, D.C., Antwan Wilson, resigned from his post Tuesday amid a brewing scandal involving his daughter's school transfer. His resignation follows news reports that Wilson had skirted a district school lottery system so his daughter could transfer to a sought-after high school, skipping over hundreds of other families.
The district policy requires students to navigate an admissions lottery if they want to apply to a school outside their residential boundary. But Wilson and his wife had approached Deputy Mayor for Education Jennifer Niles about problems their daughter was having at school. Niles, who resigned last week, ultimately helped Wilson bypass the lottery so his daughter could transfer from the Duke Ellington School of the Arts to Woodrow Wilson High School, a popular school with a waiting list.
The story comes with a smidge of irony: Just last year, Wilson implemented a new district policy to prevent public officials from bypassing the lottery to secure highly sought school placements for their children. Wilson's predecessors, Kaya Henderson and Michelle Rhee, had previously allowed the children of local and federal officials to attend choice schools outside the lottery.
As recently as Tuesday morning, Wilson rejected calls to step down by seven members of the 13-member D.C. Council, though he acknowledged in an interview with The Washington Post that he had "failed miserably."
"It wasn't a mistake out of anything other than trying to ensure that my daughter's well-being was taken care of," he said.
The news follows a separate D.C. scandal over district graduation policies. In January, a D.C. Office of the State Superintendent investigation found that more than a third of students who received their diplomas last year should not have crossed the graduation stage. In that scandal, the origins of which predate Wilson's tenure, investigators found a pattern in which high school administrators throughout the district rarely followed district policies and engaged in a culture where educators felt pressure to pass and graduate students regardless of merit. The FBI, the U.S. Department of Education Inspector General's Office, and the D.C. Inspector General's Office are reportedly investigating the graduation scandal, though the scope of their inquiry remains unclear.
The city named Amanda Alexander, chief of elementary schools, as the district's interim chancellor.
Get stories like these delivered straight to your inbox. Sign up for The 74 Newsletter