Pomp & Circumvent: In Widening Scandal, Report Finds That a Third of D.C. Graduates Received Diplomas Despite Excessive Absences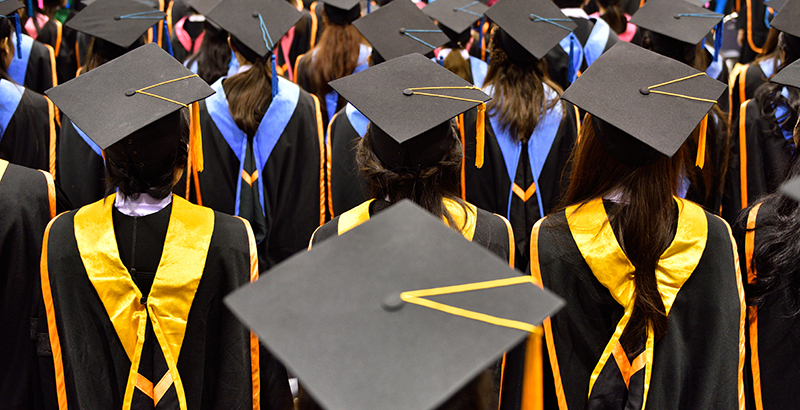 More than a third of Washington, D.C., seniors who received their high school diplomas last year should not have walked across the graduation stage. That's the top finding from a damning report released Monday, which revealed that all but two of the city's high schools violated the district's graduation policy.
A widespread graduation scandal has been percolating in D.C. schools for months, initially focused on violations at Ballou High School. But the new report, released Monday by the D.C. Office of the State Superintendent, demonstrates that Ballou was part of a larger pattern in which high school administrators throughout the district rarely followed district attendance policies and engaged in a culture where educators felt pressure to pass and graduate students regardless of merit.
"I want all of the residents of the district to recognize that our students and all of the investments that we make in them are of top concern, and we do not take the findings that we heard here today lightly," Mayor Muriel Bowser said during a press conference Monday afternoon. "In fact, we're all tremendously disappointed by it."
Of the 2,758 students who received diplomas from district high schools last spring, 34 percent graduated despite policy violations. Those violations include the misuse of credit recovery programs, in which students were allowed to enroll before they failed required classes — sometimes concurrently or in place of regular instruction. In violation of district policy, high school leaders passed students with more than 30 unexcused absences. Problems in D.C. began at the top, as investigators noted the central office failed to support and oversee high schools on district policies. Jane Spence, the district's secondary schools chief in charge of all middle and high schools, was placed on administrative leave.
The negative attention paid to D.C.'s graduation rate began with what was widely hailed as a success story: Ballou High School, located in a low-income D.C. neighborhood, drew national praise after every senior graduated and was accepted into college last year. It turned out to be too good to be true. In November, WAMU and NPR released an in-depth investigative report, which found that more than half of students graduated despite having missed more than three months of school. Bowser ordered an investigation days later.
Earlier this month, investigators released findings at Ballou, where officials engaged in a pattern of graduating students with extreme numbers of course absences and pressuring teachers to pass students despite poor performance. The school also inappropriately used district recovery courses to push students to the finish line.
Extending beyond Ballou, the new report dug into practices at a handful of district high schools, with a particular emphasis on Dunbar High School, where education leaders made more than 4,000 changes to the attendance records of 118 graduates. After teachers submitted attendance records indicating students had missed class, reported absences were later reversed. Although investigators have not yet sought justification for the changes, the issue demands further review, according to the report.
In response, D.C. Public Schools Chancellor Antwan Wilson said Monday the Dunbar principal had been placed on administrative leave. The Ballou principal has also been permanently removed from her post at the school.
Wilson said the district is taking "aggressive action" to ensure that students get the supports they need and to ensure that the value of a high school diploma is upheld. Those actions, he said, include updates to district grading and credit recovery policies.
"What I hope is that people are trying to do right by kids. Unfortunately, they did the wrong things, and so that's what we're addressing," Bowser said. "People who want to do the right thing, who don't have the proper training, they made mistakes."
Get stories like these delivered straight to your inbox. Sign up for The 74 Newsletter