Exclusive: Pedro Martinez, Who Led San Antonio District Schools From an F to a B, Named Chiefs for Change Board Chair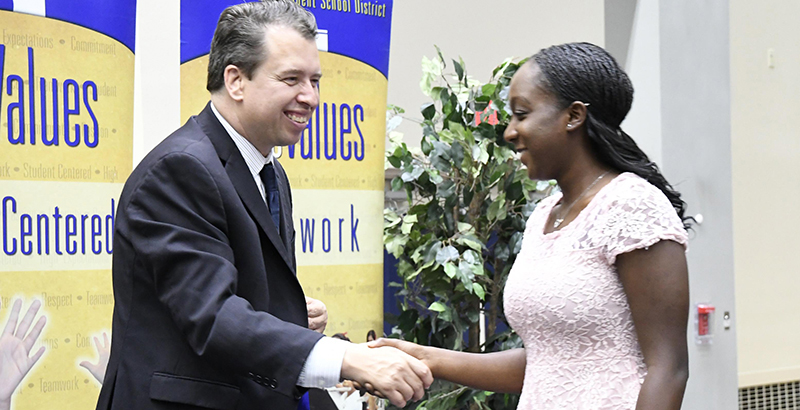 Updated
Chiefs for Change announced this morning that Pedro Martinez, superintendent of the San Antonio Independent School District, has been selected as the new chair of the nonprofit's board of directors.
Martinez succeeds Louisiana state Superintendent John White, who will remain on the organization's board.
For Martinez, who was born in Aguascalientes, Mexico, and grew up in Chicago, the timing could not be more auspicious. As the news breaks, members of the organization and some of their colleagues will be touring Fox Tech High School, which houses a cutting-edge program and is one of a number of schools Martinez has rebooted since becoming San Antonio superintendent in 2015. They will also visit a district preschool.
The five-year-old bipartisan group provides a forum where top education leaders can exchange ideas, as well as an incubator for so-called Future Chiefs — administrators contemplating the next step. School systems led by members of the organization, who come from states and communities with politically diverse leadership, posted the highest scores on the recently released National Assessment of Educational Progress, or NAEP.
Since Martinez took the reins of the San Antonio district, overall academic performance has risen from the equivalent of an F on state report cards to a B. According to the Texas Education Agency, it is both the third-most impoverished of the state's large school systems and the fastest-improving.
Together with the district's chief innovation officer, Mohammed Choudhury, now a Future Chief, Martinez turned around a host of flagging schools with initiatives like the P-TECH career-preparation program at Fox and then used a novel series of weighted lotteries for enrolling students of diverse socioeconomic backgrounds. The mix of strategies has drawn attention from education leaders in other parts of the country.
More than 90 percent of district students qualify for free or reduced-price meals, the measurement school systems traditionally use to quantify poverty. The median family income in the district is $30,000 a year.
Because many of the district's 50,000 students come from neighborhoods where census data put household incomes as low as half the median, Martinez and Choudhury have reserved seats at the new — and very popular — schools for children from the lowest economic strata.
The chief financial officer in Chicago Public Schools during former secretary of education Arne Duncan's tenure, Martinez is the oldest of 10 siblings. Neither of his parents made it past second grade. The family moved to the United States when Martinez was 5.
"My father never made more than $7 an hour," he said earlier this week, in response to his selection as Chiefs board chair. "I watched him work two jobs his whole life. He died at a young age and never got to know my children. When I think about my own life experience, I relate it to my students."
Last year, the 74 published an in-depth look at Martinez's background, San Antonio's unprecedented integration system and the innovations being tested in a number of the district's new and restarted schools.
A-rated Fox Tech houses several health- and law-related career preparation tracks — including one in which students will be able to earn a nursing license along with their diploma. It enrolls students from throughout surrounding Bexar County, which is home to 17 traditional school districts and a booming public charter school sector. A school has existed on the Fox Tech site since the late 1800s.
"Pedro has done as much as anyone to develop new and creative partnerships designed to address longstanding challenges in San Antonio's schools," White said in a release announcing Martinez's selection. "He is building on the best of the traditional school system with novel approaches that are focused on what matters most for kids."
Support The 74's year-end campaign. Make a tax-exempt donation now.