EduClips: TX District Requires Kindergartners to Wear Clear Backpacks to Ensure They Don't Bring Guns To School; CA Charter Schools Association Endorses Villaraigosa for Governor— and More Must-Reads From America's 15 Biggest School Districts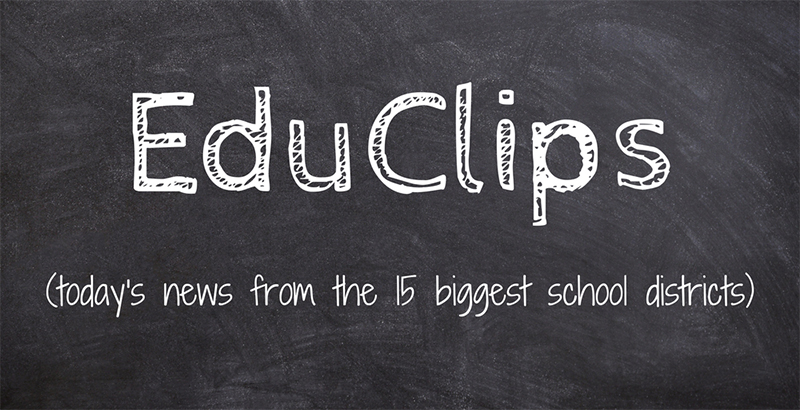 EduClips is a roundup of the day's top education headlines from America's largest school districts, where more than 4 million students across eight states attend class every day. Read previous EduClips installments here. Get the day's top school and policy news delivered straight to your inbox by signing up for the TopSheet Education Newsletter.
Top Story
ARMING TEACHERS — The leading Republican on education in the U.S. Senate isn't keen on arming teachers to make schools safer.
Sen. Lamar Alexander, R-Tenn., the chairman of the Senate education committee, told the Associated Press he is "not a big fan" of giving teachers firearms to protect their schools, saying that teachers already have enough to deal with. His comments put him at odds with President Donald Trump, who has said he supports trained and experienced educators carrying guns on school grounds. Other Republicans, including U.S. Secretary of Education Betsy DeVos, have also voiced support for the idea—DeVos has said arming teachers shouldn't be mandatory but should be an option where local officials deem it appropriate. (Read at Politics K-12)
National News
SCHOOL SAFETY — DeVos Team Tries to Reassure Advocates: You'll Get Your Say on School Safety (Read at Politics K-12)
TEACHER GRANTS — Dept. Of Education Fail: Teachers Lose Grants, Forced To Repay Thousands In Loans (Read at NPR)
CONGRESS — What Should Progressives Do on Education if They Gain Power This Fall? (Read at Politics K-12)
APPLE — Apple Aims to Regain Ground in US Classrooms (Read at USA Today)
District and State News
TEXAS — Kindergartners in this school district will have to use clear backpacks to ensure they don't bring guns (Read at Dallas News)
CALIFORNIA — While criticizing Newsom, California Charter Schools Association endorses Villaraigosa for governor (Read at EdSource)
NEW YORK — With the New York state budget deadline nearing, here are the education issues we're watching (Read at Chalkbeat)
FLORIDA — Opinion: Teachers living at schools – let's try it (Read at Miami Herald)
ILLINOIS — Opinion: Another time bomb for Chicago taxpayers (Read at Chicago Tribune)
TEXAS — Public school suspension rates in Texas continue to raise questions (Read at Chron)
CALIFORNIA — The California Teachers Association — the union other unions want to be (Read at LA School Report)
ILLINOIS — Ahead of state report, special ed advocate says Chicago Public Schools sought 'ways to reduce the level of service' (Read at Chicago Tribune)
NEW YORK — More gifted programs join New York City's school diversity efforts (Read at Chalkbeat)
NEVADA — Nevada's marijuana-initiative money already goes to education (Read at Las Vegas Review-Journal)
FLORIDA — Teacher shortages rife in state and throughout Miami-Dade (Read at Miami Today)
NEVADA — Clark County Schools upgrading security (Read at WGEM)
Think Pieces
TEACHER COACHING — Study: Teacher Coaching Can Boost Instruction and Student Achievement. But Can It Be Scaled Up? (Read at The74Million.org)
FOOD STAMPS — Food for thought: Students' test scores rise a few weeks after families get food stamps (Read at Chalkbeat)
PUERTO RICO — Puerto Rico Is Trying to Overhaul Its Public Schools and Teachers Are Furious (Read at Mother Jones)
ED TECH — Laptops, Chromebooks or tablets? Deciding what's best for the nation's schools (Read at Hechinger Report)
WOMEN'S HISTORY MONTH — Women's History Month: These Female Trailblazers Changed American Education For You and Your Kids. Do You Know Their Names? (Read at The74Million.org)
SCIENCE — Are science fairs unfair? (Read at Hechinger Report)
Quote of the Day
"Unfortunately, heightened security is not a convenience. Look at our airports and large events we attend. Security takes time, and we ask for your patience." — John Chapman III, superintendent of the Ennis Independent School District near Dallas, TX, on a new policy that will require kindergartners to carry clear backpacks to ensure they don't bring guns to school. (Read at Dallas News)
Want the day's top school and policy news delivered straight to your inbox — for free? Sign up for the TopSheet Daybreak Education Newsletter.
Get stories like these delivered straight to your inbox. Sign up for The 74 Newsletter