EduClips: Trump's Salvadoran Immigration Order Could Affect Thousands of U.S.-Born Students; The Parents Behind #MeTooK12 — and More Must-Reads From America's 10 Biggest School Districts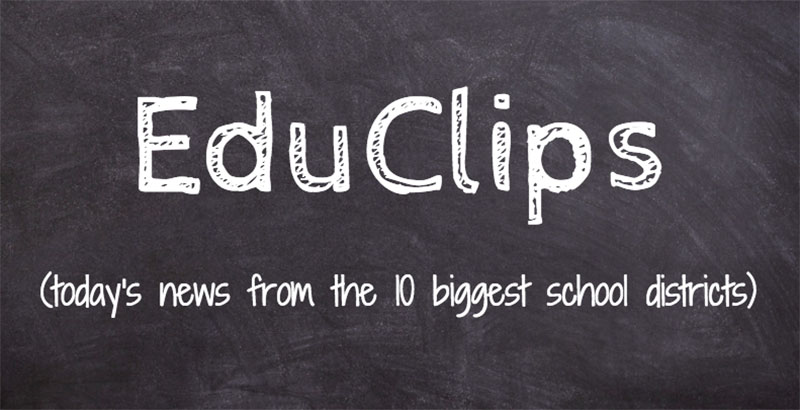 EduClips is a roundup of the day's top education headlines from America's largest school districts, where more than 4 million students across eight states attend class every day. Read previous EduClips installments here. Get the day's top school and policy news delivered straight to your inbox by signing up for the TopSheet Education Newsletter.
Top Story
IMMIGRATION — The lives of thousands of U.S.-born students could be upended by President Trump's decision to end temporary legal immigration status for hundreds of thousands of Salvadorans living in the United States since 2001. The decision means that immigrants from El Salvador who currently have Temporary Protected Status, a program that allows immigrants from countries in crisis to live and work in the United States legally, must return to the Central American nation by September 2019 or be subject to deportation. The number of children affected is unclear, but the Migration Policy Institute, a Washington-based research group, estimates that the decision could alter the immigration status of as many as 1 in every 5 Salvadoran immigrants living in the United States. (Read at Education Week)
National News
SEXUAL VIOLENCE — #MeTooK12: One Daughter's Trauma, and a Family's Quest to Prevent School-Related Sexual Violence (Read at The74Million.org)
AP CLASSES —  Expansion of AP computer science courses draws more girls and minorities (Read at The Washington Post)
CONGRESS — What Congress Hasn't Finished or Started: Data Privacy, Career-Tech, and Special Ed. Law (Read at Politics K-12)
District and State News
CALIFORNIA — Opinion: Without Michelle King, LAUSD needs a superintendent willing to hold feet to the fire (Read at the Los Angeles Times)
ILLINOIS — Chicago school closing plan violates contract, teachers union says (Read at the Chicago Tribune)
CALIFORNIA — 'Disappointing but not surprising' — California's ESSA plan gets some of the harshest feedback yet from Washington (Read at LA School Report)
NEW YORK — Number of art teachers in New York City schools hits 12-year high (Read at Chalkbeat)
ILLINOIS —  Rauner vetoes education funding bill over private school concerns (Read at the Chicago Tribune)
NEVADA — CCSD Expected to Miss Reorganization Deadline (Read at Nevada Public Radio)
TEXAS — Hundreds of men show up for Dallas school's 'Breakfast with Dads' event (Read at ABC)
Think Pieces
COLLABORATION — In Schools, Classroom Proximity Breeds Teacher Collaboration (Read at Education Week)
CLASS SIZE —  Reducing Class Sizes Is Popular With Parents but Not Education Experts. New Research on CA Program Might Change That (Read at The74Million.org)
Quote of the Day
"Salvadoran [Temporary Protected Status] holders have been living here with work permission for nearly two decades. Now, the Trump administration is trying to drive them back to a country engulfed in corruption, violence, and weak governance." — Frank Sharry, executive director of America's Voice Education Fund. (Read at Education Week
Want the day's top school and policy news delivered straight to your inbox — for free? Sign up for the TopSheet Daybreak Education Newsletter.
Get stories like these delivered straight to your inbox. Sign up for The 74 Newsletter