EduClips: Texas Attorney General Accuses Schools of 'Illegal Electioneering'; State Funding Problems Spark Teacher Unrest — and More Must-Reads From America's 15 Biggest School Districts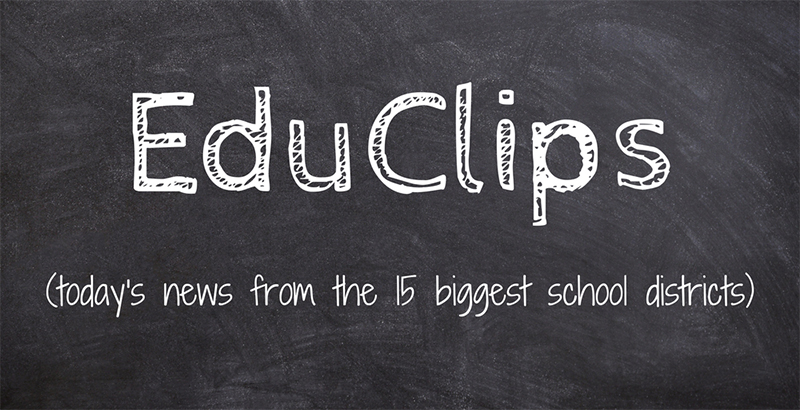 EduClips is a roundup of the day's top education headlines from America's largest school districts, where more than 4 million students across eight states attend class every day. Read previous EduClips installments here. Get the day's top school and policy news delivered straight to your inbox by signing up for the TopSheet Education Newsletter.
Top Story
TEACHER STRIKES — Teachers from Kentucky, West Virginia, Oklahoma, and Arizona have staged strikes and demonstrations and have threatened walkouts over new proposals to install limits on pensions, wage increases, and benefits.
One reason for the showdowns: Education spending is no longer sacrosanct, because of deep-seated funding problems that have roiled state budgets since the 2008 financial crisis. States spent 2 percent less on K-12 education in 2017 than they did in 2008, according to data from the National Association of State Budget Officers adjusted for inflation and population growth. That trailed a more robust recovery in other state spending. (Read at The Wall Street Journal)
National News
EDUCATION BUDGET — Betsy DeVos Is About to Defend Her Budget. Keep These Three Things in Mind (Read at Politics K-12)
TEACHER SALARIES — The Fight Over Teacher Salaries: A Look at the Numbers (Read at NPR)
CHARTERS — Charter Schools Are Public Schools, Should Be State-Funded, Louisiana Supreme Court Rules in Case That Threatened 18,000 Students (Read at The74Million.org)
SCHOOL SAFETY — Want Cameras and Bullet-Resistant Glass at Your School? They Aren't Cheap (Read at Politics K-12)
District and State News
TEXAS — Texas AG Ken Paxton ramps up fight against schools' 'illegal electioneering' (Read at The Texas Tribune)
FLORIDA — Lawmakers took millions from big school districts and gave the money to smaller ones (Read at the Miami Herald)
NEW YORK — Senator to introduce bill scaling back mayoral control over city school closures, changes (Read at the New York Daily News)
CALIFORNIA — Map: these Bay Area schools have been hit by shooting threats in recent weeks (Read at the Mercury News)
NEW YORK — De Blasio promises to fix admissions to NYC's elite specialized high schools amid low diversity stats (Read at the New York Daily News)
ILLINOIS — Illinois teachers union says 17th District state rep candidate Chow 'deceiving voters' with mailers indicating endorsement (Read at the Chicago Tribune)
CALIFORNIA — Finally, enough beakers for everyone: Oakland teacher wins grant for state-of-the-art science lab (Read at EdSource)
PENNSYLVANIA — Opinion: How trauma is shaping the way Philadelphia schools teach (Read at The Philadelphia Inquirer)
Think Pieces
INCOME MOBILITY — An NCAA Bracket for Income Mobility: If the Tournament Were About Moving Up the Economic Ladder, These Schools Would Make the Sweet Sixteen (Read at The74Million.org)
SCHOOL SAFETY — 'This Is Not a Drill': 11 Students on the Terror of Lockdowns (Read at The New York Times)
NCAA — The Secret Behind the Greatest Upset in College Basketball History (Read at The Atlantic)
SCHOOL SHOOTINGS — Rotherham: Even 1 School Shooting Is Too Many. But in Our Panic, We're Missing a Far More Common Problem We Need to Solve (Read at The74Million.org)
IMMIGRANTS — Most immigrants outpace Americans when it comes to education — with one big exception (Read at The Hechinger Report)
HIGH SCHOOL — A High School Diploma Ought to Mean Something (Read at Bloomberg)
BULLYING — Student Bullying Is Down Significantly (Read at U.S. News and World Report)
STUDENT WALKOUT — OPINION: Proud of your students for walking out? Here's what to do when they walk back in (Read at The Hechinger Report)
Quote of the Day
"March Madness is indeed a great escape, but social mobility is the great escape." —Jorge Klor de Alva, president of the Nexus Research and Policy Center, and Mark Schneider, vice president and Institute Fellow at the American Institutes for Research and the president of College Measures, who created an NCAA bracket for income mobility. (Read at The74Million.org)
Want the day's top school and policy news delivered straight to your inbox — for free? Sign up for the TopSheet Daybreak Education Newsletter.
Get stories like these delivered straight to your inbox. Sign up for The 74 Newsletter