EduClips: Support Builds for CA Data System to Track Student Progress; TX State Ed Chief Urges More Pay for Higher-Performing Teachers — and More Must-Reads From America's 15 Biggest School Districts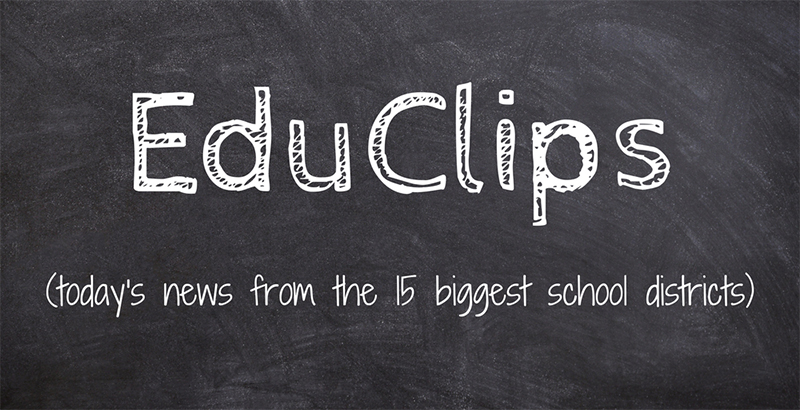 EduClips is a roundup of the day's top education headlines from America's largest school districts, where more than 4 million students across eight states attend class every day. Read previous EduClips installments here. Get the day's top school and policy news delivered straight to your inbox by signing up for the TopSheet Education Newsletter.
Top Story
SCHOOL SAFETY — Inside an underground meeting room attached to the U.S. Capitol, past guards and metal detectors, lawmakers and officials from leading security companies discussed a burgeoning threat of mass school shootings and the dire need to "harden" campuses before someone else gets killed.
Security officials in the room hawked a range of products that could have been ripped from a James Bond movie: surveillance cameras with facial recognition capability, automated door locks, gunshot detection sensors, and software that scans social media platforms in search of the next shooter. If schools across the country put a larger emphasis on securing their buildings, they said, educators could prevent shootings or, at the very least, mitigate the bloodshed.
The recent tragedies are pumping new energy — not to mention funds — into strategies to keep children safe, including millions of dollars in federal money from the STOP School Violence Act. As each tragedy stokes fresh outrage from parents, education leaders say they're inundated with sales pitches from security companies, each with the same basic message: You could be next. (Read at The74Million.org)
National News
TOXIC SUPPLIES — Asbestos in a Crayon, Benzene in a Marker: A School Supply Study's Toxic Results (Read at The New York Times)
SCHOOL SAFETY — 6.7% of Students Skip School out of Fear. Worry Over School Shootings Is Up. Yet School Violence Is Down. What Does This Mean? (Read at The74Million.org)
TEACHERS — More teachers are turning to crowdfunding sites to pay for books, supplies, and field trips (Read at Vox)
ESSA — Just One District Seeks ESSA's Weighted Student Funding Pilot for 2019-20 (Read at Politics K-12)
District and State News
CALIFORNIA — Support builds to create longitudinal data system to track student progress in California (Read at EdSource)
TEXAS — Texas education chief suggests paying higher-performing teachers more (Read at the Austin American-Statesman)
FLORIDA — Florida Wants to Help Bullied Kids — Unless They're Gay (Read at Huffington Post)
NEW YORK — School counselor was sexually harassed and banished to filthy closet: suit (Read at the New York Daily News)
CALIFORNIA — Advocates urge lawmakers to pass bill to support migrant and refugee students (Read at the Modesto Bee)
NEVADA — CCSD Faces Tough Financial Decisions After Court Decision (Read at Nevada Public Radio)
TEXAS — Texas will soon release A-F grades for schools. Educators are organizing in opposition. (Read at the Waco Tribune)
ILLINOIS — Diana Rauner is on a campaign to better educate our youngest residents: "You just keep pushing" (Read at Chalkbeat)
NEVADA — New teachers aim to help turn around Clark County schools (Read at News 3)
NEW YORK — Don't just help students graduate. Prepare them for what's next, says high school teacher (Read at Chalkbeat)
Think Pieces
LITERACY — New Finding: Most States Don't Test New Teachers on 'Science of Reading' (Read at The74Million.org)
EARLY EDUCATION — Accountability for early education — a different approach and some positive signs (Read at the Brookings Institution)
LEBRON JAMES — Petition calls for Education Secretary LeBron James (Read at The Hill)
MISTER ROGERS — How Learning Science Is Catching Up to Mr. Rogers (Read at NPR)
AMERICAN HISTORY — 'Lies My Teacher Told Me,' and How American History Can Be Used as a Weapon (Read at NPR)
PERSONALIZED LEARNING — A year of personalized learning: Mistakes, moving furniture and making it work (Read at The Hechinger Report)
DUNCAN — 5 Inadvertent Lessons From Former Secretary of Education Arne Duncan's Memoir (Read at Forbes)
Quote of the Day
"It's not that they're villains and they don't care and they don't want safe schools — I'm not trying to send that message. But they're certainly opportunistic. At the end of the day, they're looking for new revenue streams." —Kenneth Trump, president of National School Safety and Security Services, which consults districts on school safety planning, on the $3 billion school security industry. (Read at The74Million.org)
Want the day's top school and policy news delivered straight to your inbox — for free? Sign up for the TopSheet Daybreak Education Newsletter.
Get stories like these delivered straight to your inbox. Sign up for The 74 Newsletter