EduClips: Students Plan Marches, Walkouts in Response to FL Mass Shooting; Turpin Abuse Case Prompts CA Bill to Tighten Home School Regulation — and More Must-Reads From America's 15 Biggest School Districts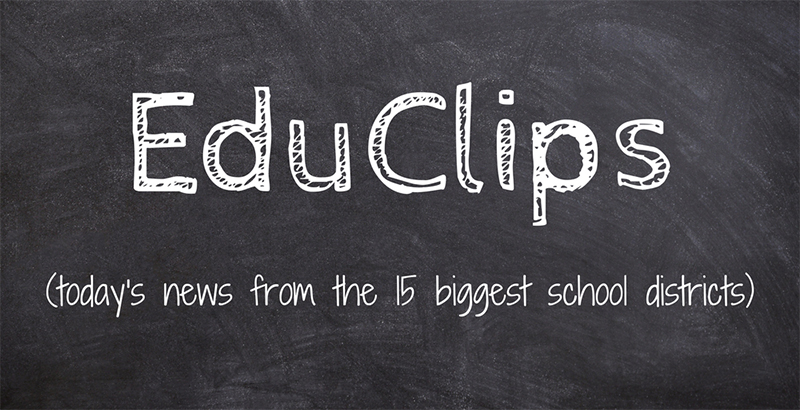 EduClips is a roundup of the day's top education headlines from America's largest school districts, where more than 4 million students across eight states attend class every day. Read previous EduClips installments here. Get the day's top school and policy news delivered straight to your inbox by signing up for the TopSheet Education Newsletter.
Top Story
SCHOOL SHOOTING — High school students are planning marches and school walkouts across the country in the coming weeks and months as the number of protesters on social media grows, galvanized by last week's school shooting in Florida that left 17 dead. Students at Marjory Stoneman Douglas High School in Parkland, Florida — using various social media platforms and hashtags such as #NeverAgain and #Enough — have encouraged students and anti-gun-violence activists to organize. A nationwide walkout by teachers and students is planned for March 14, and marches are planned for March 24, along with a day of protests on April 20, the anniversary of the deadly 1999 Columbine High School shootings in Colorado.
Smaller events are popping up as well. Students at Douglas High School plan to visit politicians in Tallahassee, Florida's capital, on Tuesday and Wednesday to urge them to tighten gun laws. On Tuesday, Florida officials will hold workshops in Tallahassee focused on safety and security measures at schools, on mental health and child-welfare services. (Read at The Wall Street Journal)
National News
MORE ON FLORIDA SCHOOL SHOOTING:
School Shootings Put Teachers in New Role as Human Shields (Read at The New York Times)
After school shooting, anger and grief dominate anti-gun rally (Read at the Miami Herald)
For Parkland Students and Teachers, Wrenching Questions Surround Return to School (Read at Education Week)
SCHOOL BOARDS — School boards increasingly embrace the ABCs of social activism (Read at The Washington Post)
ESSA — Democrats Say DeVos Is Flouting ESSA. She Says No Way. Let's Unpack the Debate (Read at Politics K-12)
YEARBOOKS — Students, free speech advocates outraged over policy that would censor yearbooks (Read at USA Today)
EDUCATION DEPARTMENT — Betsy DeVos's Team Moves to Cut Political Positions, Merge Federal Education Programs (Read at Politics K-12)
D.C. CHANCELLOR — One year after arriving in D.C., a schools chancellor under fire (Read at The Washington Post)
District and State News
CALIFORNIA — Turpin abuse case prompts state bill to tighten regulation of home schools (Read at the Los Angeles Times)
NEW YORK — As chancellor search continues, Weingarten dismisses Orlando schools chief as 'Joel Klein type' (Read at Chalkbeat)
HAWAII — 'Decades of monstrous sexual abuse' by psychiatrist costs famous Hawaiian school $80 million (Read at The Washington Post)
NEVADA — How struggling Las Vegas elementary became a top-rated school (Read at the Las Vegas Review-Journal)
NEW YORK — For New York City's next schools chancellor, four questions and a lesson from Finland (Read at The Hechinger Report)
CALIFORNIA — A Bay Area lawmaker's crusade to require public charter schools to provide free lunch (Read at the Mercury News)
TEXAS — Texas Education Agency prepares plan to correct issues in special education system (Read at Community Impact Newspaper)
FLORIDA — Florida Senate doubles down on HB 7055 with its own version (Read at the Tampa Bay Times)
Think Pieces
REMEDIATION — How to help students avoid the remedial ed trap (Read at The Hechinger Report)
CHARTER UNIONIZATION — New Report Shows Charter Schools Less Likely to Be Unionized Than They Were 6 Years Ago; Majority of Those Schools Located in 4 States (Read at The74Million.org)
SCHOOL SHOOTING — What educators, parents, and students are grappling with in the wake of America's latest school shooting (Read at Chalkbeat)
DENVER — Denver Backs Down on Huge Gains for Schools After Community Cries Foul Over 'Inflated' Report Cards (Read at The74Million.org)
Quote of the Day
"I visualized what it would look like, and it made me sick. Could I empty out the cabinet and throw out the shelves and put kids in the cabinets? Is my better chance just barricading the doors? Can I move furniture that fast? Do I ask my kids to help me?" —Catherine Collett, a sixth-grade teacher in Northern Virginia, on mentally preparing for a school shooting. (Read at The New York Times)
Want the day's top school and policy news delivered straight to your inbox — for free? Sign up for the TopSheet Daybreak Education Newsletter.
Get stories like these delivered straight to your inbox. Sign up for The 74 Newsletter