EduClips: Students Across the Country to Walk Out of School to Push for Tighter Gun Laws; Gates Speaks to Sacramento Chief on Humanist Learning — and More Must-Reads From America's 15 Biggest School Districts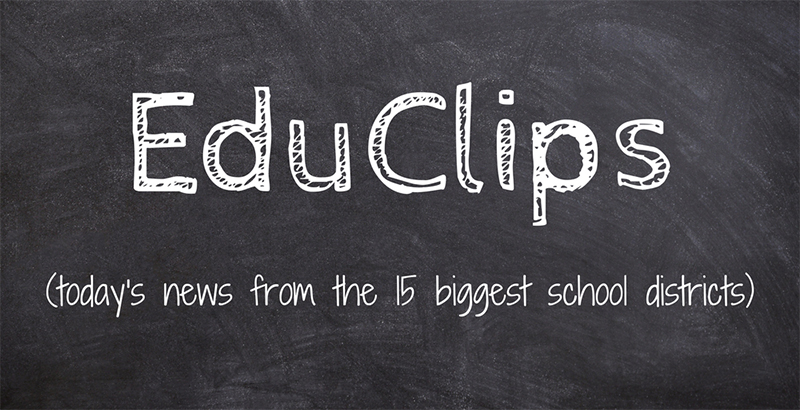 EduClips is a roundup of the day's top education headlines from America's largest school districts, where more than 4 million students across eight states attend class every day. Read previous EduClips installments here. Get the day's top school and policy news delivered straight to your inbox by signing up for the TopSheet Education Newsletter.
Top Story
NATIONAL SCHOOL WALKOUT — Thousands of students, emboldened by a growing protest movement over gun violence, will stand up in their classrooms on Wednesday and walk out of their schools in a nationwide demonstration, one month after a gunman killed 17 people at a high school in Florida.
The 17-minute protests unfolding at hundreds of schools are intended to pressure Congress to approve gun control legislation after the massacre at Marjory Stoneman Douglas High School in Parkland, Fla., and will come 10 days before major protests in Washington and elsewhere. (Read at New York Times)
National News
THE 74 ON NATIONAL SCHOOL WALKOUT —
17 Minutes of History: Wednesday's Walkout Part of Long Tradition of Students Speaking Out, From Tinker v. Des Moines to Black Lives Matter (Read at The74Million.org)
Ahead of National Walkout, Students From Across the Country Call for Limits on Campus Cops, More Counselors (Read at The74Million.org)
The Revolution Will Be Hashtagged. Social-Media-Savvy, Irreverent, and Maybe a Bit Entitled, Parkland Students Succeed Where Others Have Failed to Launch a National Movement Around Guns (Read at The74Million.org)
SCHOOL SAFETY — Top Democrat Has 'No Confidence' in Betsy DeVos' School Safety Commission (Read at Politics K-12)
DEVOS — DeVos defends comments made on 60 Minutes (Read at USA Today)
District and State News
CALIFORNIA — A humanist approach to teaching kids (Read at Gatesnotes.com)*
NEW YORK — 'I can be part of this change': New York City students prepare to join nationwide gun violence protest (Chalkbeat)
CALIFORNIA — Milpitas: Superintendent says students will face 'consequences' for walkouts (Read at Mercury News)
ILLINOIS — Central Illinois schools plan alternatives to National School Walkout Day (Read at Herald & Review)
NEVADA — Clark County, UNLV students plan to join gun violence walkout (Read at Las Vegas Review-Journal)
CALIFORNIA — California presses ahead with color-coded school reporting plan despite a dig from DeVos (Read at Los Angeles Times)
NEVADA — Task Force Eyeing More Mental Health Services To Keep Schools Safe (Read at KUNR)
TEXAS — In Texas, There's No One-Size-Fits-All Strategy For Keeping Schools Safe (Read at KUT)
NEW YORK — Assembly pushes for $1.5 billion boost to education spending (Read at Chalkbeat)
Think Pieces
NATIONAL WALKOUT — America Has Failed Its Kids on Guns. It's Time to Let Them Lead. (Read at The New York Times)
SCHOOL DISCIPLINE — When Chicago cut down on suspensions, students saw test scores and attendance rise, study finds (Read at Chalkbeat)
NATIONAL WALKOUT — Rotherham: Students Walking Out of Class in Protest Have the Right Idea. It's the Adults Who Are Messing It Up (Read at The74Million.org)
TEACHER STRIKES — Teacher Strike: 4 Common Questions (Read at Education Week)
Quote of the Day
"When young people are criticized just for the fact of their age, that just shows that people have a pretty weak critique of what's going on." — Mary Beth Tinker, whose Vietnam-era student protest sparked the landmark Supreme Court decision that upheld students' First Amendment rights. (Read at The74Million.org)
*Disclosure: The Bill & Melinda Gates Foundation supports The 74.
Want the day's top school and policy news delivered straight to your inbox — for free? Sign up for the TopSheet Daybreak Education Newsletter.
Get stories like these delivered straight to your inbox. Sign up for The 74 Newsletter