EduClips: Principals at NYC's Troubled Schools Face Investigations; Teachers Are Running for Office — and More Must-Reads From America's 15 Biggest School Districts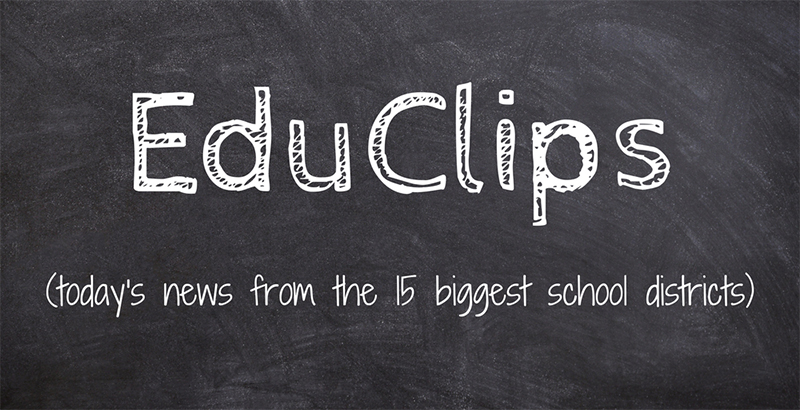 EduClips is a roundup of the day's top education headlines from America's largest school districts, where more than 4 million students across eight states attend class every day. Read previous EduClips installments here. Get the day's top school and policy news delivered straight to your inbox by signing up for the TopSheet Education Newsletter.
Top Story
GOVERNORS' RACES —A subterranean divide among Democrats between backers of teachers unions and those of charter schools and other education innovations is helping shape key gubernatorial primaries, even as red-meat issues like guns, inequality, and President Donald Trump have dominated the races.
In California, former Los Angeles mayor Antonio Villaraigosa's campaign has been kept afloat partly by more than $20 million spent by a political committee funded by supporters of charter schools and other educational initiatives. In New York, actress Cynthia Nixon, a fierce critic of charter schools, is challenging Gov. Andrew Cuomo, who's sparred with teachers unions.
The most public split comes in Colorado, where two Democrats with deep roots in education policy have come under attack by the state's biggest teachers union on behalf of the state's former treasurer, Cary Kennedy. (Read at PBS NewsHour)
National News
ELECTIONS — From the classroom to the campaign trail: Emboldened teachers run for office (Read at The Washington Post)
TEACHER STRIKES — The Numbers That Explain Why Teachers Are in Revolt (Read at The New York Times)
JANUS — If Janus Ruling Means Teachers No Longer Have to Join Unions, Will Breaking Away From State and National Affiliates Be a Way to Save Local Membership? (Read at The74Million.org)
SCHOOL SAFETY —Profile of a School Shooter (Read at The Wall Street Journal)
CIVIL RIGHTS — In Seeking to Decrease 'Burden' of Complaints, Education Department Is Closing 'Meritorious' Civil Rights Cases, Federal Lawsuit Says (Read at The74Million.org)
IMMIGRATION — Lawmakers, civil rights groups call for Betsy DeVos to set the record straight on immigration and schools (Read at The Washington Post)
BLOOMBERG — Bloomberg Pledges $375 Million in College- and Workforce-Readiness Initiatives (Read at Education Week)*
ESSA — How Are States Handling Testing Opt-Outs Under ESSA? (Read at Politics K-12)
District and State News
NEW YORK — A New Principal Pushes for Change. Then the Investigations Start. (Read at The New York Times)
ILLINOIS — Investigation: Chicago Schools Failed to Report Abuse Cases (Read at U.S. News and World Report)
CALIFORNIA — LAUSD workers ratify new contract, after being on the verge of a strike (Read at the Los Angeles Daily News)
TEXAS — Texas School Districts Struggled to Use Law That Could Stave Off State Takeover (Read at Houston Public Media)
PENNSYLVANIA — In one Philly neighborhood, critics ask: Is gentrification closing our high school? (Read at The Philadelphia Inquirer)
NEW YORK — After long wait, de Blasio backs plan to overhaul admissions at New York City's elite high schools (Read at Chalkbeat)
GEORGIA — 80 Gwinnett high school students caught cheating on final exams, teachers say (Read at the Atlanta Journal-Constitution)
FLORIDA — PolitiFact Florida: House says per-student bump of 47 cents is a myth. Here's why that's overstated (Read at the Tampa Bay Times)
CALIFORNIA — California's teachers' unions dig in as Janus decision nears (Read at The Orange County Register)
FLORIDA — 'It gets better': Jimmy Fallon brings hope, laughter to somber Parkland graduation (Read at the Miami Herald)
Think Pieces
CHARTER SCHOOLS — Betsy DeVos Loves Charter Schools. That's Bad for Charter Schools. (Read at The New York Times)
DE BLASIO — Mayor Bill de Blasio: Our specialized schools have a diversity problem. Let's fix it. (Read at Chalkbeat)
CAMDEN — Magee: As Paymon Rouhanifard Prepares to Leave Camden, Some Lessons in Equity and Innovation From the Turnaround He Led (Read at The74Million.org)
RISKY BEHAVIOR — Can Greater Academic Demands Lead to Less Risky Behavior in Teenagers? (Read at Education Week)
READING — OPINION: We can't become a nation of equal learners until we become a nation of readers (Read at The Hechinger Report)
Quote of the Day
"We have reached the breaking point." —Christine Marsh, a high school English teacher and 2016 Arizona Teacher of the Year, one of many educators running for election this year. (Read at The Washington Post)
*Disclosure: Bloomberg Philanthropies provides financial support to The 74.
Want the day's top school and policy news delivered straight to your inbox — for free? Sign up for theTopSheet Daybreak Education Newsletter.
Get stories like these delivered straight to your inbox. Sign up for The 74 Newsletter