EduClips: NYC's Widening Achievement Gaps, National Flatlining in Fourth-Grade Reading — and More Must-Reads From America's 10 Biggest School Districts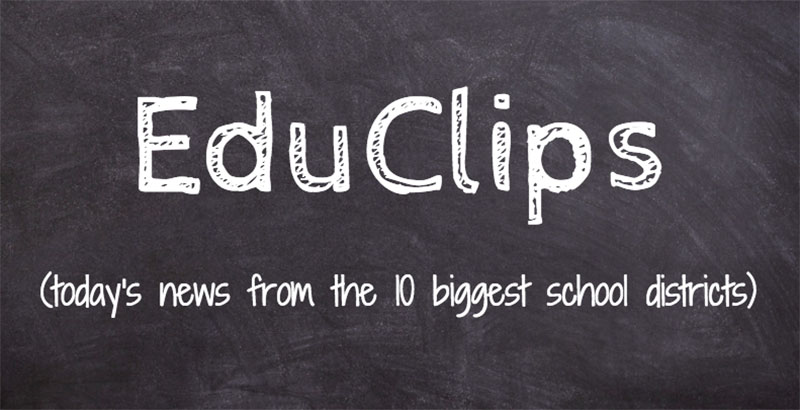 EduClips is a roundup of the day's top education headlines from America's largest school districts, where more than 4 million students across eight states attend class every day. Read previous EduClips installments here. Get the day's top school and policy news delivered straight to your inbox by signing up for the TopSheet Education Newsletter.
Top Story
READING — Reading comprehension among U.S. fourth-graders has remained unchanged since 2001, and other countries America used to outperform have caught up or moved ahead, according to the Progress in International Reading Literacy Study, or PIRLS. The U.S. scored 16th out of 58 countries that participated in the test in 2016. In 2011, the last time the test was given, four countries scored higher than the U.S. In 2016, 12 scored higher. (Read at U.S. News & World Report)
National News
PRIVACY — U.S. Agencies Grapple With Student-Data-Privacy Guidance for Schools (Read at EdWeek)
CONFIRMATION HEARINGS — Senators Focus on Campus Sex Assault, Disabled Student Rights in Confirmation Hearing for Two Ed Dept. Nominees (Read at The74Million.org)
District and State News
NEW YORK — New York City's racial achievement gaps widen as students get older, report finds (Read at Chalkbeat)
FLORIDA —Thousands of Miami Students Could Be Ousted From U.S. as Trump Ends Protections for Haitians (Read at The74Million.org)
CALIFORNIA —California isn't doing enough to teach kids how to read, lawsuit says (Read at LA Times)
NEW YORK —New York City expands integration program, adding the prestigious Bard high school in Queens (Read at Chalkbeat)
ILLINOIS —New Lawsuit Against Illinois School District That Did Not Allow Transgender Student to Use Locker Room (Read at Chicago Evening Post)
CALIFORNIA — More than 1 in 10 California students are 'chronically absent' (Read at EdSource)
TEXAS — Texas school district bans critically acclaimed young-adult novel The Hate U Give (Read at AOL)
NEVADA —Two Clark County schools receive national Title 1 recognition (Read at Las Vegas Review-Journal)
Think Pieces
SUPERINTENDENTS — New Report: What American School Districts Can Learn From How Israel Successfully Rotates Its Superintendents (Read at The74Million.org)
ROBOTS — What? A robot will be featured speaker for DePauw University's renowned Ubben Lecture Series (Read at Indianapolis Star)
Quote of the Day
"We seem to be declining as other systems improve. This is a trend we've seen on other assessments that the United States participates in. There is a lot to be concerned about." — Peggy Carr, acting commissioner of the National Center for Education Statistics, on U.S. performance on the PIRLS test (Read at Education Week)
Want the day's top school and policy news delivered straight to your inbox — for free? Sign up for the TopSheet Daybreak Education Newsletter.
Get stories like these delivered straight to your inbox. Sign up for The 74 Newsletter