EduClips: NY Pushes for School Funding Transparency; FL Offers School Vouchers for Bullied Students — and More Must-Reads From America's 15 Biggest School Districts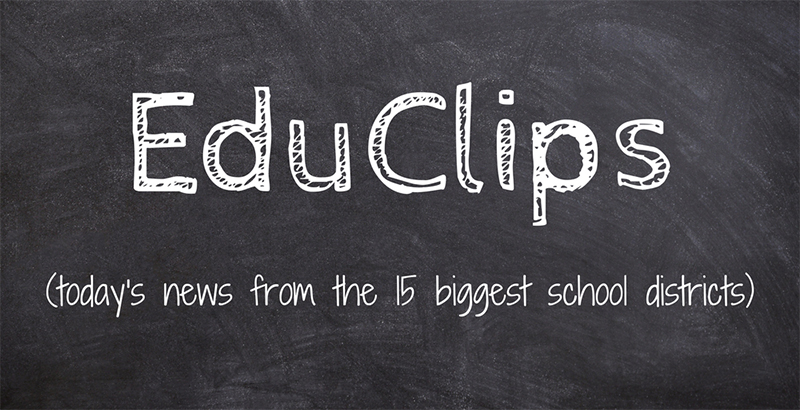 EduClips is a roundup of the day's top education headlines from America's largest school districts, where more than 4 million students across eight states attend class every day. Read previous EduClips installments here. Get the day's top school and policy news delivered straight to your inbox by signing up for the TopSheet Education Newsletter.
Top Story
OBAMA SCHOOL DISCIPLINE POLICY — After a gunman marauded through Marjory Stoneman Douglas High School last month, conservative commentators — looking for a culprit — seized on an unlikely target: an Obama-era guidance document that sought to rein in the suspensions and expulsions of minority students.
Black students have never been the culprits in the mass shootings that have shocked the nation's conscience, nor have minority schools been the targets. But the argument went that any relaxation of disciplinary efforts could let a killer slip through the cracks. And this week, President Trump made the connection, announcing that Education Secretary Betsy DeVos will lead a school safety commission charged in part with examining the "repeal of the Obama administration's 'Rethink School Discipline' policies." (Read at The New York Times)
National News
DEVOS — Betsy DeVos gets cold shoulder from the White House after shaky interview on 60 Minutes (Read at USA Today)
IMMIGRATION — Visas Issued to Foreign Students Fall, Partly Due to Trump Immigration Policy (Read at The Wall Street Journal)
SCHOOL SAFETY — Educators blast Trump plan to help arm school staff (Read at Politico)
DEVOS — Betsy DeVos's Media Blitz, Recapped: The 10 Most Talked-About Exchanges From Her Sit-downs With 60 Minutes, Fox & Friends, & Today (Read at The74Million.org)
MENTAL HEALTH — Democrats Seek More Money for Mental Health Services, Counseling in Schools (Read at Politics K-12)
District and State News
NEW YORK — New York's top policymakers outline a plan to help open up the black box of school funding (Read at Chalkbeat)
FLORIDA — Florida Becomes First State to Offer Bullied Students Vouchers for Private School (Read at U.S. News & World Report)
GEORGIA — Georgia Voters ID Education as No. 1 Issue as Democrats and Republicans Battle to Succeed Reform-Minded Gov. Nathan Deal (Read at The74Million.org)
CALIFORNIA — Those who walk out on Wednesday will join a rich history of student protest (Read at EdSource)
FLORIDA — Local Superintendents Argue Schoolchildren Face Funding Discrimination (Read at NBC Miami)
ILLINOIS — 'We Are Change': Hundreds of Chicago-Area Students Hold Court With Officials Over Gun Control, School Safety (Read at NBC Chicago)
TEXAS — Some Texas Teachers Call for Funding, Not Firearms (Read at Spectrum News Austin)
PENNSYLVANIA — Opinion: Why Philly's School District is a money pit | Stu Bykofsky (Read at The Philadelphia Inquirer)
CALIFORNIA — Opinion: Sacramento's game of hide-and-seek with public education (Read at LA School Report)
ILLINOIS — Youth group seeks to change the way Chicago Public Schools address underage drinking (Read at the Chicago Tribune)
NEVADA — 2 Clark County schools 'partnered' with state charters (Read at the Las Vegas Review-Journal)
Think Pieces
SCHOOL DISCIPLINE — Will Betsy DeVos Expand the School-to-Prison Pipeline? (Read at The New York Times)
LATINO STUDENTS — There Are Three Times as Many Latino Students as Teachers in America. Two New Reports Show Why That's Bad for Both (Read at The74Million.org)
SCHOOL FUNDING — We read new reports on the state of school funding in America so you don't have to. Here's what we learned. (Read at Chalkbeat)
SCHOOL SAFETY — Designing a School to Stop Shooters (Read at The Wall Street Journal)
Quote of the Day
"We're not going to dismantle a program that's been successful in the district because of false information that someone has put out there. We will neither manage nor lead by rumors." —Broward County Superintendent Robert Runcie on Twitter, remarking on Sen. Marco Rubio's effort to link the district's discipline policies to the recent massacre that killed 17 students in Parkland, Florida. (Read at The New York Times)
Want the day's top school and policy news delivered straight to your inbox — for free? Sign up for the TopSheet Daybreak Education Newsletter.
Get stories like these delivered straight to your inbox. Sign up for The 74 Newsletter