Betsy DeVos's Media Blitz, Recapped: The 10 Most Talked-About Exchanges From Her Sit-downs With 60 Minutes, Fox & Friends, & Today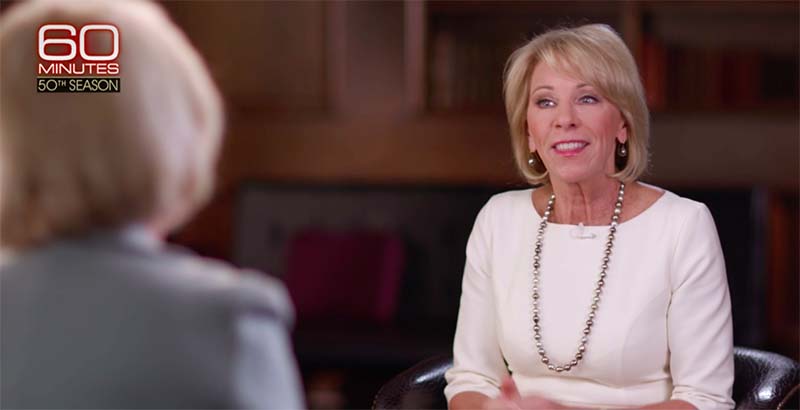 Education Secretary Betsy DeVos made several national-TV media appearances Sunday night and Monday morning, aimed primarily at promoting the Trump administration's new school safety proposals, particularly her leadership of a school safety commission.
The secretary is not known for her grace under the pressure of tough questions, having previously made national headlines at her Senate confirmation hearing when she declared guns might be needed in rural schools to deal with "potential grizzlies," a statement that earned her a skewering on Saturday Night Live. She was widely pilloried for her performances Sunday and Monday, seeming unprepared even on her signature topics like school choice.
The White House is now reportedly "alarmed" by her performance, including her failures to answer basic questions on schools and to defend the school safety proposals, according to CNN.
A good bit of the conversations focused on Trump's apparent flip-flop on whether to raise the minimum age for so-called long gun purchases, like rifles and the AR-15 that was used in the mass school shooting in Parkland, Florida, from 18 to 21. Though the president had a few weeks ago seemed firmly behind raising the age, that proposal is now one that the commission DeVos chairs will study, the secretary said, rather than an action the administration is seeking immediately.
Here are highlights from her three interviews, including a 13-minute segment on 60 Minutes, the first in-depth televised profile of the famously media-shy secretary:
On arming teachers:
"That should be an option for states and communities to consider. I hesitate to think of, like, my first-grade teacher, Mrs. Zorhoff, I couldn't ever imagine her having a gun and being trained in that way. But for those who are capable, this is one solution that can and should be considered, but no one size fits all. Every state and every community is going to address this issue in a different way."
On whether traditional public schools lose funding in the face of school choice programs:
"We should be funding and investing in students, not in school buildings, not in institutions, not in systems … In places where there is a lot of choice that's been introduced, Florida for example, the studies show that when there's a large number of students that opt to go to a different school or different schools, the traditional public schools actually, the results get better as well."
On whether school choice has improved traditional public schools in Michigan, DeVos's home state, where she was deeply involved in promoting school choice:
"I can't say overall that [schools] have gotten better … There are certainly lots of pockets where the students are doing well … I hesitate to talk about all schools in general, because schools are made up of individual students attending them … Michigan schools need to do better, there is no doubt about it."
On school visits:
"I have not intentionally visited schools that are underperforming … maybe I should, yes."
On her decision to change Title IX guidance governing how schools handle allegations of sexual assault:
"One sexual assault is one too many, and one falsely accused individual is one too many … I don't know [if one assault is equal to one false allegation], but I'm committed to a process that's fair for everyone involved."
On rescinding 2014 Obama-era guidance aimed at limiting race-based disparities in school discipline:
"We are studying that rule. We need to ensure that all students have an opportunity to learn in a safe and nurturing environment and all students means all students … All of these issues, or all of this issue, comes down to individual kids … I am committed to making sure that students have the opportunity to learn in an environment that is conducive to their learning."
On the specifics of teachers carrying weapons on campus:
DeVos said it "wouldn't be appropriate" for schools to have an armed teacher in every classroom or even every grade, and she didn't have a "percentage" of educators who should be armed. She panned the notion of teachers carrying automatic weapons, but said the idea of educators openly wearing guns is one that should be decided locally.
"The point is that schools should have this tool if they choose to use the tool, communities would have the tool, but nobody should be mandated to do it."
On the president's change of stance on raising the minimum age of purchase:
"Everything is on the table, and the commission that is being formed, of which I will lead, is going to be looking at this issue, along with a number of other issues, the point being that we have to get much broader than just talking about guns and a gun issue where camps go into their corners. There are many things that have driven this issue in the first place, and we have to go back to the beginning and talk about how these violent acts are even occurring to start with."
On Florida's just-passed law raising the age to purchase weapons, allowing some adults on campus to be armed, and permitting law enforcement to confiscate weapons from people who might be dangerous:
"I think Florida has done an amazing job in a very short period of time in tackling some very difficult issues. I think every state is looking in that direction, though Florida had, obviously, immediate motivation."
On unions and other opponents to school choice:
"There are some very powerful forces that are arrayed against changing the status quo, and that is what we are up against. But the reality is that the majority of people in America support giving parents that kind of freedom, and so this [school choice] legislation is going to continue to advance at the state level.
"At the national level, we're going to continue to push this conversation and to encourage our lawmakers to look at ways they can encourage it both in their states and take steps nationally that will help parents be free to make those decisions for their kids."
Get stories like these delivered straight to your inbox. Sign up for The 74 Newsletter