EduClips: New NYC Chancellor Alludes to Houston Contract Concerns; Larger FL Districts May Skip Armed 'Guardians' Program — and More Must-Reads From America's 15 Biggest School Districts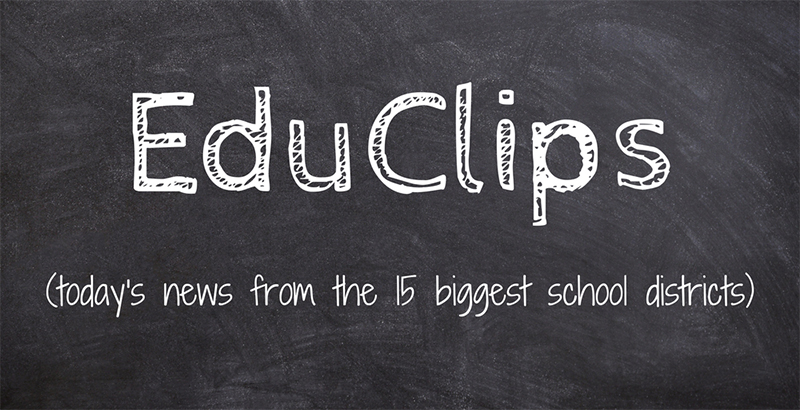 EduClips is a roundup of the day's top education headlines from America's largest school districts, where more than 4 million students across eight states attend class every day. Read previous EduClips installments here. Get the day's top school and policy news delivered straight to your inbox by signing up for the TopSheet Education Newsletter.
Top Story
VIDEO GAMES — Representatives from the video game industry are meeting today with President Trump to discuss their product's impact on youth violence. But likely participants say that regulating media content isn't a solution to tragedies like the Parkland, Florida, shooting, and experts have roundly dismissed the administration's focus on gaming as fanciful.
The purported brutality of both games and movies "is really shaping young people's thoughts," the president has said. And yet, as media commentators have wasted no time pointing out, there's practically no evidence indicating that video games trigger violent behavior. Young people — especially boys — have shot, stabbed, and throttled innumerable digital enemies in the decades since video games became available for use on home consoles; by some estimates, 90 percent of American kids are at least intermittent users. But numerous studies have failed to detect any elevated tendency of gamers toward violence. (Read at The74Million.org)
National News
SCHOOL SAFETY — Parkland Student David Hogg, Other Advocates Lobby Capitol Hill on Gun Control (Read at Politics K-12)
GRADUATION SCANDAL — Schools chief in Maryland says governor's call for his ouster 'absolutely' political (Read at The Washington Post)
DEVOS — DeVos Upstaged by NBA Star in Visit With Florida Shooting Survivors, Criticized After Cutting Press Conference Short (Read at The74Million.org)
ESSA — Black, Hispanic Asian Democrats in House Slam DeVos on ESSA Plans (Read at Politics K-12)
District and State News
NEW YORK — NYC schools boss choice accused of ruining educator's career (Read at the New York Daily News)
TEXAS — Superintendent Richard Carranza praises HISD but alludes to contract concerns as he departs for New York City (Read at Chron)
CALIFORNIA — N.Y. drama takes two big prospects out of discussion for L.A. schools job (Read at the Los Angeles Times)
NEW YORK — New York City principals want to know: How much power will they have under Chancellor Carranza? (Read at Chalkbeat)
FLORIDA — Largest school districts may skip armed 'guardians' programs, even if governor signs it (Read at the Miami Herald)
TEXAS — Teachers Union Accuses SAISD of Breaking Open Records Law (Read at Texas Public Radio)
GEORGIA — Two guns found in two days at Gwinnett County middle school (Read at the Atlanta Journal-Constitution)
ILLINOIS — Legislature Proposes Medical Marijuana Use in Illinois Schools (Read at NPR Illinois)
CALIFORNIA — California closes in on compromise for complying with federal education law (Read at EdSource)
ILLINOIS — School funding bill headed to Illinois Senate after House OK (Read at Fox 2 Now)
NEVADA — Clark County School District hopes to lure teachers away from California (Read at KTNV)
Think Pieces
WV STRIKE — The Ripple Effect of the West Virginia Teachers' Victory (Read at The Atlantic)
CHARTER SCHOOLS — This New Report Is Fighting Charter School and Special Education Myths With Facts (Read at Education Post)
WV STRIKE — Analysis: How Much Does West Virginia Really Pay Its Teachers? How Pensions Muddy the Math on Teacher Salaries (Read at The74Million.org)
READING — Opinion: Here's a way teachers can break down equity barriers in high school: reading aloud to students (Read at The Hechinger Report)
Quote of the Day
"My kid won't be at school tomorrow. I don't want to sit here and worry that there's a gun at school every day now." —Kaitlin Chancer, whose son attends Shiloh Middle School in Gwinnett County, Georgia, where a gun was found for the second time in two days. (Read at the Atlanta Journal-Constitution)
Want the day's top school and policy news delivered straight to your inbox — for free? Sign up for the TopSheet Daybreak Education Newsletter.
Support The 74's year-end campaign. Make a tax-exempt donation now.