EduClips: Metal Detectors Ineffective at LAUSD Schools, Report Says; WY Educators Debate Merits of Arming Teachers — and More Must-Reads From America's 15 Biggest School Districts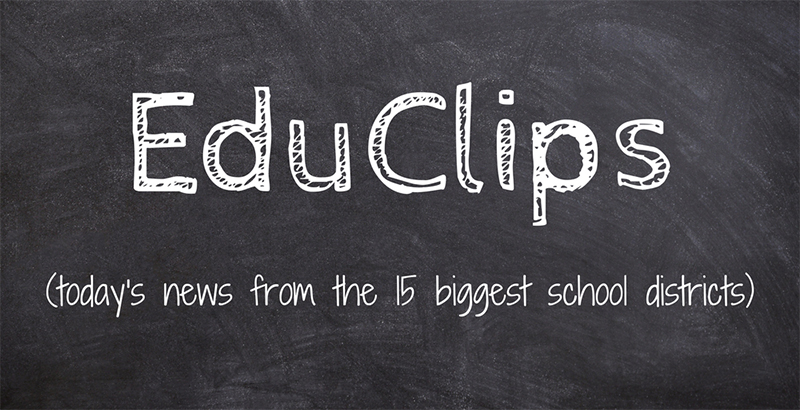 EduClips is a roundup of the day's top education headlines from America's largest school districts, where more than 4 million students across eight states attend class every day. Read previous EduClips installments here. Get the day's top school and policy news delivered straight to your inbox by signing up for the TopSheet Education Newsletter.
Top Story
SUSPENSIONS — Between 2011 and 2017, out-of-school suspensions in California fell 46 percent, as the state's suspension rate dropped by more than a third.
That students are suspended less frequently is welcome news for civil rights advocates who've long been concerned about the fact that certain groups — black students, foster youth, and students with disabilities, in particular — are far more likely to face suspension than their peers. This disparity is often referred to as the discipline gap. Tempering the optimism, however, is the fact that while suspension rates fell, the discipline gap didn't close in any significant way, data show. (Read at The74Million.org)
National News
SCHOOL SAFETY — Arming Teachers: A 'Threat to Safety' or the 'Only Way to Protect Innocent Lives'? (Read at Politics K-12)
DUNCAN — Arne Duncan: 'Everyone Says They Value Education, but Their Actions Don't Follow' (Read at The Atlantic)
DIVERSITY — Trump's Move to Pull Obama-Era Diversity Guidance for Schools Angers Democrats (Read at Politics K-12)
IMMIGRATION — 'I Feel Happy to Enter Classes Again': One Migrant Teen's Perilous Journey From El Salvador to High School in the U.S. (Read at The74Million.org)
PRINCIPALS — Principals Are Running for Elected Office. Here's Why (Read at Education Week)
District and State News
CALIFORNIA — Safety Report: Metal Detectors Ineffective at LAUSD Schools (Read at CBS Los Angeles)
TEXAS — School ratings under new Texas system to be released next week (Read at the Austin American-Statesman)
ILLINOIS — New high school plan still has some South Side residents feeling neglected (Read at Chalkbeat)
NEVADA — CCSD Recruiting Teachers From Other Countries to Fill Teacher Shortage (Read at Nevada Public Radio)
HAWAII — Hawaii expanding few preschool options at public schools (Read at Hawaii News Now)
CALIFORNIA — California's schools and colleges show varying degrees of support for data system linking student information (Read at EdSource)
GEORGIA — New Gwinnett high school built with eye to future (Read at The Atlanta Journal-Constitution)
NEW YORK — Vocab Tech for New York Toddlers Encourages 'Anytime, Anywhere Learning' (Read at WSKG)
Think Pieces
SPRING BREAK — Spring break at school? New research says it helps middle schoolers catch up (Read at Chalkbeat)
COMMON CORE — Commentary: Report on Common Core Gives This English Teacher Hope for Student Success in Reading and Writing (Read at The74Million.org)
RURAL SCHOOLS — Playgroups offer rural families a head start on school (Read at The Hechinger Report)
ENTREPRENEURSHIP — Schools Need Advanced Placement Entrepreneurship Programs (Read at Gallup)
LEBRON JAMES — LeBron is dishing out assists to a local school district in Ohio (Read at The Hechinger Report)
Quote of the Day
"There's not a shred of evidence that supports the idea that suspensions actually help students, but the spare-the-rod, spoil-the-child idea that you have to kick out the bad kids has been deeply entrenched ever since." —Dan Losen, director of UCLA's Center for Civil Rights Remedies. (Read at The74Million.org)
Want the day's top school and policy news delivered straight to your inbox — for free? Sign up for the TopSheet Daybreak Education Newsletter.
Get stories like these delivered straight to your inbox. Sign up for The 74 Newsletter