EduClips: LAUSD Teachers to Cast Ballots This Week in Strike-Authorization Vote; Hurricane Lane Forces School Closures in Hawaii — and More Must-Reads From America's 15 Biggest School Districts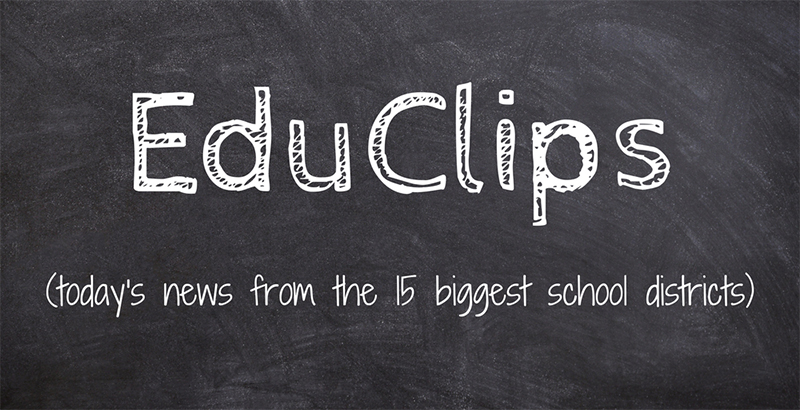 EduClips is a roundup of the day's top education headlines from America's largest school districts, where more than 4 million students across eight states attend class every day. Read previous EduClips installments here. Get the day's top school and policy news delivered straight to your inbox by signing up for the TopSheet Education Newsletter.
Note: EduClips will be taking a short break for the Labor Day holiday. Regular postings will resume Tuesday morning, September 4.
Top Story
#EDlection2018 — Watching to see if a "blue wave" helps Democrats take control of one chamber of Congress next year? Don't expect a lot of education talk to wash up on shore.
Last week, the nonpartisan Cook Political Report worked with CMAG Kantar Media to study how often different issues like education, health care, immigration, and taxes, as well as President Donald Trump, were mentioned in House and Senate campaign ads from the start of 2018 through July.
Mentioned by just 31,582 ads in 2018, education appeared in the second-fewest ads among the 11 issues and people Cook and CMAG Kantar studied. In fact, only House Minority Leader Nancy Pelosi got fewer mentions in ads. By contrast, more than five times as many ads mentioned health care as the number that mentioned education. (Read at Politics K-12)
National News
'SOFT SKILLS' — Schools Should Teach (and Measure) 'Soft Skills,' Parents and Educators Agree (Read at Education Week)
CHILD TRAUMA — Why a Boston Teachers College Is Sending Its Students to Northern Ireland to Learn About a Child Trauma Program That Could Help U.S. Kids, Too (Read at The74Million.org)
CHARTERS — 40 cities in 10 years: Leaked presentation offers more details on new group's goals to spread charter (and charter-like) schools (Read at Chalkbeat)
District and State News
CALIFORNIA — LAUSD Teachers to Cast Ballots This Week in Strike-Authorization Vote (Read at NBC Los Angeles)
HAWAII — Hawaii school closures due to Hurricane Lane (Read at KHON2)
ILLINOIS — CPS to Require Background Checks for All Volunteers After Sex Abuse Scandal (Read at CBS Chicago)
NEVADA — Teachers' Union Recommends Local Districts Be Allowed to Raise Education Money (Read at Nevada Public Radio)
FLORIDA — Teachers Leaving Classroom Based Partly on Low Pay (Read at NBC Miami)
CALIFORNIA — California school's no-shame dress code empowers students to wear what they want (Read at USA Today)
ILLINOIS — New Chicago Public Schools policies may bar students from texting teachers, coaches — and vice versa (Read at the Chicago Tribune)
NEW YORK — Hunter High School Is 9 Percent Black or Hispanic. Why Isn't It Part of the Diversity Debate? (Read at The New York Times)
FLORIDA — Miami-Dade Superintendent: Time to Shift Away From 'Necessary Obsession' With Security, Focus on Teaching (Read at Newsweek)
TEXAS — Texas Education Agency Refuses to Monitor County's Alternative Special Ed Schools Directly (Read at Houston Public Media)
NEW YORK — How an Elite New York City Prep School Created a Safe Space for Angry Zionists (Read at HuffPost)
TEXAS — More North Texas School Districts Turn to TRE for Funds (Read at NBC DFW)
Think Pieces
KINDERGARTEN — Does 'Redshirting' Benefit Kids? Kindergarten Decision Looms (Read at U.S. News and World Report)
COMMON CORE — New Study Shows States That Veered From Common Core Adopted Weaker Academic Standards (Read at The74Million.org)
MINORITIES — Study: Minorities Labeled Learning Disabled Because of Social Inequalities (Read at U.S. News and World Report)
SCHOOL CHOICE — Public Opinion Shifts in Favor of School Choice (Read at The Atlantic)
GATES — In Age of Trump, Bill Gates Uses Blog to Highlight Teacher Voice, Programs Helping Immigrant, Refugee Children (Read at The74Million.org)
Quote of the Day
"It was extremely re-traumatizing to me; and probably worse than the event itself was how poorly I was treated by CPS investigators, and how clear it was that there was such a lack of a system, or an outline, or anything." —former Chicago Public Schools student and sex abuse survivor Morgan Aranda. (Read at CBS Chicago)
Want the day's top school and policy news delivered straight to your inbox — for free? Sign up for the TopSheet Daybreak Education Newsletter.
Get stories like these delivered straight to your inbox. Sign up for The 74 Newsletter