In Age of Trump, Bill Gates Uses Blog to Highlight Teacher Voice, Programs Helping Immigrant, Refugee Children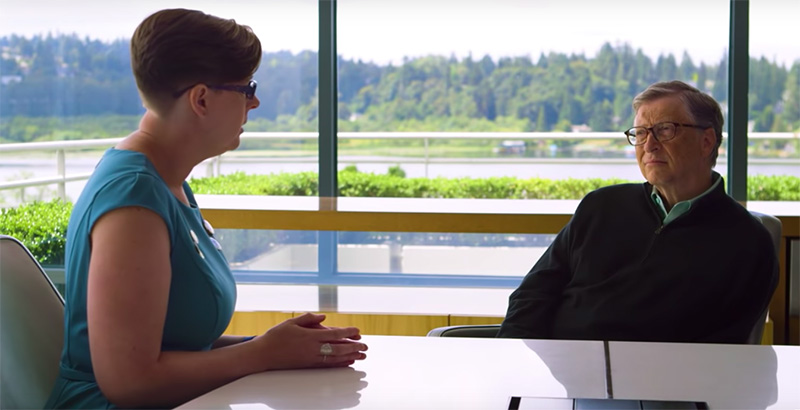 Bill Gates, one of the largest sources of K-12 philanthropy in the country, is using his perch to highlight the importance of teacher voice and the value of educating immigrant students.
He posted about 2018 Teacher of the Year Mandy Manning, who works at a center for new immigrant students at a high school in Spokane, Washington, as one of his "heroes in the field" on his Gates Note blog Tuesday.
Manning told The 74 after her selection as Teacher of the Year in April that, since President Donald Trump was elected and has limited admissions of refugees and cracked down on undocumented immigrants, she has redoubled her efforts to make sure students know they're welcome in her classroom.
"Hearing Mandy talk about her students reminded me of one of the biggest strengths of America's public schools: They are intended to help every child succeed. The fact that some places fall short of that ideal should not obscure the successes that are happening in Spokane and other cities across the country," said Gates, whose foundation has funded efforts meant to reform public education.
In education, as in other areas, such as world health, where he has brought his fortune to bear, Gates's words are closely watched. Last year, the foundation announced it would spend $1.7 billion on education initiatives over five years, with a new emphasis on supporting innovative school networks and curricula, after less successful undertakings backing the Common Core State Standards and teacher evaluation systems tied to student test scores. The foundation remains a major funder of public charter schools, with its latest focus on those serving special education students. (The Bill & Melinda Gates Foundation also provides financial support to the The 74.)
At one point in the video, Gates seeks a much broader assessment of K-12 education in America from Manning, almost echoing the challenges encountered by his own foundation.
"If you look at education overall, do you feel like we are getting better?" Gates asks. "And what's your thinking on what direction we should go?"
Manning says she really thinks "our school system at its heart is doing what's best for kids," while acknowledging the importance of schools like her own being flexible and open to new ideas that can help "meet the needs of the kids." She said teachers should have a voice in that process.
The posts made no mention of Trump specifically or his immigration policies; video of Gates seeming to mock the president's lack of knowledge about basic health care policy leaked earlier this year.
Manning, in her own post on Gates's blog, urged her fellow teachers to speak up about policy at all levels.
"Educators need to be engaged in making policy — not just at the federal and state level, but at the local level too. Local rules generally dictate what actually occurs in our classrooms, and in my experience, it's also where educators are most often left out," she wrote.
Manning made waves earlier this year when she used her time at an annual reception at the White House to raise with the president the issues her immigrant and refugee students, many of them trauma survivors, face, giving Trump letters they wrote.
Get stories like these delivered straight to your inbox. Sign up for The 74 Newsletter