EduClips: Judge Strikes Down Rule Allowing Some NYC Schools to Certify Their Own Teachers; With Children Held in Miami-Dade, District Chief Carvalho Condemns Immigration Policy — and More Must-Reads From America's 15 Biggest School Districts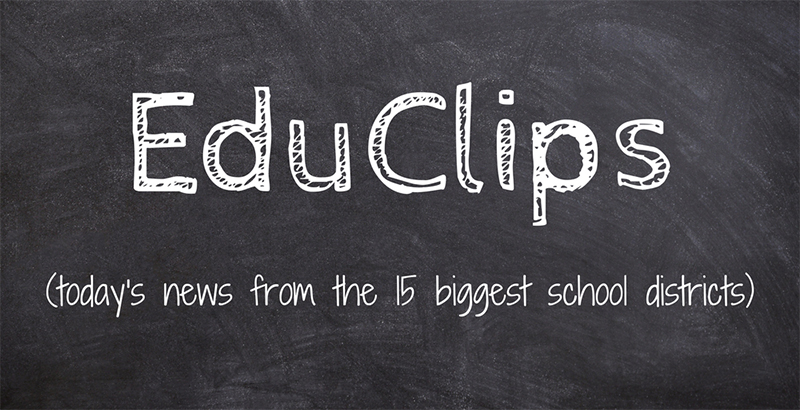 EduClips is a roundup of the day's top education headlines from America's largest school districts, where more than 4 million students across eight states attend class every day. Read previous EduClips installments here. Get the day's top school and policy news delivered straight to your inbox by signing up for the TopSheet Education Newsletter.
Top Story
HURRICANE MARIA — Karla Burgos Santana didn't want to talk to anyone.
Only hours before, she was in Naranjito, Puerto Rico — the rural town in the mountains where she'd grown up. A senior and aspiring actress, she'd finally nailed a coveted leading role in her school's musical, Young Frankenstein. Yet on Oct. 10, following the island's devastation from Hurricane Maria, Burgos Santana was walking the unfamiliar hallways of Cypress Creek High School in Orlando, Florida, feeling depressed and helpless.
"I sat at lunch alone" the first few weeks, the 17-year-old recalled. "I even wrote letters telling myself that I didn't want to be there. I was mad."
But eight months later, Burgos Santana has received her high school diploma, one of hundreds of seniors who came to the U.S. mainland to do so. The seniors were among an estimated exodus of about 40,000 students forced to relocate as the island struggled for weeks to regain power. (Read at The74Million.org)
National News
IMMIGRATION — Teachers Condemn Family Separations at the Border as 'Child Abuse' (Read at Education Week)
HEAT WAVE — With Many Schools Lacking Air Conditioning, Heat Wave Leads to Early School Closures (Read at The74Million.org)
ESSA — States Are Failing to 'Put Students' Civil Rights First' in ESSA Plans, Advocates Say (Read at Politics K-12)
District and State News
NEW YORK — Judge strikes down rule allowing some New York charter schools to certify their own teachers (Read at Chalkbeat)
FLORIDA — With Children Held In Miami-Dade, Carvalho Sends Letter Condemning Immigration Policy to Sec. Nielsen (Read at CBS Miami)
TEXAS — TEXAS DIGEST: Charter school founders get prison in $4.4 million scam (Read at the Austin American-Statesman)
PUERTO RICO — This Is What Hundreds of School Closures in Puerto Rico Looks Like (Read at Politics K-12)
CALIFORNIA — L.A. school board approves $8.2 billion spending plan amid concerns over future (Read at the Los Angeles Times)
NEVADA — Clark County schools cut more than 560 jobs to erase deficit (Read at the Las Vegas Review-Journal)
CALIFORNIA — Building L.A.'s rail system will create thousands of jobs. Can a transportation boarding school fill them? (Read at the Los Angeles Times)
NEW YORK — City Plan Aims to Diversify Upper West Side Middle Schools (Read at The Wall Street Journal)
Think Pieces
PRE-K — How do you make the benefits of pre-K education last? (Read at PBS)
THE BELIEF GAP — A Parent's Perspective: Excuse Me, What Did You Call My Child? When the 'Belief Gap' Cuts a Little Too Close to Home (Read at The74Million.org)
PRE-K — What We Can Learn From Ghana's Obsession With Preschool (Read at NPR)
PROFESSIONAL DEVELOPMENT — Teachers Shouldn't Have to Wait Until Summer to Get Professional Development (Read at Education Post)
Quote of the Day
"We don't close the door on anyone. You have to respond." —Leslie Torres-Rodriguez, superintendent at Hartford Public Schools, which enrolled 450 Puerto Rican students in the aftermath of Hurricane Maria. (Read at The74Million.org)
Want the day's top school and policy news delivered straight to your inbox — for free? Sign up for theTopSheet Daybreak Education Newsletter.
Get stories like these delivered straight to your inbox. Sign up for The 74 Newsletter