With Many Schools Lacking Air Conditioning, Heat Wave Leads to Early School Closures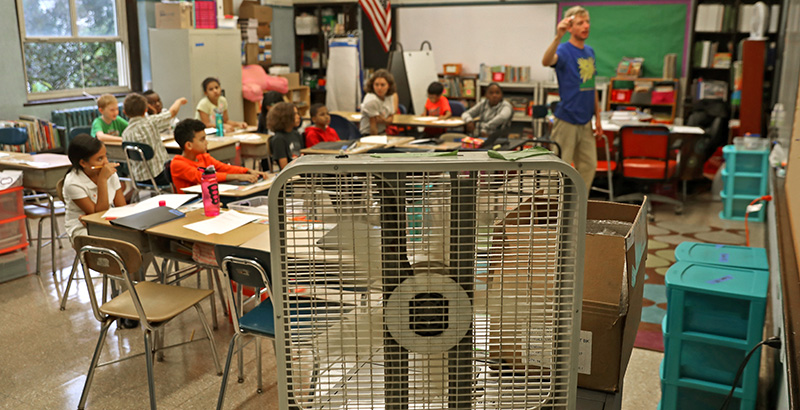 Students are getting an early taste of summer this week in at least five states, as schools in New York, New Jersey, Connecticut, Massachusetts, and Michigan closed early Monday afternoon because of temperatures expected to rise into the 90s. The closures are a reminder that many schools in the United States lack air conditioning, even in areas that routinely see high temperatures during the school year.
A public records request by The 74 in 2017 revealed that some schools in 11 of America's largest districts lack sufficient air conditioning, which can be critical for learning on hot days.
Teachers told The 74 that hot classrooms can make students irritable and unfocused, which makes it difficult for teachers to engage them and may cause behavior problems.
"I have more kids who will put their heads down, they'll be grouchier, less compliant, they don't want to do anything," one Baltimore teacher said last year.
Research backs up educators' observations. A 2017 study in New York City high schools showed that student test scores suffer on hotter days.
"Taking an exam on a 90 [degree] day relative to a 72 [degree] day results in a reduction in exam performance that is equivalent to a quarter of the Black-White [student] achievement gap," researchers wrote.
Additionally, a recent study of PSAT results found that student scores were lower when the preceding school year had been hotter, indicating that students may learn less in higher temperatures. Researchers found that air conditioning in classrooms mitigates the effects of the heat, however. They assert that the benefits of air conditioning in classrooms would outweigh the cost, "particularly given future predicted climate change." The effects were larger for low-income and minority students in the PSAT study.
Get stories like these delivered straight to your inbox. Sign up for The 74 Newsletter