EduClips: Judge Halts School Closures in Puerto Rico; Lawmakers, Witnesses Debate Arming TX Teachers — and More Must-Reads From America's 15 Biggest School Districts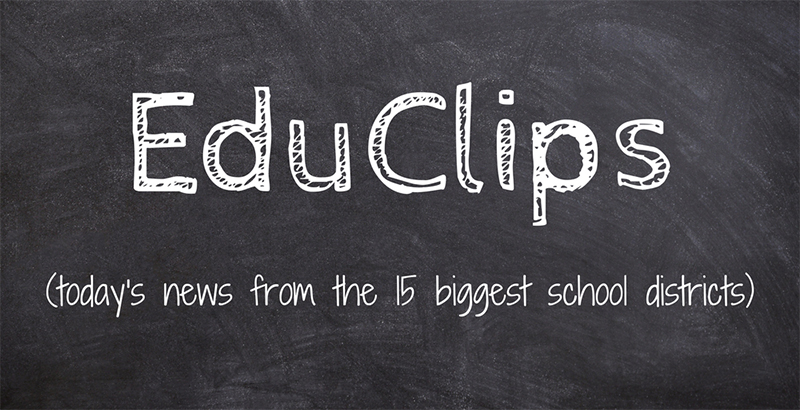 EduClips is a roundup of the day's top education headlines from America's largest school districts, where more than 4 million students across eight states attend class every day. Read previous EduClips installments here. Get the day's top school and policy news delivered straight to your inbox by signing up for the TopSheet Education Newsletter.
Top Story
SCHOOL SAFETY — The Education Department on Tuesday denied that the National Rifle Association is playing any role in a White House school safety commission, after a leading Democratic senator raised questions about the organization's influence.
Sen. Patty Murray of Washington, the top Democrat on the Senate education committee, in a letter pressed Education Secretary Betsy DeVos about whether the NRA was "involved in setting the scope of the commission's work" or if any member of the commission has met with the NRA.
Murray said that in an earlier letter, in March, she expressed concern the commission would try to shift public attention away from gun safety reforms. "I also expressed concern that in our private meeting, you could not assure me that the National Rifle Association (NRA) would not influence the Commission's process," she wrote DeVos. (Read at Politico)
National News
AP HISTORY — AP World History Rewrite Draws Criticism From Teachers and Students (Read at Education Week)
MISSOURI — Missouri governor revives education board with appointments (Read at The Washington Post)
ESSA — Despite ESSA, States Strain to Find One Path on Accountability (Read at Education Week)
District and State News
NEW YORK — 74 Analysis Shows Girls Already Outperform Boys at NYC's Elite Schools Amid Fear That Opening Up Admissions Would Water Down Quality (Read at The74Million.org)
PUERTO RICO — "Justice Was Served": Judge Halts School Closures in Puerto Rico (Read at CBS News)
TEXAS — Should Texas teachers have guns on campus? Lawmakers, witnesses debate merits of school marshal program (Read at Dallas News)
CALIFORNIA — L.A. school board sets a new goal: prepare every grad to be eligible to apply for Cal State or UC (Read at the Los Angeles Times)
ILLINOIS — Opinion: Durbin and Duckworth give Emanuel a pass on CPS scandal (Read at the Chicago Tribune)
NEW YORK — Cynthia Nixon's Education Plan: Ambitious, Progressive, Expensive (Read at The New York Times)
CALIFORNIA — Federal officials again question California's plan for improving lowest-performing schools (Read at EdSource)
ILLINOIS — Illinois elementary school to drop Woodrow Wilson from name (Read at Fox 32 Chicago)
TEXAS — Local Students, state board of education leaders protest renaming of Mexican-American studies course (Read at the San Antonio Express-News)
HAWAII — The Crusade to Keep Hawaii Kids Fed This Summer (Read at the Honolulu Civil Beat)
Think Pieces
GENDER — Where Boys Outperform Girls in Math: Rich, White and Suburban Districts (Read at The New York Times)
GRADUATION — 'The sky's the limit now': A graduation, and a statement about a troubled school (Read at The Washington Post)
SCHOOL TAKEOVER — When states take over school districts, they say it's about academics. This political scientist says it's about race and power. (Read at Chalkbeat)
SOCIAL-EMOTIONAL LEARNING — These California School Districts Joined Forces to Bolster Social-Emotional Development, but a Study of 400,000 Kids Reveals Learning Gaps and a Confidence Crisis Among Middle School Girls (Read at The74Million.org)
PHILANTHROPY — New Jersey teacher leaves $1 million to her special education students in her will (Read at USA Today)
WASHINGTON CAPITALS — Rotherham: What the Washington Capitals Just Taught a Whole Generation of Young Hockey Fans About Embracing Your Emotions — and Living in the Moment (Read at The74Million.org)
ESPORTS — Schools Use Esports as a Learning Platform (Read at U.S. News and World Report)
Quote of the Day
"The current AP World History course and exam cover 10,000 years of history across all seven continents. No other AP course requires such an expanse of content to be covered over a single school year. AP World History teachers have told us over the years that the scope of content is simply too broad, and that they often need to sacrifice depth to cover it all." —The College Board, in an explanation on its website, about its decision to eliminate content on pre-colonial Africa, Asia, the Americas, and the Middle East from AP World History. (Read at Education Week)
Want the day's top school and policy news delivered straight to your inbox — for free? Sign up for the TopSheet Daybreak Education Newsletter.
Get stories like these delivered straight to your inbox. Sign up for The 74 Newsletter