EduClips: Judge Halts Deportation of 'Dreamers'; District Chief Searches in Las Vegas & L.A. — and More Must-Reads From America's 10 Biggest School Districts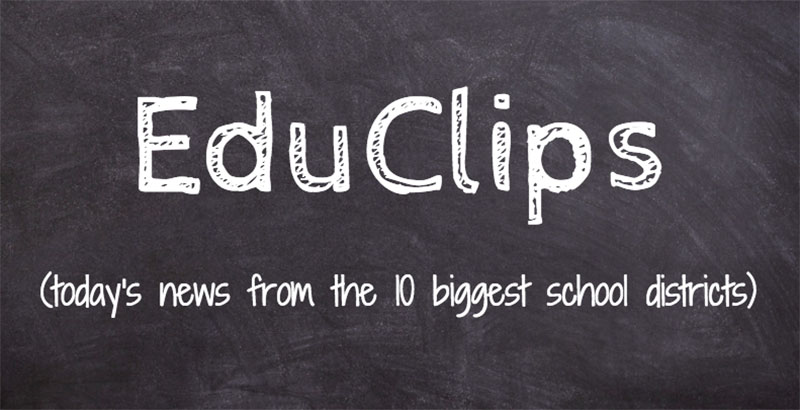 EduClips is a roundup of the day's top education headlines from America's largest school districts, where more than 4 million students across eight states attend class every day. Read previous EduClips installments here. Get the day's top school and policy news delivered straight to your inbox by signing up for the TopSheet Education Newsletter.
Top Story
IMMIGRATION —  U.S. District Judge William Alsup on Tuesday blocked the Trump administration's plans to phase out protections for 690,000 so-called undocumented "Dreamers." Alsup ruled that safeguards against deportation must remain in place for the immigrants in the Deferred Action for Childhood Arrivals program while a legal challenge to ending the Obama-era program proceeds.
White House spokeswoman Sarah Huckabee Sanders called the decision "outrageous." Attorney General Jeff Sessions announced the decision to terminate the program on September 5 and said no renewal applications would be accepted after October 5. (Read at The Washington Post)
National News
'NET NEUTRALITY' — After Loss of 'Net Neutrality,' Districts Weigh How to Protect Themselves (Read at Education Week)
DESEGREGATION — Key Minnesota Desegregation Case Asks Chilling Question: Can Supreme Court Intervene to Guarantee an Adequate Public Education? (Read at The74Million.org)
TAX LAW — 'Charitable Donations' Would Aim to Blunt New Tax Law's Impact on School Aid (Read at Politics K-12)
HANDCUFFED TEACHER — 'Out of Order': A Teacher Handcuffed During Louisiana School Board Meeting, as Seen Through 3 Viral Videos (Read at The74Million.org)
District and State News
CALIFORNIA — L.A. school board keeps interim leader, prepares for superintendent search (Read at the Los Angeles Times)
NEVADA — Board seeks to whittle down its wish list for the next schools chief (Read at the Las Vegas Sun)
ILLINOIS — Governor Vetoes School Funding Trailer Bill (Read at NPR Illinois)
NEW YORK — Special needs teacher fired over fundraising efforts sues city (Read at the New York Post)
TEXAS — Superintendent salaries above average in local districts (Read at the Killeen Daily Herald)
CALIFORNIA — 'Teachers have better work stories' says an ad campaign to stem California's teacher shortage (Read at EdSource)
TEXAS — Revised Texas Education Plan Raises Standards (Read at Texas Public Radio)
ILLINOIS — Democrat backs Rauner's scholarship veto, but governor's school list raises questions (Read at the Chicago Sun Times)
FLORIDA — Speaker Richard Corcoran draws bright line on Florida school taxing issue (Read at the Tampa Bay Times)
Think Pieces
CHARTERS — Analysis: Is Scapegoating Charter Schools on Segregation Actually a Stealth Attack on Educational Excellence for African-American Students? (Read at The74Million.org)
ENGAGEMENT — The Secret to Student Engagement (Read at Education Week)
EDUCATION SPENDING — The States That Spend the Most (and Least) on Education — and How Their Students Perform Compared With Their Neighbors (Read at The74Million.org)
Quote of the Day
"Your name is attached to a state of Minnesota brief that could severely undermine one of Minnesota's most important constitutional rights. If your argument prevails in the Supreme Court, you will be inadvertently handing the opponents of a strong and vibrant public education system a powerful means to destroy our public schools."— Jerry Von Korff, an attorney in St. Cloud, in a letter to Minnesota Gov. Mark Dayton (Read at The74Million.org)
Want the day's top school and policy news delivered straight to your inbox — for free? Sign up for the TopSheet Daybreak Education Newsletter.
Get stories like these delivered straight to your inbox. Sign up for The 74 Newsletter