EduClips: Hurricane Harvey Trauma Lingers in TX Schools; Carvalho Texts Offer No Clue He'd Back Out of NYC Schools Chief Job — and More Must-Reads From America's 15 Biggest School Districts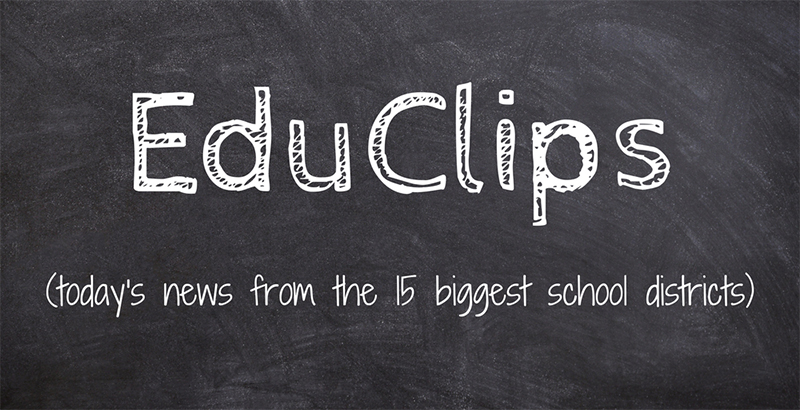 EduClips is a roundup of the day's top education headlines from America's largest school districts, where more than 4 million students across eight states attend class every day. Read previous EduClips installments here. Get the day's top school and policy news delivered straight to your inbox by signing up for the TopSheet Education Newsletter.
Top Story
PUERTO RICO — Puerto Rico's government was handed a major victory Friday when the island's Supreme Court threw out a teachers-union-backed lawsuit challenging a new school-choice law — a high priority for the education secretary after Hurricane Maria devastated schools there nearly a year ago.
The news comes just days before the start of the new school year; students return to class on Monday.
The Supreme Court's move clears the way for the government to move forward on its plan to open "escuelas alianzas," the island's version of charter schools, and to launch a private school voucher program. The lawsuit was filed by the Asociación de Maestros de Puerto Rico, an American Federation of Teachers affiliate. (Read at The74Million.org)
National News
VOCATIONAL TRAINING — Vocational Training Is Back as Firms Pair With High Schools to Groom Workers (Read at The Wall Street Journal)
SCHOOL SAFETY — Back-to-School Shopping for Districts: Armed Guards, Cameras and Metal Detectors (Read at The New York Times)
ESSA — What's the Toughest Part of ESSA for District Leaders? (Read at Politics K-12)
SCHOOL SAFETY — Back-to-school shopping: Bulletproof backpacks, other protection on the to-buy list (Read at USA Today)
ELECTIONS — In These Few States, Teachers Are Not Allowed to Serve in the State Legislature (Read at Education Week)
District and State News
TEXAS — "Harvey's not over": School's about to start — but the trauma from Hurricane Harvey lingers (Read at the Texas Tribune)
NEW YORK — Texts Offer No Hint Schools Chief Would Back Out of New York Job (Read at The New York Times)
CALIFORNIA — Charter schools scramble to become legal as new school year nears (Read at the San Diego Union-Tribune)
ILLINOIS — Rauner signs bills to improve Illinois' education (Read at Fox Illinois)
NEW YORK — All city high schools will give warnings for marijuana possession, disorderly conduct (Read at the New York Daily News)
FLORIDA — Florida school districts defying hazy rules on the use of medical marijuana for students (Read at USA Today)
CALIFORNIA — L.A. Unified to consider March election to fill Ref Rodriguez's school board vacancy (Read at the Los Angeles Times)
FLORIDA — Public schools in Doral will soon have armed police officers (Read at the Miami Herald)
NEVADA — As Clark County schools reopen, drivers warned to exercise caution (Read at the Las Vegas Review-Journal)
ILLINOIS — New law lets Illinois students take unlimited dual-credit classes (Read at WGN-TV)
NEVADA — Q+A: New CCSD superintendent prioritizes curriculum, funding for his first year (Read at the Las Vegas Sun)
Think Pieces
TEACHERS UNIONS — Rotherham: What Will Teachers Unions Look Like After the Supreme Court's Janus Decision? Expect Them to Be Smaller but More Political & Hard-Core (Read at The74Million.org)
DUNCAN — OPINION: Arne Duncan, the fallible narrator (Read at The Hechinger Report)
SPECIAL EDUCATION — Parkland Suspect Sought Special Ed Help but Was Derailed by Tug-of-War With School. To Parents of Special Needs Kids, It's a Familiar Story (Read at The74Million.org)
Quote of the Day
"For a long time, there was a little bit of a stigma around vocational training, but no matter what neighborhood you're from, you deserve a chance to get a job." —Gina Raimondo, Rhode Island's Democratic governor. (Read at The Wall Street Journal)
Want the day's top school and policy news delivered straight to your inbox — for free? Sign up for the TopSheet Daybreak Education Newsletter.
Support The 74's year-end campaign. Make a tax-exempt donation now.