Rotherham: What Will Teachers Unions Look Like After the Supreme Court's Janus Decision? Expect Them to Be Smaller but More Political & Hard-Core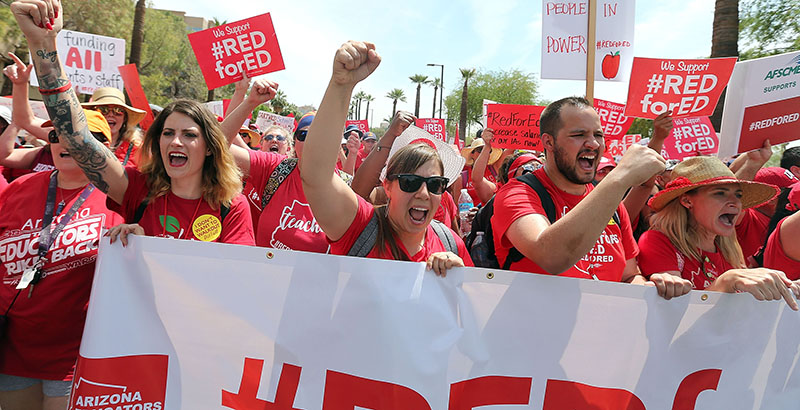 It's been more than a month since the Supreme Court's landmark Janus decision making financial support for unions completely voluntary for teachers and other public-sector workers. In education, there are plenty of predictions that this threat will, at last, force some moderation and cooperation from teachers unions. Much of this comes from Democratic education reformers who have always been conflicted about the specific ways the unions operate relative to broader aspirations for unionism. Conservatives hope Janus will weaken, if not marginalize, the anti-choice and anti-reform teachers unions.
In practice, everyone will probably be disappointed, because the most likely outcome is somewhat paradoxical: teachers unions that are smaller but more strident than they are today. The Supreme Court could have issued a narrower ruling giving Mark Janus some relief while preserving some features of the agency fee arrangement. Instead, a five-justice majority upended the public-sector unions' economic model.
Still, those who see the ruling as something close to a death knell ignore the enormous power teachers unions retain. Collective bargaining agreements and other union-friendly norms remain in place. Even post-Janus, they still have a lot of money to deploy and a lot of leverage in low-turnout school board elections and gerrymandered legislative races where the action is in the primaries. And, as union leaders like to say, management gets the union it deserves. Few observers would give education administration high marks for effectiveness, and education policy these days is an incoherent goat rodeo. So teachers don't have to work in schools very long before many decide it would be good to have someone looking out for them.
Meanwhile, those who see moderation at hand are ignoring history and how organizations work. The Supreme Court paved the way for those not on board with the unions' agenda, those who were paying agency fees, to go their own way. But the disengaged and those who just want hundreds of extra dollars in their paychecks aren't going to stick around either. The political and economic math of being an agency fee payer has changed more than many observers realize. The question is no longer taking on a big hassle, sometimes paying a political price, and inviting the disapproval of many of your peers to get a fraction of your union dues back under the agency fee arrangement. Now, in the wake of Janus, you can keep all your money for far less trouble. That's a different deal.
Happening simultaneously are two additional pressures on teachers unions. First, the emergence of new groups representing educators around the country gives teachers, especially those who favor reform, better ways than just the traditional union to have their voice heard. Some of these groups specifically work to give experienced teachers a voice in education policymaking. Second, anti-labor groups are organizing aggressive campaigns to make sure teachers know their rights under the Janus decision and how to exercise them. And expect litigation where states or unions adopted pre-Janus "inoculation" measures making it harder for teachers to leave their union, because some of those measures now run afoul of the court's decision.
So who will be left in a few years? Disproportionately the hard core. Think about organizations you have been involved with — whether clubs, professional associations, or churches. Who are the people usually driving what happens? Not the average member, and certainly not the disengaged ones.
Even now, in most teachers union elections, the number of members who don't vote dwarfs the total number of votes cast for all candidates combined. And the internal power structure is dominated not only by veterans but by the most strident ones. That's why, historically, the internal structure of the teachers unions made it difficult for reformers or moderates to get much traction anyway. Teachers union elections are won on the flank by attacking incumbents over insufficient militancy in defense of union priorities — you don't win by calling for compromise with management or policies that prioritize the interests of kids over those of adults.
In other words, the forces that drive union politics don't lead to more moderation, they lead toward the extremes. That dynamic will accelerate after Janus, especially in today's political climate. Don't take my word for it: At their July conventions, both national teachers unions made clear their intention to become more political — even more political, most observers would say. The language was conflict, not consensus. That outcome seems the most likely one here despite the hopes of advocates on the political left and right.
Andrew J. Rotherham is a co-founder and partner at Bellwether Education, a national nonprofit organization working to support educational innovation and improve educational outcomes for low-income students. He is a senior editor at The 74 and serves on The 74's board of directors. In addition, among other professional work, he is a contributing editor at U.S. News & World Report, writes the blog Eduwonk.com, teaches at the University of Virginia, and is a senior advisor at Whiteboard Advisors.
Support The 74's year-end campaign. Make a tax-exempt donation now.