EduClips: How Will Trump's Rollback of Affirmative Action Guidelines Affect K-12 Schools; Can Philly School Officials Be Trusted With Millions in State Funds to Clean Up Lead Paint? — and More Must-Reads From America's 15 Biggest School Districts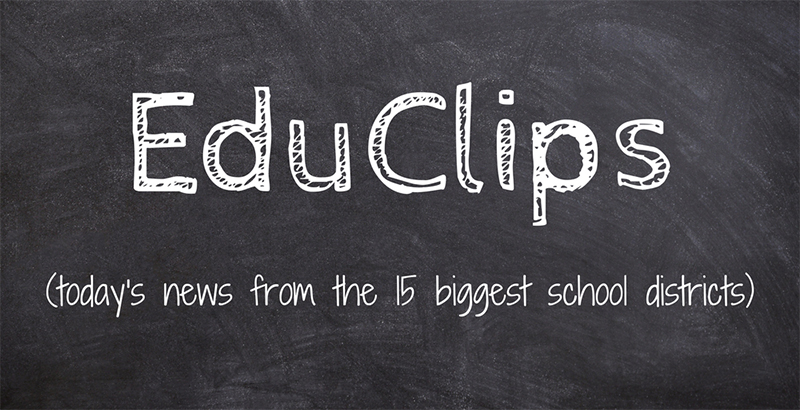 EduClips is a roundup of the day's top education headlines from America's largest school districts, where more than 4 million students across eight states attend class every day. Read previous EduClips installments here. Get the day's top school and policy news delivered straight to your inbox by signing up for the TopSheet Education Newsletter.
Top Story
AFFIRMATIVE ACTION — The Trump administration's recent decision to roll back affirmative action guidelines sent a ripple through the nation's colleges and universities, but it will also likely have a far-reaching impact on K-12 schools.
Despite the rollback, schools are still permitted under federal law to use race broadly as one factor when drawing up voluntary integration plans. In a recent statement, Education Secretary Betsy DeVos, whose agency joined the Justice Department in removing the Obama guidelines, said Supreme Court precedent, not direction from the executive branch, should dictate schools' actions.
But the administration's decision to rescind the guidelines signals its legal philosophy, and may indicate going forward that it will investigate complaints or join lawsuits against schools that do use race in their desegregation plans. (Read at The Wall Street Journal)
National News
SATs — On Twitter and Reddit, calls from students to #rescoreJuneSAT (Read at The Washington Post)
STUDENTS WITH DISABILITIES — Trump Team May Change Rules on Jobs for Students With Disabilities (Read at Education Week)
CHARTERS — AP Analysis: Billionaires fuel powerful state charter groups (Read at Associated Press)
KHAN ACADEMY — Khan Academy launches free early learning educational app for toddlers (Read at USA Today)
MATH — Scared of Math? Here's One Way to Fight the Fear (Read at NPR)
District and State News
CALIFORNIA — Educators to Trump school safety commission: Don't repeal Obama discipline guidelines (Read at EdSource)
PENNSYLVANIA — Can Philadelphia school officials be trusted with millions in state money to clean up lead paint? (Read at The Philadelphia Inquirer)
NEW YORK — NYC's private school headmasters rake in huge salaries (Read at the New York Post)
ILLINOIS — Ralph Martire | School-funding formula change is proof of meaningful reform (Read at The News-Gazette)
TEXAS — Editorial: Education done right is better than just doing it cheaply (Read at the Longview News-Journal)
CALIFORNIA — How the Los Angeles School Board Teamed Up With Elon Musk to Field-Test a Child-Sized Submarine to Aid With the Thailand Cave Rescue (Read at The74Million.org)
FLORIDA — It's a Google and Amazon world. And these kids are taking this step to work there (Read at The Star Online)
NEVADA — Parents, students to get more info on Clark County school lunches (Read at the Las Vegas Review-Journal)
Think Pieces
HOWARD FULLER — 74 Interview: Longtime Civil Rights Activist Howard Fuller on Trump, DeVos, and What It's Like to Advocate for School Choice in an Age of 'Hypocrisy' (Read at The74Million.org)
NEW ORLEANS — A Better Way to Run Schools (Read at The New York Times)
SUPREME COURT — STUDENT VOICE: Lost on campus in the Supreme Court's shuffle? (Read at The Hechinger Report)
ONLINE HIGH SCHOOL — Student's Perspective: Reflections From an Online High School Valedictorian — We Are the Adults Now, and We Have to Make Our Own Futures (Read at The74Million.org)
Quote of the Day
"I believe that parent choice is widespread in America — unless you are poor." —Howard Fuller, school choice advocate and distinguished professor of education at Marquette University. (Read at The74Million.org)
Want the day's top school and policy news delivered straight to your inbox — for free? Sign up for the TopSheet Daybreak Education Newsletter.
Get stories like these delivered straight to your inbox. Sign up for The 74 Newsletter