EduClips: How Schools Are Bracing for Coronavirus, Florida to Expand Voucher Program, a Big Drop in NYC School Arrests & More News You Missed This Week From America's 15 Top Districts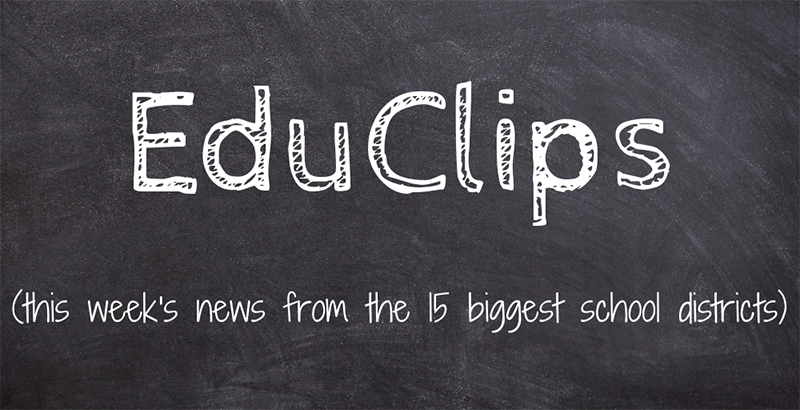 EduClips is a roundup of the week's top education headlines from America's 15 largest school districts, where more than 4 million students across 10 states attend class every day. Read previous EduClips installments here.
NATIONAL — CDC Warning Schools to Plan for Coronavirus, Possible Closures: Federal officials are now warning schools to prepare for "a nationwide surge" in cases of the coronavirus, Mark Lieberman reports for Education Week. Nancy Messonnier, a director at the Centers for Disease Control, suggests that parents ask about schools' plans for dismissals, closures and teleschool, saying her agency is confident that an outbreak will occur in the United States. In response to the growing threat, with more than 80,000 confirmed cases worldwide, several school trips to China and Chinese exchange programs have already been canceled, and K-12 schools are sending letters home encouraging frequent handwashing and keeping sick children home until they're fever-free. The AASA — the School Superintendents Association — is prepared to help the CDC share information with school districts if an outbreak occurs. (Read at Education Week)
FLORIDA — State School Voucher Program Headed Toward Expansion: Florida lawmakers appear poised to expand a school voucher program this spring. Committees in the state House and Senate this week advanced bills that would more than double the number of students eligible for the Family Empowerment Scholarship program, which provides vouchers for students to attend private school. The vouchers are worth 95 percent of what the state would pay school districts per student. The bills differ slightly, but both increase the number of scholarships by 28,902 vouchers. Current legislation caps the program at 18,000 students and calls for slower growth. But the Florida House and Senate are now both under Republican control; the state party has historically supported vouchers. (Read at WJCT)
TEXAS — Houston Teachers Union Claims Racial Discrimination in State Education Agency School Board Takeover Plan: "A Houston teachers union, making claims of racial discrimination, asked a federal judge Tuesday to block the Texas Education Agency from replacing their school district's elected board of trustees with a handpicked board of managers," reports Cameron Langford for the Courthouse News Service. The lawsuit is a response to Texas Education Agency Commissioner Mike Morath's announcement last year that the state will take over the Houston Independent School District because of repeated poor performance at one district high school and improper actions by board members. According to the complaint, the agency has shown a pattern of targeting school districts in which most of the students are minorities. A state judge has already temporarily blocked the takeover. (Read at Courthouse News Service)
● Houston Primer: 7 Things to Know About the State Takeover of Houston Schools
NEW YORK — Dramatic Drop in NYC School Arrests Amid New Reform: In the wake of recent reforms that discouraged arrests for more minor offenses, new data show that NYPD officers "made fewer than 150 arrests in city schools between Oct. 1 and Dec. 31, 2019 — about half the number of arrests made during the same months the previous year," Michael Elsen-Rooney reports for The Daily News. "Major crimes," a category that includes seven serious offenses, also dropped 19 percent compared with last year, but the decrease coincided with a 35 percent increase in "juvenile reports" — a procedure in which no charges are filed but an internal file is kept at a police precinct. (Read at New York Daily News)
ILLINOIS — After Violence Targeting Youth Spikes, Chicago to Expand Program Offering Therapy and Mentorship: Chicago Public Schools is expanding a program that offers "therapy, field trips and mentorship to young people deemed at high risk of experiencing gun violence and trauma," reports Yana Kunichoff for Chalkbeat. Mayor Lori Lightfoot announced the initiative after Chicago saw 11 children shot in one weekend. The program will focus on the city's alternative high schools, whose students are disproportionately likely to be involved in crimes either as perpetrators or victims, as well as students already involved in the justice system and those who are not projected to graduate on time. A study of the pilot version of the program found that it was effective: Students who participated had 32 percent fewer "misconduct incidents" in school than the control group. (Read at Chalkbeat)
● Related: Not Many Afterschool Programs Teach Social-Emotional Learning. Wings for Kids Does, and New Gold Standard Study Finds It's Working for Low-Income Students
HAWAII — Interest in Hawaiian Language Immersion Schools Surges, but Challenges Remain: Enrollment in Hawaiian language immersion programs has increased 40 percent in the past five years, and teachers are mostly writing their own curriculum in a language that not long ago "seemed in danger of disappearing," reports Suevon Lee for Honolulu Civil Beat. The first immersion programs on the islands began in 1987, but the statewide district hasn't done much to capture materials and lessons teachers have been creating. "There's never been a systematic way to gather up the treasure trove of intellectual property and share it on their terms," one official said. In Hana, a remote town in East Maui, the change has already had an impact, leading more in the community to use the native language, Lee found. "We're strong in culture," one school leader said. "But what really lacked for many, many years was our language. And that's what we're revitalizing now." Lee's coverage is part of an ongoing series called Fault Lines that aims to bridge gaps among Hawaiians. (Read at Honolulu Civil Beat: Part 1 and Part 2)
CALIFORNIA — Anti-Semitism Alleged in L.A. School Board Race as Charter Schools and Teachers Union Face Off: Charter school supporters from L.A.'s West San Fernando Valley have initiated a million-dollar attack campaign against a sitting school board member who is up for re-election Tuesday. They pulled one mailer that was slammed as anti-Semitic for portraying Scott Schmerelson as "greedy, corrupt and determined to score fast cash" and containing misinformation about the former principal, reports Howard Blume in the Los Angeles Times. "Behind the surge of negative mailers in this West San Fernando Valley board district is an intense effort by charter school supporters to defeat Schmerelson and elect Marilyn Koziatek, a district parent who works at a local charter school managing community outreach efforts," Blume reports. Koziatek distanced herself from the flyer, calling it "another example of the sad reflection of the polarized climate of LAUSD politics that is not good for our kids." Four of the board's seven seats are up for grabs Tuesday. (Read at the Los Angeles Times)
● Also happening in California: A look at Proposition 13, the $15-billion school bond on the March 3 ballot (Read at Los Angeles Times)
Noteworthy Essays and Analysis
CIVIL RIGHTS: Katherine Johnson Should Also Be Remembered for Desegregating Higher Education (Read at The Washington Post)
HIGHER ED: The 'Missing Middle' at Ivy-Plus Colleges (Read at Inside Higher Ed)
TEACHERS: 3 Misconceptions About Educator Self-Care (Read at Education Week)
PARENTING: The Chart That Reveals Your Kid's Adult Height (Read at The Atlantic)
What else we're reading 
DEBATE FACT-CHECK: Did 23 NYC Schools Top State Rankings When Bloomberg Left Office? Close. It was 22, and That List Deserves a Closer Look (Read at The 74)
LEAD CRISIS: 'It Was Everywhere': How Lead Is Poisoning America's Poorest Children (Read at The Guardian)
MIDDLE SCHOOL: A Middle School Requires Kids to Dance with Anyone Who Asks. One Mom Is Fighting for Her Daughter's Right to Say 'No' (Read at The Washington Post)
INTERVIEW: Children's Author Mo Willems on the Lost Art of Being Silly (Read at Edutopia)
IMMIGRATION: Speaking Mam in MAGA Country: Immigration, Education and the Teenage Boy in the Middle (Read at WHYY)
Support The 74's year-end campaign. Make a tax-exempt donation now.