Not Many Afterschool Programs Teach Social-Emotional Learning. Wings for Kids Does, and New Gold Standard Study Finds It's Working for Low-Income Students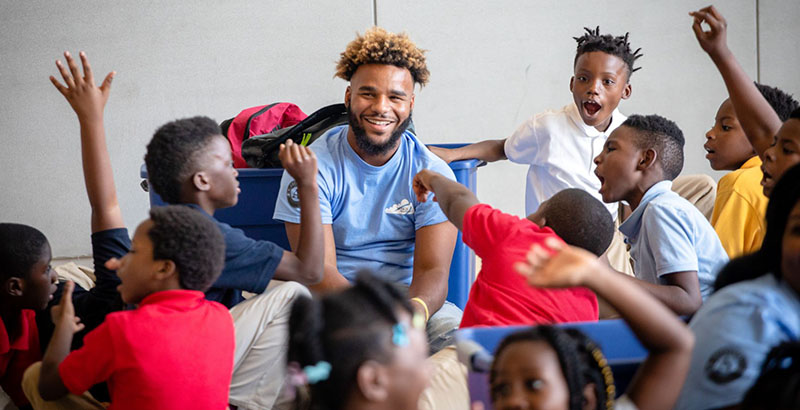 Bridget Laird still remembers the red ink scrawled across the top of her grant application. Laird had requested funds for Wings for Kids, a nonprofit that taught students social-emotional skills like self-awareness and communication. But the person who reviewed her application wasn't impressed.
"Who cares how a child feels about themselves if they can't read or write?" Laird recalled the words denying her application.
That was nearly two decades ago. Laird, who is now the CEO of the $5.5 million-a-year Charleston-based nonprofit, has spent those years trying to prove why feelings actually do matter when it comes to learning. Her free program, which gets support from private and government grants, has since taught 10,000 elementary school students from 11 low-income schools in South Carolina, Georgia and North Carolina how to manage their feelings through afterschool games and lessons.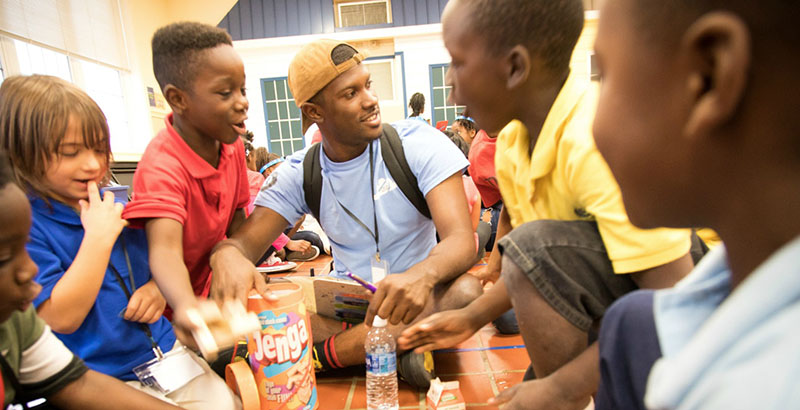 A new study of Wings supports Laird's mission. A randomized controlled trial — considered the gold standard in research — found that after two years, kindergartners and first-graders who participated in Wings improved in skills like self-awareness, self-regulation and decision-making. The students also boosted their reading and vocabulary skills, compared with their peers who hadn't been in the Wings program. Researchers did not find any effects in math.
"The message that schools need to get is that the almost-exclusive emphasis on improving math and reading instruction as the way to improve long-term effects is a flawed model," said David Grissmer, research professor at the University of Virginia, who conducted the Wings study. "The long-term effects depend on kids developing a broader set of skills than just what they learned in math and reading instruction, skills of executive function, social-emotional skills, [visual-spatial] skills and what we call curiosity-based general knowledge."
The study provides a look into a rare but growing venue for teaching social-emotional skills: afterschool programs. As interest in social-emotional learning grows, so too does interest in teaching these skills outside the classroom. As one of the oldest afterschool programs focused on this work, Wings is starting to share what it's learned with others.
Inside the nest
How do you put yourself in someone else's shoes? For students in Wings, it's easy. They pay attention to the Sound of a person's voice, How they act, their Outer appearance, their facial Expressions, even their Surroundings. That just so happens to make an acronym for SHOES.
They even make a game of it, taking off their shoes and competing with their friend to throw them like a horseshoe. If they win, they stop and consider how their friend who lost might be feeling.
These kinds of activities are common at Wings, where about 140 elementary-school-age students gather each day for three hours, five days a week.
Students are assigned by age to small groups of 10 to 12 students called "nests," led by a college-age group leader who is in AmeriCorps, a national organization that connects people with community service projects in exchange for a modest living allowance. These leaders often reflect the socioeconomic backgrounds of their students, to help provide role models the kids can look up to.
Each day, the leaders go over the learning objective, which might be how to see someone else's perspective or how to focus and limit distractions. The students then play a game based on that objective.
Students also get choice time during which they can dance or play basketball. The learning objective is still incorporated into these activities, so if students are playing basketball, leaders will remind their kids how to focus and zone out distractions as they're shooting. Later, students work on homework and eat dinner together.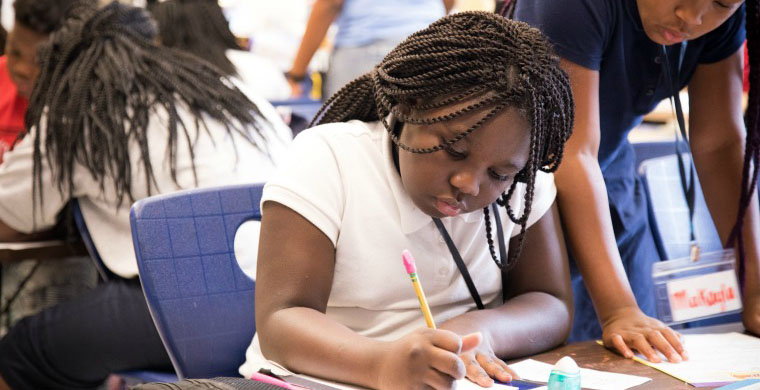 For Laird, the amount of play incorporated into Wings is part of the secret sauce of why this program works. It's an element she wants to see in more social-emotional learning programs.
"You walk in and it might even look a little too fun, but that's why kids like it," Laird said. "For 5-to-12-year-olds, [fun] should be the top of their list. Sometimes it's not because we're working in some schools where kids have really challenging situations at home. They can come and have fun at Wings, it can be a place for them to relax, and if they can do that while gaining social-emotional skills, that's a two-fer."
And this approach also complements the way young children learn, said Stephanie Jones, the Gerald S. Lesser professor in early childhood development at Harvard University. Jones has studied afterschool programs like Wings that teach social-emotional skills and found that they are relatively rare.
"These ways of teaching that are deeply experiential and physical are so meaningful, especially to kids in their first 10 years," Jones said. "[Wings] has been able to use what is a less constrained context to try out different ways of teaching and learning that are likely more aligned with how kids actually learn things, and I think that's really exciting for social-emotional learning."
Parent Aja Patterson, who is also a teacher at Mary M. Bethune Elementary near Atlanta, which participates in Wings, signed up her daughter so she could have an activity rather than sitting with her mother until 6 p.m. every night as she graded papers. Patterson said the program has exceeded her expectations, as she's watched her daughter, Serenity Brown-Patterson, come out of her shell around other kids and take initiative on starting homework.
"A lot of afterschool programs, you can just keep a kid safe until their parents get there at 6 p.m.," Patterson said. "But I think Wings does a great job of providing activities for them to do that looks at the child as a whole person and not just as a student who's trying to make A's. How can this child be functional in society years from now?"
Serenity Brown-Patterson, who is in third grade, said she enjoys the activities, like recess, dance and the social-emotional lessons.
"Last week, we were learning about stepping into somebody's shoes, and yesterday we were learning about loving and accepting ourselves and showing your ID [a kid-friendly term for accountability]. That means if you took something and somebody else is looking for it, you have to tell the truth that you took it," Brown-Patterson said.
Tre' Cobbs, a Wings program coordinator and coach at Bethune Elementary, has been working with Wings for six years, beginning when he was in college. Cobbs said he's drawn year after year to the program because of the way he is able to see students develop social-emotional skills and even improve their grades.
"Seeing the kids we serve have a form of self-realization and seeing, 'Oh, these are actually skills I need in my life. I need to know how to be kind to people. I need to know how to read people's body language … and, you know, ultimately live cohesively with everybody else.'" Cobbs said. "For me, to see it in kindergarten and for me to see that in fifth-graders in the areas we serve is a rare sighting, and it's good to see and inspiring. I didn't have those kinds of opportunities growing up."
It can be challenging at first for his students to open up, Cobbs said. Often his male students were taught to hide their emotions and aren't so eager to share. That's why Wings leaders have their students write about their feelings in a journal, which the leaders read and respond to privately.
While schools like Bethune also have social-emotional learning programs during the day, Bethune's Principal Taylor Pratt sees the value of an afterschool component reinforcing these skills. Pratt said he would recommend this program to other schools, as long as there's strong leadership from the Wings staff and good training for the college students who assist.
"I think we have a good team at our school," Pratt said. "I'm always very excited to welcome them back in and know that for those [three hours], my kids are going to be somewhere safe and are going to have opportunities to learn and engage in extracurricular activities and get support on their work. So I think it's a very beneficial thing for them."
A rare look into afterschool social-emotional learning 
Grissmer was one of several researchers who conducted the study on Wings and analyzed the data over six years with funding from two federal agencies — $2.6 million from the Institute of Education Sciences and $1.4 million from the Social Innovation Fund. They compared the progress of students starting in kindergarten who were in Wings and those who were not. Any parent at a participating Wings school can apply to have their child in the program. The waiting list is usually not too long, Laird said. For the purpose of the study, parents who applied to Wings and consented to be in the study were randomly sorted, with 209 children assigned to Wings and 145 assigned to the control group.
The researchers didn't find any effects after the first year of Wings. It wasn't until the second year, in first grade, that the students started showing results. This may mean that social-emotional learning skills build with time, Grissmer said, and students who stay in Wings up until fifth grade may experience even greater gains. He also said that other studies that only look at social-emotional learning programs over one year may be underestimating the long-term effects.
The study found that parents are big fans of Wings and want their students to be in the program, but interestingly, while teachers found that their students' social-emotional skills improved over time, parents did not. Parents with children in Wings were also likely to have higher levels of stress than parents whose children did not participate.
Grissmer attributed these findings to a few things. First, parents are often less objective than teachers when it comes to rating their own children and don't have a large sample of students with which to compare their child's behavior, unlike teachers.
Grissmer also guessed that parents might feel more stressed than parents who don't have children in Wings because students in Wings don't head home until after dinner and might be more wound up after a long day at school. Grissmer said he would recommend more parental involvement to help teach families skills that might help them with their students' behavior.
Parental involvement in Wings has always been important, Laird said, but Wings has recently strengthened efforts to make it more so. Many schools host monthly events for parents, such as carnivals, karaoke nights and family-friendly paint-and-sip evenings, and are more intentional about teaching parents social-emotional skills that they can use with their students.
Laird also said that high stress levels reported by Wings parents might have been affected by a late release schedule of one of the schools in the study, where students weren't able to get home until 6:30 or 7 p.m. Laird said that situation has since been fixed so that students are now able to head home by 5:30 p.m.
Teaching self-awareness before it was cool 
Although more philanthropists, policymakers and educators have been championing social-emotional learning today, the idea wasn't popular when Ginny Deerin founded Wings in 1996. Deerin is currently the major gifts officer at Charleston's International African American Museum, expected to open in 2021, but before that, she was in marketing and fundraising and managing local political campaigns. Later in life, Deerin learned about skills like self-awareness that she wished she'd known when she was younger, and she wanted to share them with children. Learning these skills inspired her to run for political office — rather than just supporting others — though she was unsuccessful in her bid for mayor.
Around the same time, Daniel Goleman's book Emotional Intelligence was published, starting the popularization of these ideas for the next two decades. Deerin started connecting with some of the few experts who were studying emotions and enlisted their help in designing the Wings curriculum. Wings centers on the same five social-emotional competencies, such as self-management and relationship skills, as the Collaborative for Academic, Social, and Emotional Learning — a leader in the field of social-emotional learning.
From the beginning, Deerin wanted to make the program fun. She felt this was integral to motivating students to actually want to learn concepts like empathy and focus.
"Most of the programs, I think, that were around in those early years felt sort of like guidance counseling," Deerin said. "And of course, no kids want to go to guidance counseling."
What started out as a summer camp to help test Deerin's curriculum soon transformed into an afterschool program in high-poverty Title I schools. Deerin wanted her program to serve low-income students, not because she thought that they needed social-emotional training more than their wealthy peers — she argues all kids need this education — but because that was the population that rarely had access to good afterschool programs that students from wealthier backgrounds could afford.
Keeping the program afterschool rather than in the classroom allowed the Wings team to innovate outside of the rules of a school. But even so, there are still challenges to working in a district. For example, Laird has experienced a school suddenly deciding to halt Wings because it wanted its students participating in an academic afterschool program to help improve their math and reading.
It's a common tension that can come up in schools, that when budgets are tight, more emphasis will be placed on academics than social-emotional learning. Some argue that's exactly how it should be, that academics should take a priority. But Deerin hopes that school leaders will see that social-emotional learning aids students' academic learning, as research has shown.
"I don't think the resources have caught up with the belief of social-emotional learning," Deerin said. "My opinion is that social-emotional learning is so important not only for individual students to learn, but for the collective impact on the classroom. I just think the classroom becomes much more amenable to kids' learning."
Supporting social-emotional learning outside of school
It's certainly not new that afterschool programs from soccer to band will teach children skills like collaborating with teammates or persisting even when practices are challenging.
What is new is a growing interest in designing afterschool programs that are intentional about teaching these skills, especially as research indicates they impact not just academics but also life outcomes and well-being. And Wings, with its long history and new research to back its work, is jumping at the opportunity to share what it's learned.
Wings has been partnering with other afterschool organizations, such as the Boys & Girls Clubs of Metro Atlanta and the YMCA in Greenville, South Carolina, to host workshops and offer resources and consulting on how to incorporate social-emotional learning into their activities. These programs pay Wings, though some funding assistance comes through grants. Wings also created lessons through a partnership with Discovery Education to share with educators. There are a free version and a paid version being developed.
It's a more practical and economically feasible way to share their work than it would be to expand the Wings afterschool program to schools across the country, Deerin said.
Other organizations are taking on this work too. The Wallace Foundation gave grants of $1 million to $1.5 million each to six communities across the country to try to connect and improve social-emotional learning experiences between the classroom and afterschool programs, from Tacoma, Washington, to Dallas, Texas.
Even though many schools teach social-emotional skills, Jones, the Harvard professor, sees a need for students to learn these skills in other settings so they can apply them outside the classroom.
"Social-emotional learning is kind of an every-moment thing, meaning it's in every interaction, it's in all relationships, and so it doesn't turn on and off depending on the setting," Jones said. "One thing that's interesting about making it an intentional focus in schools and in out-of-school time is that those two settings are so different, the demands are different, the activities are different, and it's a way to think about how can we build and transfer them from one setting to the other."
Support The 74's year-end campaign. Make a tax-exempt donation now.