EduClips: Harvey-Damaged Schools Get Reassurance From TX Lawmakers; Candidates for CA Schools Chief Stress Funding Transparency — and More Must-Reads From America's 15 Biggest School Districts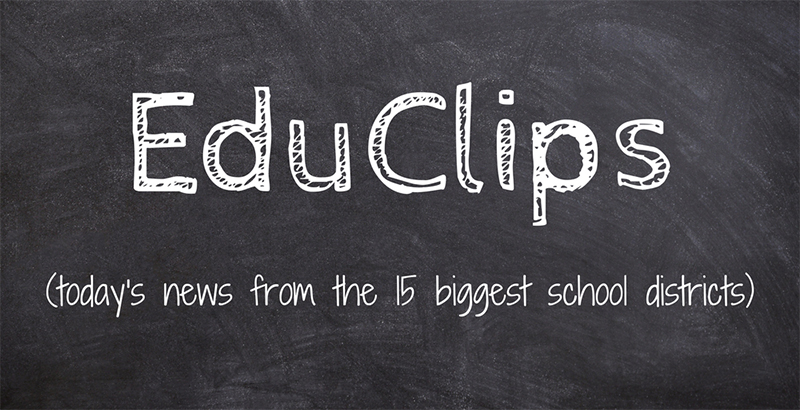 EduClips is a roundup of the day's top education headlines from America's largest school districts, where more than 4 million students across eight states attend class every day. Read previous EduClips installments here. Get the day's top school and policy news delivered straight to your inbox by signing up for the TopSheet Education Newsletter.
Top Story
DEVOS — Four cabinet secretaries — but no teachers or other interested school parties — will be part of President Donald Trump's new federal school safety commission that will begin hearings sometime soon, Education Secretary Betsy DeVos said Tuesday, as she called for more federal funding for school safety.
DeVos was testifying Tuesday morning to a subcommittee of the House Appropriations Committee just as news emerged of yet another school shooting, this one reportedly having injured two students at Great Mills High School in southern Maryland. The shooter was killed after a school resource officer fired at him, though as of Tuesday evening it wasn't clear whether the officer killed him or he was struck by his own bullet. After calls for action — much of it coming from the student survivors of the February 14 Parkland, Florida, school massacre — the White House announced earlier this month that DeVos will chair a school safety commission. The group will study several issues, including raising the minimum age to buy guns, a ratings system for violent video games, and best practices for campus safety. (Read at The74Million.org)
National News
DEVOS — Betsy DeVos Still Challenged in Delivering Policy Message (Read at Education Week)
SHOOTING — Gunman Injures 2 Classmates at Maryland HS, Dies During Shootout With Deputy; At Least 30 Killed, 53 Hurt in School Shootings in 2018 (Read at The74Million.org)
DEVOS — Democrats Tell DeVos Her 'Head Is in the Sand' on Racial Bias (Read at The New York Times)
District and State News
TEXAS — Harvey-hit schools get new assurances from Legislature (Read at the Houston Chronicle)
CALIFORNIA — Candidates for California's top schools chief post call for more transparency in spending of state funds (Read at EdSource)
FLORIDA— Charter schools firm asks districts to provide resource officers to all its campuses by April 1 (Read at Tampa Bay Online)
PENNSYLVANIA — The Sugar Fix: Philadelphia Pre-Schoolers Get Free Education Through Sugar Tax (Read at Stuff)
NEW YORK — Opinion: De Blasio's discrimination against charter school kids (Read at the New York Post)
CALIFORNIA — How Trump repeal of Obama-era school discipline guidelines could affect California (Read at EdSource)
NEVADA — Lawyer: Trustee Child to sue if Clark County School Board OKs settlement (Read at the Las Vegas Review-Journal)
HAWAII — Teachers to lawmakers: Hawaii kids are taking too many standardized tests (Read at Hawaii News Now)
Think Pieces
MARCH FOR OUR LIVES — Student Activists and Celebrity Donors: Who's Behind the 'March for Our Lives' (Read at Education Week)
DEVOS — Education Secretary Betsy DeVos probably won't be fired but she needs to resign (Read at USA Today)
RACE — Forget Wealth and Neighborhood. The Racial Income Gap Persists (Read at NPR)
TESTING — Waters: New Jersey's New Governor Says He Wants to Scrap PARCC Tests but Doesn't Know How. Here's What It Would Take — and It's Not Easy (Read at The74Million.org)
GIRLS IN SCIENCE — Want More Girls in Science Fields? Check the Images on Your Classroom Walls (Read at Inside School Research)
EDUCATION TECHNOLOGY — Bids to bring fiber internet to schools are denied funding seven times more often than other projects (Read at The Hechinger Report)
Quote of the Day
"It's hard to believe that people who have been on the job for this long don't have staff that understand how the system works. It is important to connect with the people who pay the bills." ­—Rep. Rodney Frelinghuysen, Republican of New Jersey and the chairman of the appropriations committee, to U.S. Secretary of Education Betsy DeVos, on a 'disconnect' between the department and his office. (Read at The New York Times)
Want the day's top school and policy news delivered straight to your inbox — for free? Sign up for the TopSheet Daybreak Education Newsletter.
Get stories like these delivered straight to your inbox. Sign up for The 74 Newsletter