EduClips: From Texas's Dramatic Takeover of Houston Schools to the Learning Problems That Followed Flint's Lead Poisoning, Education News You Missed This Week at America's Top Districts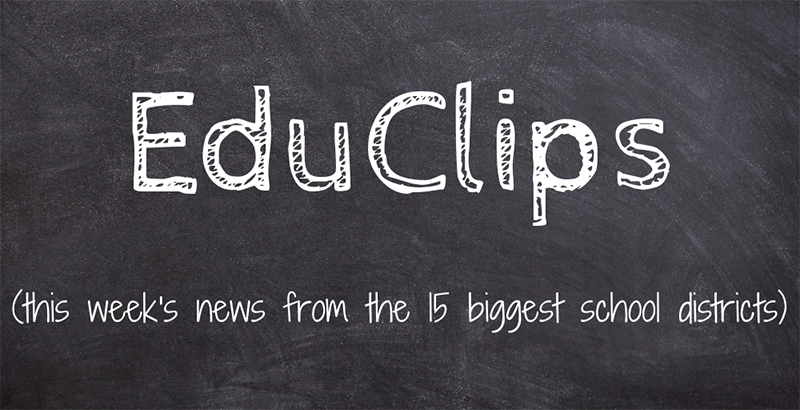 EduClips is a roundup of the week's top education headlines from America's 15 largest school districts, where more than 4 million students across 10 states attend class every day. Read previous EduClips installments here.
TEXAS — State to Take Over Houston ISD by Replacing School Board and Superintendent: Texas's state education agency announced Wednesday that it will take over Houston Independent School District — one of the largest school districts in the country — because of the school board's "failure of governance" and persistent academic failure at the district's Wheatley High School. State education commissioner Mike Morath will appoint both a board of governance and a superintendent as part of the takeover, which did not come as a surprise, reports Aliyya Swaby. (Read at The Texas Tribune)
VIRGINIA — Democratic-Backed Candidates Take Full Control of Fairfax County School Board: Democratic-backed candidates this week swept the school board elections in Fairfax County, Virginia, one of the nation's largest school districts, with nearly 190,000 students and a $3 billion annual budget. Though the elections are nonpartisan in name, the campaigns were fiercely contested along party lines, with much of the fight centered on a proposal that would require district officials to consider students' race and socioeconomic status when redrawing school boundaries. Over the summer, the district hired an outside consultant to deal with that particular proposal, but Republican-backed candidates made it a "focal point of their campaigns," Debbie Truong reports. Of the 12 board members who will start four-year terms in January, eight are new to the board. (Read at The Washington Post)
NATIONAL — Flint's Children Suffer in Class After Years of Drinking the Lead-Poisoned Water: The lead crisis in Flint, Michigan, "has migrated from its homes to its schools, where neurological and behavioral problems — real or feared — among students are threatening to overwhelm the education system," reports Erica L. Green. The schools are now in a "downward spiral" of declining enrollment, tight budgets and overwhelming student need. And Flint is not alone in these challenges. (Read at The New York Times)
ILLINOIS — What Happens Next With the Chicago Teachers Contract: After an 11-day teacher strike, the city's longest since 1987, students and teachers returned to the classroom last week, but the contract is not yet finalized. Chalkbeat reporter Yana Kunichoff explains what the mayor, the union and their attorneys still have to do to make it official. (Read at Chalkbeat)
HAWAII — Nearly Half the Kids in Hawaii Can't Swim. Meet the Organization Trying to Change That: A new report shows that drowning was the third-highest cause of death for Hawaii kids between 2014 and 2018, but swimming lessons can be prohibitively expensive for many families on the islands. Now, individual schools are partnering with the Hawaii Aquatics Foundation to make swimming and water safety more accessible to Hawaii's kids, reports Suevon Lee. (Read at Honolulu Civil Beat)
FLORIDA — 'Astoundingly Slow' Progress on School Renovations in South Florida District, Despite $800 Million Bond: Five years after Broward County schools got an $800 million bond from taxpayers to renovate 233 schools, renovations are complete at just eight schools, according to an analysis by reporter Scott Travis. Most of the schools, which have problems such as leaky roofs, mold and poor air quality, aren't under construction yet. (Read at the South Florida Sun-Sentinel)
● Related from The 74: Schools Have Lost $16B in Capital Funds Since the Great Recession. Those Buildings Are in Trouble — and That Means Problems for Students
Noteworthy Opinion & Analysis
TEACHER PAY: Can Early-Childhood-Education Programs Deliver If Lead Teachers Are Paid Less Than Dog Walkers? (Read at Education Week)
KID ECONOMICS: How Many Tootsie Rolls Is a Snickers Worth? Kids Know. (Read at The Atlantic)
DISCIPLINE: Procedure isn't enough: What I've learned advocating for students at NYC suspension hearings (Read at Chalkbeat)
BOOK REVIEW: How one Navajo Nation high school is trying to help students see a future that includes college (Read at The Hechinger Report)
What Else We're Reading
ELECTIONS: Democrats Enjoy Big Wins in Kentucky and Virginia, and Reform Foes 'Flip the Board' in Denver (Read at The 74)
RURAL SCHOOLS: Many Rural Districts Face Education 'Emergency' (Read at Education Dive)
STUDENT-ATHLETES: Hunger Games: High School Student Athletes Deal With Food Insecurity (Read at The Philadelphia Inquirer)
GOOD NEWS: Ohio Mom Mobilizes Her Son's Football Team to Help Hungry Players From a Nearby Team (Read at Good Morning America)
Support The 74's year-end campaign. Make a tax-exempt donation now.