EDlection2019: Democrats Enjoy Big Wins in Kentucky and Virginia, and Reform Foes 'Flip the Board' in Denver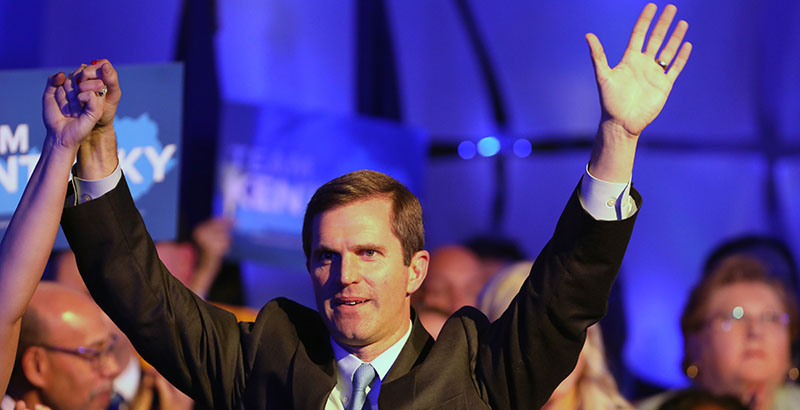 Democrats enjoyed a night of strong election results Tuesday, capturing Kentucky's governorship and both houses of the Virginia legislature in races that touched frequently on K-12 schooling. In the final election cycle before 2020's impending presidential onslaught, Team Blue found much to celebrate.
Elsewhere, Republicans elected a new governor of Mississippi, though they put up the party's weakest statewide margins in over a decade. And in one of the most closely watched local elections in the country, a slate of union-backed candidates flipped Denver's school board, long a stronghold of education reform consensus.
In Kentucky, Democratic Attorney General Andy Beshear declared victory after besting incumbent Gov. Matt Bevin by 0.4 percent in a test of voters' partisan attachments. In spite of the state's right-leaning political orientation — and President Trump's personal appeal to local voters on Monday night — Bevin wasn't able to overcome his own unpopularity. As of Wednesday afternoon, he was still contesting the election, citing Beshear's tiny margin of victory.
Beshear's strongest allies in the race were educators, who donated over $1 million to his campaign and canvassed energetically to get out the vote. Capitalizing on widespread ire toward the incumbent — Bevin had proposed to "break the backs" of teachers unions that twice led walkouts in recent years — Beshear promised a significant pay raise and called for an end to the state's "war on public education." Political observers noted that keeping the focus on local issues allowed the Democrat to overcome a huge partisan disadvantage.
At the local level, unions made their presence felt in the Denver school board race, backing the winners in at least two of three contested seats on the seven-member board and leading in a third as this article was published. The results will give union-supported members a majority on the board, which has been dominated by education reformers more or less continually over the past 15 years.
That period of control coincided with the district's pursuit of a "portfolio model" of education in which schools gained greater autonomy over operational decisions and charters proliferated broadly. While many families in the city's traditionally underserved precincts appreciated new education options, a spate of school closures also rankled the community. The disaffection bred a movement to "flip the board"; on Tuesday night, candidates like 21-year-old Tay Anderson, a recent graduate of Denver Public Schools, did just that.
Democrats in Virginia also ended a long period in the wilderness, winning majorities in both houses of the General Assembly to take unified control over state government for the first time since 1993. By wresting away two seats in the State Senate and six more in the House of Delegates, the party — which also holds control of the governorship — will be able to work its will in the capital.
While gun control, rather than education, was the main issue powering those victories, K-12 schools will still feel a major impact from Tuesday's results. The state Board of Education has recently released new spending guidelines that could result in hundreds of millions of dollars in extra funding being directed to high-need school districts — all of which will require legislative approval that Democrats are now in a position to provide. The party is also rumored to be considering an end to Virginia's 72-year-old "right-to-work" law, which unions say unfairly restricts labor organizing.
The night's results set the stage for the final race in what has been an unusually competitive off-year election cycle: the Louisiana governor's race, which pits Democratic Gov. John Bel Edwards against Republican businessman Eddie Rispone on Nov. 16. The two men differ substantially on education issues such as charters and private school vouchers, and given the state's deep-red hue, the incumbent is likely in for a tight race.
Get stories like these delivered straight to your inbox. Sign up for The 74 Newsletter