EduClips: From Florida's Governor Pushing to 'Eliminate Common Core' to New EPA Rules Mandating School Water Testing, the Education News You Missed This Week at America's Top Districts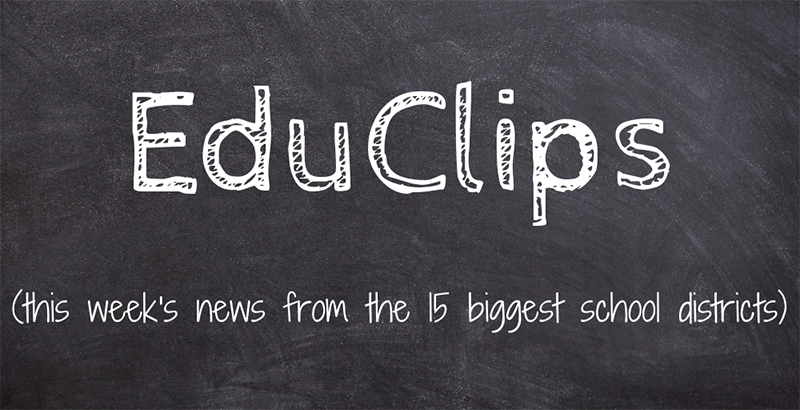 EduClips is a roundup of the week's top education headlines from America's 15 largest school districts, where more than 4 million students across 10 states attend class every day. Read previous EduClips installments here.
NATIONAL — Environmental Protection Agency Proposes New Rules to Require More Testing of School Water for Lead: The Environmental Protection Agency has proposed new rules that would require that "all water utilities conduct lead-level tests at 20 percent of K-12 schools and child care facilities within their service areas annually" and provide the results to the schools and local or state health departments. While this change would help protect children from lead, a known toxin that is particularly dangerous for children, the proposal "would also weaken rules for replacing service lines after they have been identified as lead-contaminated," the Las Vegas Sun reported. That means water utilities could take up to 33 years to replace contaminated pipes, compared with 13 years now. The new rules are in a public comment period; it's uncertain how soon they could be enacted. (Read at the Las Vegas Sun)
FLORIDA — Florida Is Set to Change Its School Standards for the Fifth Time in 24 Years: Republican Gov. Ron DeSantis issued an executive order "to eliminate Common Core from Florida's schools, and to revise the academic standards." Some educators have expressed concern that the proposed replacement standards are weaker and vaguer than the Common Core. (Read at the Tampa Bay Times)
CALIFORNIA — California Plans to End 'Lunch Shaming' With a New Bill That Guarantees Meals for All Students: Democratic Gov. Gavin Newsom signed into law a requirement that all public school students get a school meal regardless of unpaid fees in an effort to end lunch shaming in his state. (Read at USA Today)
NEW YORK — Few Selective New York City Schools Post Precise Admissions Criteria: A new analysis found that just 20 of New York City's 157 selective high schools publicly share the rubrics they use to screen and admit students. The news comes as the city's specialized schools are under fire from critics who say they exacerbate segregation and widen achievement gaps in the nation's largest school district. (Read at The Wall Street Journal)
TEXAS — Money Keeps Flowing Into Houston Independent School District Trustee Elections Despite Takeover Threat: Under the shadow of a looming state takeover that would push the trustees out, the 13 candidates for four open seats on the board of trustees have taken in $210,000 altogether. If a takeover happens, some of the winners could return to their seats before their four-year terms end, giving donors reason to contribute. (Read at the Houston Chronicle)
NEVADA — Clark County OKs $12M Plan to Fight Chronic Absenteeism and Truancy: Clark County officials approved a plan to spend $12 million on a range of student supports in an effort to improve attendance. An already approved sales tax will pay for the program. (Read at the Las Vegas Review-Journal)
Noteworthy Opinion & Analysis
DISCIPLINE — Nashville Schools Spent 5 Years Trying to Close the Racial gap in Suspensions. It Only Got Worse (Read at The Tennessean)
CHICAGO STRIKE — Chicago Teachers May Test Unions' 'Social Justice' Strategy (Read at Associated Press via ABC News)
● Go deeper — Union Report: The Looming Chicago Teacher Strike May Be As Much About Membership As It Is About Money (Read at The74Million.org)
BIG DATA — Student Tracking, Secret Scores: How College Admissions Offices Rank Prospects Before They Apply (Read at The Washington Post)
TECH — Why Boredom Often Beats Screen Time (Read at Edutopia)
SAFETY — Former Sex Workers See Value in Trafficking Education (Read at the Herald Tribune)
What Else We're Reading
CULTURE — Here's How Boy Band BTS Inspired a School in South L.A. to Teach Korean Culture (Read at The Orange County Register)
INSPIRING — Dedicated Teacher Keeps Classes Going in Bahamas After Dorian (Read at The Tribune)
TEACHING — Tiny Teaching Stories: 'For Good Instead of Mischief' (Read at Education Week)
Quotes of the Week 
"To read they had a plan after Sandy Hook and didn't do a thing with it was just mind-boggling to me." —Stephen Feuerman, a parent of students who survived the mass shooting in Parkland, Florida, on the school district's 2013 decision not to levy $55 million in tax dollars for school safety. (Read at The Sun-Sentinel)
"Obviously we appreciate the state legislators taking action … This is just a side effect that not everybody probably realized might take place." —Ernie Okley, a junior high math and science teacher and co-vice president of the union at Bond County Community No. 2, a district in Greenville, Illinois. The state's decision to raise minimum teacher salaries has led to some unforeseen consequences, including the likelihood that pay will rise more slowly in his district. (Read at The74Million.org)
"When it was us, the district didn't feel like they needed to have any immediacy. We don't have the resources that SLA has, and their parents jumped on it right away. Where there's money and influence, there's more privilege." —Keith Pretlow, a culinary-arts teacher at Ben Franklin High School in Philadelphia. When Science Leadership Academy, a magnet school, relocated to share the site with Ben Franklin, a long-delayed asbestos cleanup moved into high gear. (Read at The Philadelphia Inquirer)
"My concern was, 'Oh my gosh, how am I going to do this?'" —Kenneth Wagner, chief of the Clay County Schools Police Department, who was tasked with creating district police department in five months in response to a post-Parkland Florida mandate. (Read at The74Million.org)
"What if our farts are supposed to help us fly?!" —a student of Christina Torres, an eighth-grade English teacher in Honolulu, collected as part of Education Week's "Tiny Teaching Stories." (Read at Education Week)
Support The 74's year-end campaign. Make a tax-exempt donation now.