Union Report: The Looming Chicago Teacher Strike May Be As Much About Membership As It Is About Money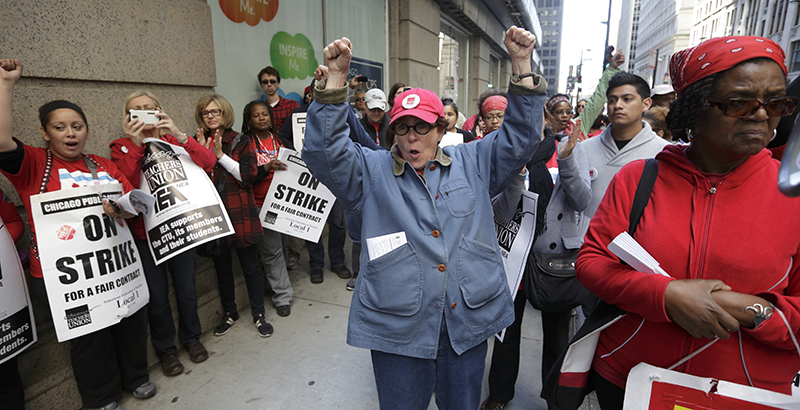 Mike Antonucci's Union Report appears most Wednesdays; see the full archive.
The Chicago Teachers Union seems to be marching inexorably toward a strike beginning Oct. 17. The union struck for a single day in 2016 and for seven days in 2012, which many credit as being the launching point for a later wave of teacher strikes across the country.
While CTU continues to be lauded within the labor movement for its militancy, the actual collective bargaining agreements that came out of its strikes are not exactly celebrated. CTU President Jesse Sharkey himself stated that the years since the 2012 strike resulted in "nearly a decade of austerity and cuts for Chicago's teachers and other school staff."
Well, he's half right.
That there have been staff cuts in the Chicago Public Schools since 2012 is undeniable. The district is exemplary in publishing monthly statistics on finances, staffing and enrollment.
At the time of the 2012 strike, CPS employed 41,498 people, of whom 23,290 were teachers. As of last month, there were only 37,034 employees and 21,233 teachers — decreases of 10.8 percent and 8.8 percent, respectively.
But enrollment numbers lend some context to the current situation. Back in 2012, CPS enrolled 404,151 students. Last month that number was 361,314 — a drop of 10.6 percent. By that measure the district has done a pretty reasonable job in matching staff reductions to enrollment losses.
The independent fact-finder and most commentators have concluded that the district's offer of a 16 percent pay hike over five years is generous, considering the city's finances. CTU wants 15 percent over three years, but a look at the union's demands indicates that its big issue is staffing — more teachers, social workers, counselors, nurses, clinicians, case managers, librarians and restorative justice coordinators and 1,000 additional teaching assistants.
It is no coincidence that virtually all of these new employees would be eligible for union membership.
CTU had 26,502 working members during the 2012 strike. It now has 23,854 working members, a loss of 10 percent. Up until this year, the union's membership losses have mostly paralleled the reductions in Chicago's enrollment and staffing. In 2019, however, the district added almost 1,400 employees while CTU lost 507 members.
This trend seems to be playing out nationally. The September jobs report from the U.S. Bureau of Labor Statistics reveals that we now have 8,025,200 local government education employees, which is an increase of almost 49,000 from last year and the second-highest total ever recorded for a September report.
At the same time, the American Federation of Teachers' disclosure report for the U.S. Department of Labor shows a loss of 1,777 working members, and maybe more. Since the report only covers the period until June 30, it does not account for traditional teacher union membership losses during the summer months.
Because of the U.S. Supreme Court's Janus ruling in 2018, public employee unions now have to recruit each new member and persuade her to join. What they have lost in "market share" they hope to restore in volume. If the Chicago Teachers Union was the trendsetter in strikes, it may try to do the same for a surge in hiring.
Get stories like these delivered straight to your inbox. Sign up for The 74 Newsletter