Illinois Once Required Teachers to Be Paid a Minimum Salary of Just $10,000. A New Law Raised It to $40,000. So Why Isn't Everyone Happy?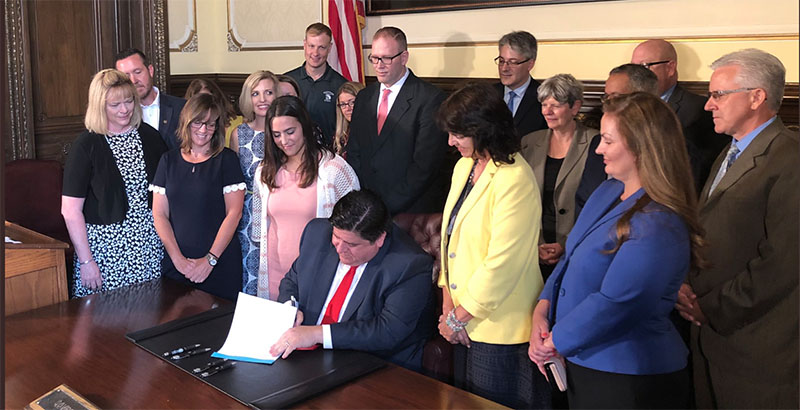 Stories of teachers working extra jobs, relying on public assistance and struggling to buy homes abounded last year as low-paid teachers in Oklahoma, West Virginia and Arizona left their classrooms and took to the streets, striking for better pay and more school funding.
But complaints of low pay also show up in a place you wouldn't expect — Illinois, where the average teacher salary is over $65,000, 11th among the 50 states. But many are making far less: Public records show teachers making less than half of that average, some under $30,000.
Those low salaries, combined with a crushing teacher shortage, spurred lawmakers to raise the minimum salary. Left at about $10,000 under a state law that hadn't been updated since the 1980s, it will now increase to $40,000 over the next five years.
"As Illinois children head back to school this week and next, this new law says to them and their parents loud and clear: We value teachers," Gov. J.B. Pritzker, a Democrat, said when he signed the law Aug. 22.
Raising teacher pay is a popular policy across the country. Several Democratic presidential candidates included it in their education platforms, and Illinois is one of 15 states to increase minimum pay this year.
But as more states consider and implement pay bumps — Florida Gov. Ron DeSantis will propose a $47,500 minimum salary in next year's budget — Illinois offers a case study in the unintended consequences of even the most well-intentioned policy changes. The move sparked opposition from local leaders, the possibility of program cuts to fill budget holes in cash-strapped districts and, in some places, an inadvertent slowing in wages.
And thus far, the pay raise hasn't quelled labor unrest across the state: Chicago teachers are set to strike Oct. 17, arguing for higher pay, which is already among the state's highest, along with smaller class sizes and more social workers and nurses. Local unions in about a half-dozen other districts have also authorized or narrowly avoided strikes in recent weeks, while teachers in Murphysboro, in western Illinois, just returned to the classroom after a five-day strike.
National rankings of teacher salary tend to use averages that mask disparities based on teachers' years of experience and often-dramatic differences in local funding. Looking at minimum salaries — often those paid to new teachers still struggling to pay off student loans — shows a different picture.
Teachers in Mississippi, for instance, are guaranteed a higher minimum wage than those in Pennsylvania: $35,890, versus $18,500 in the Keystone state, which still operates under a law, like the one in Illinois, that hasn't been updated since the 1980s. (A February budget proposal by Democratic Gov. Tom Wolf to raise the minimum salary to $45,000 didn't pass.)
Across the country, minimum teacher salaries run the gamut from about $18,000 to around $40,000 in Maine, New Mexico and, eventually, Illinois.
Nationally, 22 states set a mandatory minimum salary, with nine of those setting just a base minimum salary and 13 setting a formal salary minimum schedule for all teachers, usually tied to years of experience and holding advanced degrees.
Illinois teacher unions, which long feuded with former governor Bruce Rauner, a Republican who vetoed a similar version of the pay hike last year, pushed hard for the bill as a way to bring new blood to the profession and shift the narrative around teachers' impact on student achievement.
"If we offer a [reasonable] starting salary, we're going to get more people, more qualified people, passionate about education," Kathi Griffin, president of the Illinois Education Association, told The 74. "That's our goal. We don't want to make education the one thing that's blamed for everything."
The state is short more than 1,800 teachers for this school year, particularly in high-need subjects like special education, STEM and classes for English language learners, according to the state Board of Education.
The National Council on Teacher Quality, a nonprofit research and policy group focused on modernizing the teaching profession, supports setting a minimum statewide salary but not a formal salary schedule that could preclude initiatives like merit-based pay, said Kate Walsh, the group's president.
Educators, who earn about 21 percent less than other workers with bachelor's degrees, should be paid more, she said, but a top-down approach may not be the most successful.
"Every time a state gets in this business, they run the risk of picking an overly blunt approach … to a problem that is highly localized. That is a big risk … I can appreciate the need for states to weigh in on it, but on the other hand, I do think that districts have just as much incentive as states do to pay their teachers a decent wage," she said.
Relatively limited impact in Illinois
Even as union officials and politicians celebrate the change in Illinois, data show it will have a relatively small impact.
Of the nearly 900 districts in the state, about three dozen had starting salaries last school year under $32,076, the level all districts must reach by the 2020-21 year.
About 500 in total had starting salaries under $40,000, though many were close: 125 districts had starting salaries between $38,000 and $40,000, and another 80 had starting salaries between $37,000 and $38,000.
Many districts that offer pay under the threshold are small, and union officials said fewer than 8,000 of the state's 130,000 teachers currently make less than $40,000.
Even as union leaders and Democratic officials framed the new law as a crucial way to telegraph the value of educators, at a relatively small cost to taxpayers, opponents argued that the fiscal impact will be larger — and more detrimental — than just raising salaries for those 8,000.
Some districts' current starting salaries are so low that they'll have to raise them by 20 or 25 percent to reach even the starting $32,000 figure, said Ben Schwarm, deputy executive director of the Illinois Association of School Boards. The group opposed the bill, calling it an unfunded mandate that interferes with local decisions.
And veteran teachers won't be happy with their usual small, cost-of-living type increases when their less-experienced peers are seeing such big jumps, he argued.
"To think that the rest of the teachers in the union in that district [are] going to allow some staff to get that kind of increase where they only get 2 percent —likely not going to happen. It's going to move throughout the entire salary schedule," he said.
Lawmakers added funds through a state innovation aid formula to help increase the salaries.
But two-thirds of school funding in Illinois comes from local, not state, revenue, Schwarm said. That means districts may have to cut programs or staff to fill the holes, the exact opposite of what proponents intended, he added.
Veteran teachers in districts where salaries must increase could also see a negative impact to their pay, one educator said.
The starting salary in Bond County Community No. 2, a district in Greenville, is $37,765, said Ernie Okley, a junior high math and science teacher and co-vice president of the local union.
But because the starting salary is already close to the $40,000 benchmark, pay for new teachers will likely increase at a slower rate than it would have otherwise. And veteran teachers, whose salaries are based on multiples of the starting wage, will also see a slower-than-expected increase, he said.
District leaders "realize that they have a little bit more time to reach that, instead of other, more average salary proposals that they might've had in the past," he said. "Obviously, we appreciate the state legislators taking action. … This is just a side effect that not everybody probably realized might take place."
There are other districts at similar salary levels, a spokeswoman for the Illinois Education Association said. It's difficult to tell exactly how many are in the same situation, given that the $40,000 figure also includes retirement contributions. And, of course, she said, it's impossible to know what a union would have negotiated in the absence of the new law.
"Our teachers will still be using collective bargaining for their contract negotiations, and salaries will be determined at the bargaining table," she added.
As district leaders and policymakers wait to see exactly how those unintended consequences play out, Illinois principals are still struggling to staff critical classroom positions, filling in the gaps with substitutes and relying on an ever-shrinking applicant pool.
Ultimately, the salary increase may attract some would-be teachers, but shortages tend to be cyclical, and districts must grapple with other, more pressing impediments to joining the profession, said Jim Wolfinger, dean of the college of education at Illinois State University.
Lawmakers took one step this year, eliminating a required test for would-be teachers to enter education prep programs, he said. But others are more challenging: Many students who leave Illinois to study education at colleges in neighboring states never come back.
Legislators and policy wonks in the state have floated other ideas, too, like making it easier to earn additional credentials after an initial teaching degree, or creating programs to identify high school students to join future teachers clubs or other programs that encourage them to return home to teach.
"The salary increase is one piece of a much larger puzzle that I think all of us in this field are trying to work together to figure out," Wolfinger said.
Support The 74's year-end campaign. Make a tax-exempt donation now.