EduClips: Final Tax Bill Backs Away From Toughest School Proposals; Education Fallout From the End of 'Net Neutrality' — and More Must-Reads From America's 10 Biggest School Districts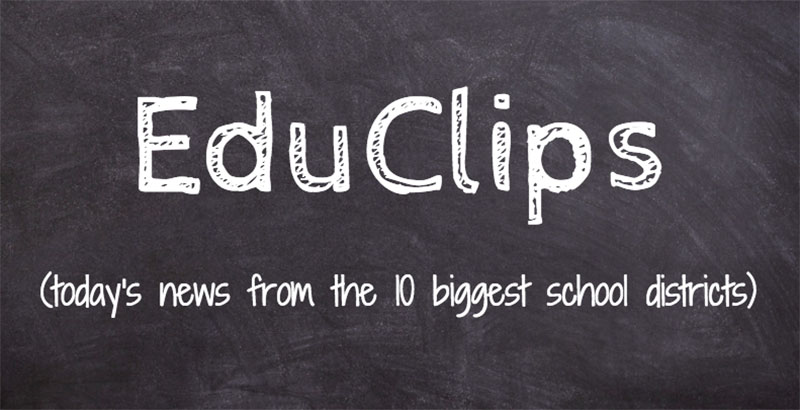 EduClips is a roundup of the day's top education headlines from America's largest school districts, where more than 4 million students across eight states attend class every day. Read previous EduClips installments here. Get the day's top school and policy news delivered straight to your inbox by signing up for the TopSheet Education Newsletter.
Top Story
TAX BILL — Teachers who pay for school supplies, college student borrowers, and graduate students all heaved a sigh of relief as the GOP backed away from some of the more controversial proposals in their finalized tax bill Friday. But some public school advocates still attacked the plan, which maintained provisions that could hurt public school funding while offering tax breaks to parents who send children to private schools. (Read at Washington Post)
National News
NET NEUTRALITY —  Schools Could See Higher Bills, Less New Educational Software After Net Neutrality Vote — But Most Teachers Don't Know It Yet (Read at The74Million.org)
PRIVATE SCHOOLS  —  No more A's, B's, or C's? That's what some private schools are talking about. (Read at Washington Post)
District and State News
TEXAS  — When an Austin School Fails, Now It's Not Only the State That Can Take It Over (Read at KUT)
NEW YORK — In new study of school-district effectiveness, New York City falls just below national average (Read at Chalkbeat)
FLORIDA — Puerto Rican teachers find homes in Central Florida classrooms (Read at Orlando Sentinel)
CALIFORNIA — California School Dashboard has plenty of critics (Read at Monterey Herald)
ILLINOIS — Report: State's Teacher Shortage Worse in Central Illinois (Read at WGLT)
NEW YORK — Cuomo announces $15M program to fight MS-13 gang (Read at NY Post)
CALIFORNIA — Westside families sue over construction next to school (Read at LA Times)
FLORIDA — Hillsborough school district and its teachers are at a bargaining impasse, but still talking (Read at Tampa Bay Times)
NEVADA — Clark County school bus crashes on pace to threaten record (Read at Las Vegas Review-Journal)
TEXAS — Commissioner Morath ends IEP Analysis Project (Read at North Texas e-News)
Think Pieces
SCHOOL CHOICE — Analysis: Like 'Death Tax,' 'Voucher School' Is a Phrase That Aims for the Gut. It May Also Be 'Fake News' (Read at The74million.org)
POVERTY — Lots of Poor School Districts Do Pretty Well, but We Don't Know Why (Read at Mother Jones)
CIVILITY — The Age of Outrage: What the current political climate is doing to our country and our universities (Read at City Journal)
MASSACHUSETTS — Commitment and common sense: Seven lessons for reformers from the Massachusetts miracle (Read at Flypaper)
SEGREGATION — New Evidence on School Choice and Racially Segregated Schools (Read at Education Next)
Quote of the Day
"On balance, the final bill is far better news — especially for students and families — than it could have been."—Terry W. Hartle, senior vice president of the American Council on Education, on the final tax bill passed by Congress (Read at Washington Post)
Want the day's top school and policy news delivered straight to your inbox — for free? Sign up for the TopSheet Daybreak Education Newsletter.
Get stories like these delivered straight to your inbox. Sign up for The 74 Newsletter