Schools Could See Higher Bills, Less New Educational Software After Net Neutrality Vote — but Most Teachers Don't Know It Yet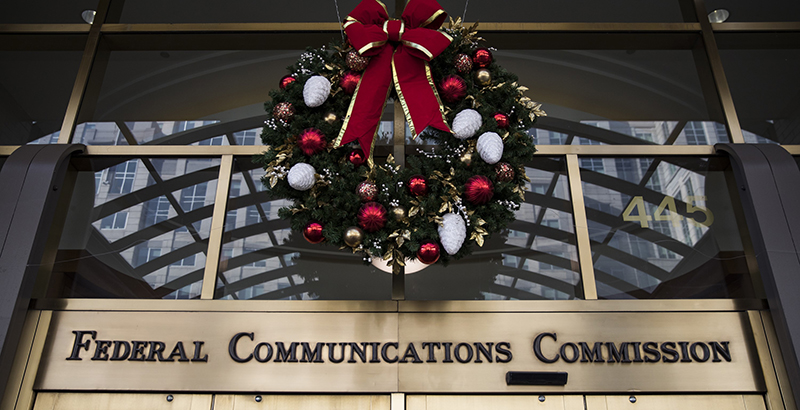 As the federal government prepares to roll back regulations that prevent internet service providers from blocking or prioritizing certain online content, education leaders say students could soon be stuck in a virtual traffic jam.
In a much-watched spectacle, the Federal Communications Commission on Thursday voted to overturn net neutrality rules, approved by the Obama administration in 2015, that aimed to protect consumers as they increasingly flock to the web for a range of services — from online shopping to school coursework. The FCC's five-member commission, with its Republican majority, voted 3–2 along party lines to kill the rules.
FCC Chairman Ajit Pai and other critics of the "heavy-handed" net neutrality regulations contend the reversal could allow broadband providers like Verizon — Pai's former employer — to provide customers with a wider range of services. Critics, however, warn the decision could spur higher prices and slower internet. Students, teachers, and researchers are among those who could take a hit, said Richard Culatta, CEO of the International Society for Technology in Education, as public schools may be forced to pay steeper bills and startup education technology companies could struggle to compete.
Although some school leaders have been vocal about net neutrality, he said, many educators have not yet realized the effects the vote could have on their classrooms.
"The internet is just sort of magic for a lot of people, and it just works and we don't totally understand why," said Culatta, who led the Education Department's Office of Educational Technology during the Obama administration. "My worry is that the education leaders, because they don't really understand how this affects them, have not been as vocal to their elected leaders as they should be."
Culatta describes net neutrality by using an analogy of a busy highway where all motorists follow the same speed limit. Under the repeal, the highway authority — internet service providers like Verizon and AT&T — can build fast lanes for motorists with deep pockets and truckers that deliver products that directly contribute to the highway authority's bottom line. These could include, for example, streaming video services that are owned by telecommunications companies. Meanwhile, everyone else — like educational services provided by nonprofit organizations — is forced to sit in traffic.
"The types of digital resources that schools rely on can take a back seat to commercial internet traffic that is more profitable. It's as simple as that," Culatta said. "Schools, faculty members, students rely on having access to a whole range of educational resources that essentially have the potential to be treated as second-class citizens."
Despite high emotions around the FCC's net neutrality decision, it remains unclear what service changes consumers, including school districts, will experience. Telecommunications giants maintain they don't plan to change services that customers receive — a point FCC commissioners emphasized during Thursday's vote. New rules will require internet service providers to disclose their practices, including access to various providers and services.
"It is not going to end the internet as we know it," said Pai, who has accused critics of engaging in fearmongering. "It is not going to kill democracy."
American Library Association President Jim Neal disagrees, arguing that key American values, like free speech protections, may very well be at stake. Students must be exposed to a range of perspectives to learn critical thinking skills — but with the end of net neutrality, he said, telecommunications companies could suppress or de-emphasize certain viewpoints.
"There's issues of social justice, there's issues of economic justice, there are issues around corporate control of information and corporate control of access," said Neal, who also is librarian emeritus at Columbia University. "We see this as potentially having a negative impact on education and learning, and on research."
Culatta emphasized that data-heavy education research in particular could take a major hit. Most education researchers store large data sets in the cloud — information that holds little commercial value for internet companies. "If that is throttled back," he said, "literally the pace of educational research could slow down."
Startup education technology companies could also be at risk, Culatta said, because established companies are in a better position to pay for faster service.
"When you open up the field for everybody to be able to play on an even playing field, you get increased innovation," he said. "Anything that makes it harder for smaller players, new players to come in and provide resources and tools in a digital space for education is stifling innovation."
Rising costs are also a concern for cash-strapped school districts. In a post on the Consortium for School Networking website, CEO Keith Krueger said the FCC vote could prompt higher bills for schools if they're required to pay extra for certain online services. Additionally, he said, new education technology companies could be steamrolled by more established, better-resourced companies that can afford to partner with internet providers to offer faster services.
"Simply relying on carriers to disclose information about pricing and practices would be a flimsy guardrail for powerful internet service providers, especially for smaller, rural, and high-cost districts that lack competition and meaningful market power," Krueger said in the post.
Democratic lawmakers offered a similar perspective ahead of last week's vote, and more than a dozen congressional leaders sent Pai a letter warning that the repeal "could threaten educational equity and exacerbate the digital divide" as students increasingly turn to computer screens to access educational materials and instruction. The net neutrality repeal, lawmakers wrote, "would neither protect fiscally strapped schools and school districts from aggressive ISP pricing practices, nor would it guarantee any additional investment in underserved areas."
Rural schools, the Democratic lawmakers noted, could be especially hard hit, because three-quarters of schools that lack high-speed internet are located in remote communities. But the National Rural Education Association didn't take an official stance on net neutrality, its executive director, Allen Pratt, said, in part because the issue wasn't on its radar and because it remains unclear how the change will affect remote schools. But rural schools often lack adequate internet services because of high infrastructure costs, and any price hikes, Pratt said, could make the situation worse. The unknown, he said, gives him pause.
"That's our biggest fear. We don't know what it's going to look like, we don't know what's going to happen," he said. "When you're wading through both sides and trying to take a stand or make an opinion on this, it's very difficult. We're kind of in the mode of 'let's wait and see and see what's going to happen,' because we don't know."
About 5 million households with school-age children lack high-speed internet service, according to a 2015 Pew Research Center report on the so-called homework gap. Low-income students, particularly those from black and Hispanic families, are disproportionately represented. Nearly a third of American families who make less than $50,000 a year lack high-speed internet access at home — a rate four times as high as for those with incomes greater than $50,000. The net neutrality repeal, educators contend, could exacerbate that digital divide.
In addition, millions of students rely on library computers and internet connections to complete research and homework. "Regardless of where one is accessing learning materials and tools for learning, we have to be concerned what the quality of the access will be, the dependability of access will be," Neal said. "And this is of grave concern for public libraries that have seen such an explosion in student dependence on library infrastructure and library expertise, if you will, to help students do their work."
As Neal, Culatta, and others call on Congress to find a legislative fix, some activists have promised lawsuits to challenge the FCC vote. But even without legal challenges, the process for rolling back the rules will take some time, so consumers, including schools and students, won't experience radical changes overnight.
"There's not going to be a difference right away," Culatta said, "but over time, as new pricing models and approaches and deals are worked out, there will be, potentially, a really significant impact."
Support The 74's year-end campaign. Make a tax-exempt donation now.