EduClips: Debate Over Forcing Florida Schools to Display 'In God We Trust'; Trump Floats DACA Proposal — and More Must-Reads From America's 10 Biggest School Districts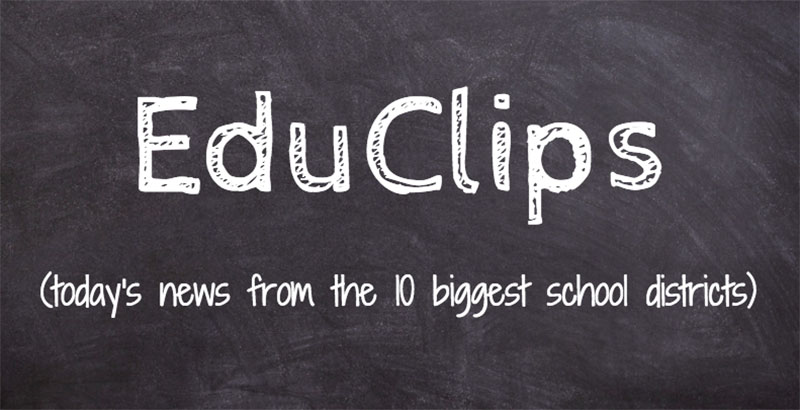 EduClips is a roundup of the day's top education headlines from America's largest school districts, where more than 4 million students across eight states attend class every day. Read previous EduClips installments here. Get the day's top school and policy news delivered straight to your inbox by signing up for the TopSheet Education Newsletter.
Top Story
RACIAL DISPARITY IN SPECIAL ED — Minority students in roughly 3 percent of the nation's 14,500 or so school systems are being incorrectly placed in special education, according to an analysis by the Education Week Research Center.
That represents 423 school districts in the 2015–16 school year — the most recent year for which complete federal statistics are available. Many of those students were kept in isolated classrooms or punished more severely than their peers. (Read at Education Week)
National News
SCIENCE — If Trump Gets His Way, America Won't Be No. 1 in Science Much Longer (Read at Bloomberg)
DACA — Trump open to citizenship for DACA enrollees (Read at Politico)
SHOOTINGS — 20 years in, shootings have changed schools in unexpected ways (Read at USA Today)
DACA — 'Do We Build Bridges or Walls?' Teachers Weigh In on DACA (Read at Education Week)
GIFTED SAVINGS ACCOUNTS — Wisconsin Reformers Move Toward a First: Education Savings Accounts for Gifted Kids (Read at The74Million.org)
District and State News
FLORIDA — Florida Schools Could Be Forced to Display 'In God We Trust' (Read at U.S. News and World Report)
NEW YORK — Merging two small East Harlem schools makes sense on paper. So why has it sparked a backlash? (Read at Chalkbeat)
CALIFORNIA — State superintendent candidate Marshall Tuck returns donation from anti-LGBT funder (Read at EdSource)
TEXAS — Post-Harvey, Houston Faces 'Perfect Storm' of Budget Damage (Read at The74Million.org)
ILLINOIS – School board approves new CPS CEO and ethics change to clear way for top deputy (Read at the Chicago Tribune)
NEW YORK — Opinion: Schooling the mayor: Two new education studies that de Blasio should pay attention to (Read at the New York Daily News)
ILLINOIS — Illinois pilots competency-based education programs in 10 high schools (Read at Education Dive)
NEVADA — Clark County schools consider cutting the NV Energy cord (Read at the Las Vegas Review-Journal)
Think Pieces
LOCKERS — Schools and lockers: No longer the right combination (Read at The Washington Post)
CLASS TIME — How 45-minute class periods stall learning (Read at the Hechinger Report)
SCIENCE — The Benefits of Recess Are Proven by Science — So Why Are Teachers Taking It Away? (Read at HuffPost)
Quote of the Day
"We've been so lucky over the years that the best in the world have wanted to come to the U.S. If all of a sudden we don't have the MITs because no talent comes, America will hurt, and the world will hurt." —Rafael Reif, president of the Massachusetts Institute of Technology, speaking at the World Economic Forum in Davos, Switzerland. (Read at Bloomberg)
Want the day's top school and policy news delivered straight to your inbox — for free? Sign up for the TopSheet Daybreak Education Newsletter.
Get stories like these delivered straight to your inbox. Sign up for The 74 Newsletter