EduClips: Chicago's Emanuel Calls for Universal, Free Pre-K; Post-Shooting, TX Governor Unveils School Safety Plan — and More Must-Reads From America's 15 Biggest School Districts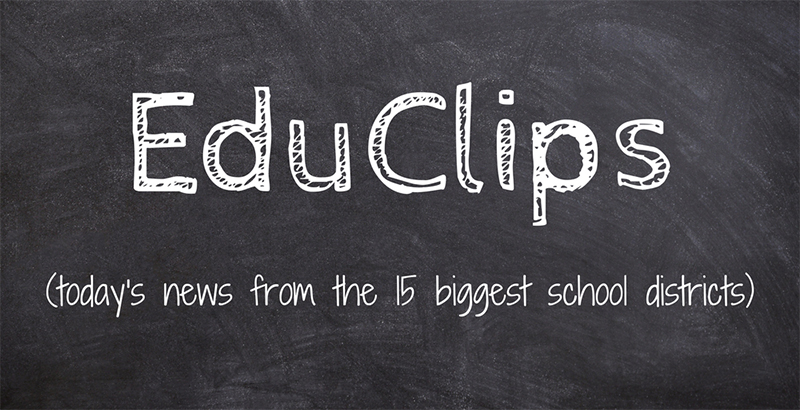 EduClips is a roundup of the day's top education headlines from America's largest school districts, where more than 4 million students across eight states attend class every day. Read previous EduClips installments here. Get the day's top school and policy news delivered straight to your inbox by signing up for the TopSheet Education Newsletter.
Top Story
IMMIGRANT STUDENTS —As Dennis Rivera-Sarmiento sat in a detention center 80 miles away from his Texas home this past winter, clad in a blue inmate uniform, he could see his high school diploma slipping further from his reach. Graduation was in June, but a schoolyard scuffle with a girl who he said had called him a racial epithet had gotten him arrested by his high school's police officer.
Then a state law that required the Harris County Sheriff's Office to cooperate with federal immigration officers flagged him for deportation, back to his native Honduras, from which he and his family had fled five years ago. The case of the "quiet kid who was good at soccer" hauled from high school to a deportation center turned Mr. Rivera-Sarmiento into a cause célèbre in Houston, a textbook case of what immigration advocacy groups fear could happen as schools tighten discipline in the wake of school shootings, the police ratchet up sweeps for gang members, and local law enforcement draws closer to the federal immigration authorities.
No one is sure how many students like Mr. Rivera-Sarmiento have been channeled from the principal's office to the custody of Immigration and Customs Enforcement. A spokesman for ICE said that the agency cannot track the number of students detained based on school arrests because it does not record how undocumented immigrants are originally arrested. (Read at The New York Times)
National News
TX SCHOOL SHOOTING — Gov. Abbott wants more marshals, increased mental health screening to make schools safer (Read at the Fort Worth Star-Telegram)
TEACHER PAY — Teachers Find Public Support as Campaign for Higher Pay Goes to Voters (Read at The New York Times)
WALMART — Walmart to offer employees a college education for $1 a day (Read at The Washington Post)
SCHOOL SAFETY — Amid fear of shootings, parents and students count down till school's out for summer (Read at NBC News)
FL SENATE RACE —Education Issues, Control of the U.S. Senate Loom Large in Florida Senate Race Between Gov. Rick Scott and Longtime Democratic Incumbent Bill Nelson (Read at The74Million.org)
District and State News
ILLINOIS — Emanuel calls for free full-day public preschool for 4-year-olds (Read at the Chicago Tribune)
NEW YORK — With School Visits, Chancellor Signals a Softer Stance on Charters (Read at The New York Times)
ILLINOIS — Illinois lawmakers pass $40,000 minimum wage requirement for teachers (Read at Illinois News Network)
FLORIDA — Florida teachers union grades lawmakers on education issues (Read at the Tampa Bay Times)
NEW YORK — Carranza didn't expect 'screening' comments to create such an uproar (Read at Chalkbeat)
CALIFORNIA — In race for California schools chief, candidates are buoyed by big money from charter supporters and unions (Read at the Los Angeles Times)
PUERTO RICO — Months After a Devastating Hurricane, Puerto Rican Schools Turn to the Sun (Read at EdSurge)
CALIFORNIA — California governor's race: Dems agree on child care, higher spending; differ on districts rejecting charters based on financial impact (Read at EdSource)
TEXAS — Transgender Teen Wins Battle for Chosen Name at Graduation in Texas (Read at the Huffington Post)
PENNSYLVANIA — Opinion: Billions of your tax dollars feed growing school reserve funds | John Baer (Read at The Philadelphia Inquirer)
Think Pieces
STUDENT CONCENTRATION — Is It Actually Smart to Sit Still? (Read at The New York Times)
TENURE — Can Ending Teacher Tenure Improve Student Achievement? A Case Study in Florida Yields Important Results (Read at The74Million.org)
SCHOOL COUNSELORS — School counselors keep kids on track. Why are they first to be cut? (Read at The Hechinger Report)
ARTS EDUCATION — The 'shadow education system': How wealthier students benefit from art, music, and theater over the summer while poor kids miss out (Read at Chalkbeat)
INEQUALITY — Education Won't Solve Inequality (Read at Slate)
TEACHING SCHOOLS — Don't Rate Teaching Schools Based on Student Test Scores, Study Warns (Read at The74Million.org)
ANTI-BIAS EDUCATION — Should All Americans Receive Anti-Bias Education? (Read at The New York Times)
Quote of the Day
"I actually don't think this is real. I never thought I'd be graduating. I thought I would be in Honduras right now." —Dennis Rivera-Sarmiento, a 19-year-old undocumented immigrant now in an immigration detention center following a schoolyard scuffle. (Read at The New York Times)
Want the day's top school and policy news delivered straight to your inbox — for free? Sign up for theTopSheet Daybreak Education Newsletter.
Get stories like these delivered straight to your inbox. Sign up for The 74 Newsletter