Education Issues, Control of the U.S. Senate Loom Large in Florida Senate Race Between Gov. Rick Scott and Longtime Democratic Incumbent Bill Nelson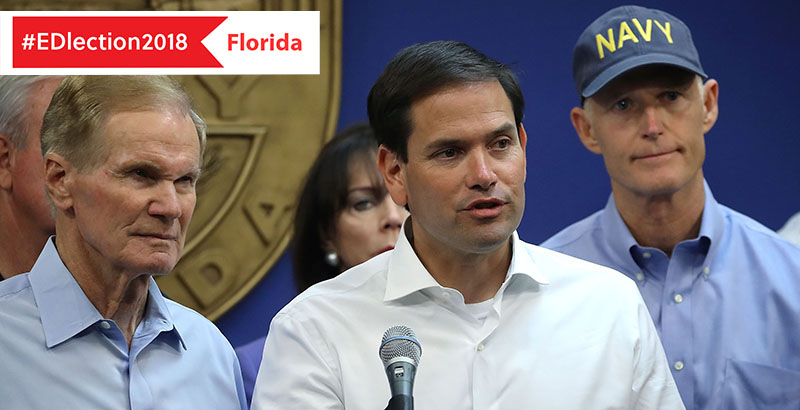 Florida schools have often taken center stage in education policy debates that reach beyond its borders. For better, as its test scores continued to rise in the wake of late-'90s reforms, like A–F school ratings and expanded school choice options, even as other states saw theirs flatline. To the white-hot controversial, as a wave of student-led activism changed the national gun control debate after a mass shooting at Marjory Stoneman Douglas High School.
That's likely to continue in this year's U.S. Senate race in the Sunshine State, one of a handful that could determine which party controls the Senate in 2019. Three-term incumbent Sen. Bill Nelson, a Democrat, faces current Republican governor Rick Scott, who has pushed to change the face of Florida schools during his two terms in office.
"Education is a big issue always in our state," Susan MacManus, a former political science professor at the University of South Florida, told The 74.
"Obviously the Democratic perspective on it, and priority all the way up from this race down to the bottom of the ticket, is the traditional definition of education and priority for public schools and teachers [and] teacher pay, and of course, security. On the Republican side, the priority is more charter schools [and private] options. That's probably the biggest divide," she said.
Beyond gun control and school safety, Florida voters can also confront core education-related issues, including funding for charter schools and vouchers. Florida has one of the largest private school choice programs in the country, serving more than 140,000 students in three separate programs at a cost of over $850 million annually. It also has robust charter and virtual school sectors.
Statewide races in Florida have been very close in recent years, with presidential races and the past two gubernatorial contests ending up within about a single percentage point. Independent handicappers rate the 2018 Senate race as a tossup. Nelson was up 2.2 percentage points in Real Clear Politics' average of polls as of Wednesday morning.
The Senate contest is one of two marquee statewide races on the ballot, alongside the governor's race, which will focus on many of the same education and school safety issues. There are also several hotly contested races for the U.S. House, and a ream of proposed changes to the state's constitution, including one that would impose term limits on school board members and create a new statewide charter authorizer.
Much of the attention paid to Florida in recent months has focused on lawmakers' response to the Parkland shooting. Scott, bucking pressure from the National Rifle Association, approved a bill that raised the minimum age to purchase weapons from 18 to 21, instituted a three-day waiting period, added funding for school safety, and allowed some school personnel to carry weapons on campus.
The bill balances individual gun owners' rights with public safety, Scott said when signing the measure. "It's an example to the entire country that government can, and has, moved fast," he added.
Nelson in a speech in the Senate praised the Parkland student activists' advocacy for the Florida law, but called for additional changes, like expanded background checks and a ban on assault-type rifles.
"It was a small step, but it was a step in the right direction to address the problem that we are confronting. But we need to do more. I'm so grateful to the resilience of these students, the power of their voice, and the strength of their activism moving lawmakers in Washington and the state capitols all across this country," he said.
Scott panned Nelson for what he described as decades of inaction on the issue, though fact-checkers rated that claim as false, noting Nelson's long record of backing gun control measures. Alongside Florida Republican Sen. Marco Rubio, Nelson called for quick passage of a school safety grant program that would fund infrastructure improvements and help train people to better identify potentially troubled students. It was included in a large spending package this spring.
The race is still in its early stages — Scott only formally entered April 9 — though as a sitting governor, the two-term Republican has a lengthy record on more traditional education issues to tout.
Before entering the race, for instance, Scott highlighted record investments in education, though fact-checkers have said that in raw terms, education funding has increased every year Scott has been in office but hasn't topped pre-recession levels when adjusted for inflation. (His campaign website refers to "historic investments" in education.)
Nelson, who doesn't sit on the Health, Education, Labor and Pensions Committee, hasn't focused much on K-12 during his three terms in the Senate, at least as measured by sponsoring or co-sponsoring education-related bills. He is perhaps best known for his six-day space shuttle mission with NASA in 1986 when he was a member of the U.S. House.
Instead, Nelson, the Democratic Party, and allies, including unions, will go after Scott's record, including his support for charter schools. A bill passed last year makes it easier to open so-called Schools of Hope, a process that sites charters next to low-performing district schools and requires districts to share capital funds with charters. A judge in April threw out a lawsuit brought by several school districts challenging the law.
"The number one thing they're going after is the Republicans' support for charter schools, which Nelson and other Democrats say is taking away from the public school budget," MacManus said.
Indeed, the Florida Democratic Party in a press release accused Scott of "draining funding from our public schools in order to give his political donors and cronies another taxpayer funded handout."
The National Education Association, the country's largest teachers union, highlighted what it says are Scott's inappropriate decisions to fund "unaccountable private schools and vouchers" at the expense of private schools, while noting that it gave Nelson an "A" rating.
Education reform groups, meanwhile, have praised Scott and state Republicans' expansion of choice options.
Former Florida governor Jeb Bush, who now leads the Foundation for Excellence in Education, praised House Bill 7055, which expands private school options for students who were bullied and those with disabilities, among others.
"I applaud Governor Scott and members of the Florida legislature for expanding educational freedom in our state. Not only will Florida families benefit, but these common sense solutions will provide a model for other states to effectively and compassionately prepare each and every student for success in the classroom and in life," Bush said in a statement.
Nelson is unopposed in the Democratic primary. Scott faces businessman Roque "Rocky" De La Fuente, who previously ran unsuccessfully as a Democrat for U.S. Senate in Florida, president, and mayor of New York City. The perennial longshot candidate is also running this year for Senate seats in Washington, California, and Wyoming.
Republicans currently control the U.S. Senate 51–49. Democrats are defending a number of vulnerable incumbents, including Nelson, but also see the opportunity to pick up GOP seats in Tennessee, Arizona, and Nevada. Ever-changing national and international events, like relations with North Korea and the pending investigation into alleged Russian interference in the 2016 campaign, will have an outsize impact on the midterms, experts said.
Scott, once effusive in his praise of fellow political "outsider" Trump, has since distanced himself from the president. An early-May poll found that 43 percent of Floridians approve of Trump and 45 percent disapprove.
Beyond education, Scott, "pretty much a single-issue politician," has long focused on the economy and jobs, Darryl Paulson, emeritus professor of history and politics at the University of Florida St. Petersburg, told The 74.
Scott has also zeroed in on Nelson's long political career, which began in the early 1970s, arguing that it's time for a change.
Nelson, meanwhile, touts his record protecting Social Security and other issues that matter to senior citizens, a sizable constituency in Florida, alongside his work on environmental and military issues.
Nelson raised $13.6 million from the start of 2013, the beginning of this election's campaign finance cycle, through the end of March, and had about $10.5 million in the bank.
There hasn't been a required federal campaign finance filing deadline since Scott declared his candidacy in early April. Scott, a millionaire who made his money in the hospital industry, put millions of his own money into his two previous elections, but he has ramped up fundraising recently, Paulson said.
Nelson has been lucky in facing weak opponents in his past three races for Senate, Paulson said.
"This time, however, you might say the luck has run out," he said.
Get stories like these delivered straight to your inbox. Sign up for The 74 Newsletter